PBA, MPBL in unity talks
August 27, 2019 | 12:00am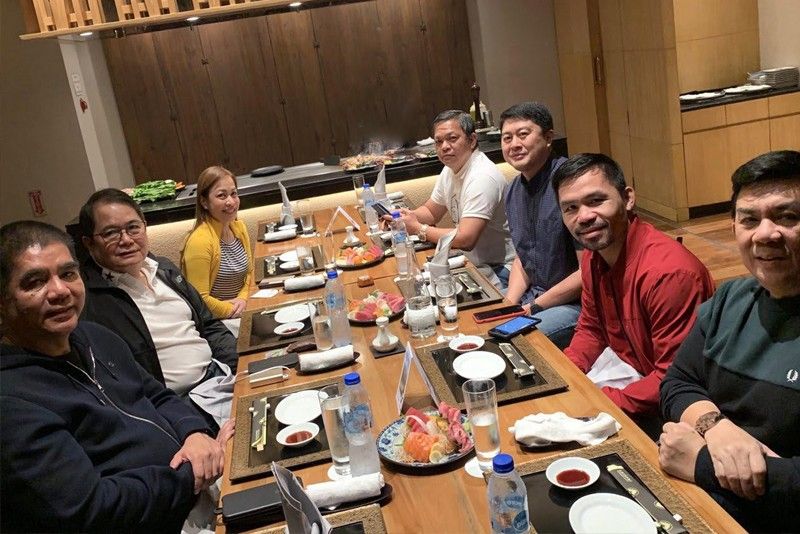 MANILA, Philippines — MPBL chairman Sen. Manny Pacquiao reiterated that the 31-team league has no plans to turn pro and will retain its amateur status as a haven for homegrown and collegiate players during a collaborative meeting with PBA officials in Makati last Saturday night.
Pacquiao met with PBA chairman Ricky Vargas and PBA commissioner Willie Marcial to discuss ways where the MPBL and PBA could work together. He was joined by MPBL Bacoor Strikers owner Chaye Cabal-Revilla, MPBL commissioner Kenneth Duremdes and MPBL lawyers Bong Gacal and Brando Viernesto. MPBL head of basketball operations Zaldy Realubit, a PBA veteran like Duremdes, dropped in to also join the meeting.
"We talked about co-existence," said Marcial. "There's always been an open line between Kenneth and me. I remember an occasion when we were back-and-forth on the phone consulting each other whether or not we would proceed with our scheduled games in Zamboanga. The PBA and MPBL are one in giving an opportunity for Filipinos to make basketball a career and providing a platform for millions of fans to enjoy the game we all love."
Duremdes said the meeting was "fruitful" as there were clear agreement points reached during the meeting that was initiated by Pacquiao. "Sen.Manny made it clear that the MPBL has no intention to compete with the PBA," said Duremdes. "Our thrust is to develop homegrown players. We realize it's every Filipino player's dream to make it to the PBA. We're giving the opportunity for homegrown players to showcase their skills so they can be discovered."
An issue that Pacquiao raised was his growing concern over gambling and betting. Duremdes said Pacquiao is determined to stamp out extraneous factors that may affect the outcome of a game. "Sen.Manny is dead serious about it," said Duremdes. "He actually mentioned it in his speech during the opening of our current season. Huwag daw siyang subukan." Marcial said the PBA is ready to assist the MPBL in this regard. "We'll share what we're monitoring on our sports radar," said the PBA commissioner. "We'll look into analytics so we can track players' performance based on key statistics, particularly in the PBA D-League."
Marcial said there was no discussion on player movements from the PBA to MPBL and back. "I'm sure there will be more meetings to discuss player movements," he said.
Duremdes said MPBL players are barred from moving to the PBA until the end of the MPBL season. He added that current MPBL players who may be picked in the next PBA draft on Dec. 8 will need to finish their MPBL obligations before turning pro. Several MPBL players are being eyed for the coming PBA draft, including Michael Ayon-Ayon, Santi Santillan, Kib Montalbo, Alvin Pasaol, Anton Asistio, Sean Manganti, Vince Tolentino and Arvin Tolentino.
"Our players have what we call uniform player contracts," said Duremdes. "But we are not a pro league. We want to make it clear that our league was established basically for homegrown players. We also want to remain amateur so collegiate players may join us and develop their skills."
While it was not suggested if PBA draft candidates may forego playing in the PBA D-League and instead gain eligibility through the MPBL, Marcial said the Board of Governors will not agree. "The PBA requires that draft candidates must play first in the PBA D-League," said Marcial. "That is in preparation for the PBA." Under PBA rules, the minimum requirement for locals to play in the PBA D-League is seven games before gaining eligibility as draft candidates. For Fil-foreigners, the minimum requirement is nine games.
PBA assistant coaches may be employed by MPBL teams concurrently but starting next year, there will be a restriction. Another "unwritten" PBA rule is a PBA player who transfers to the MPBL may return to the PBA only once and within one year, meaning a PBA player who moves to the MPBL, returns to the PBA then goes back to the MPBL will lose eligibility to play in the PBA again.