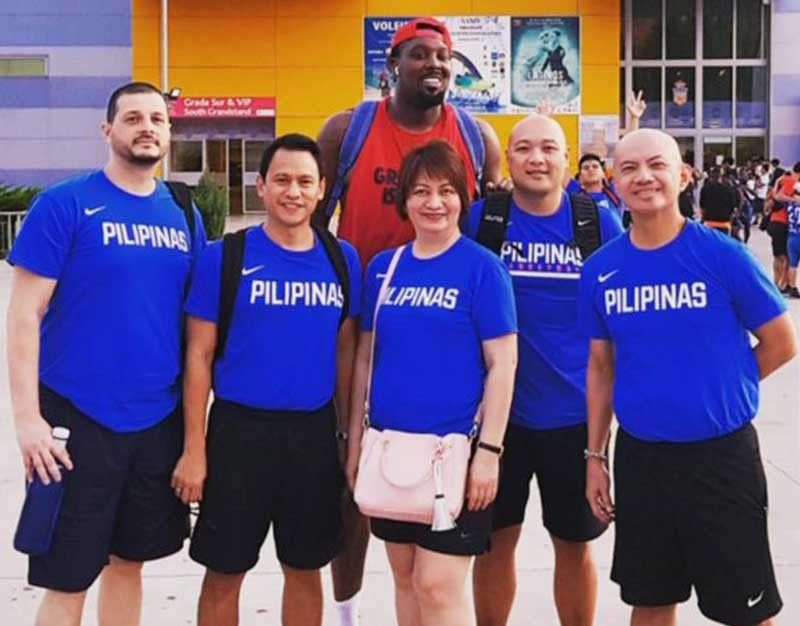 Gilas head coach Yeng Guiao (right) with assistants Caloy Garcia and Ricky Umayam, SBP special assistant to the president Ryan Gregorio, assistant team manager Yvette Ruiz and Andray Blatche in Guadalajara, Spain.
Blatche nears peak form for World Cup
MANILA, Philippines — Andray Blatche is coming close to peak form as he gets ready to lead Gilas at the FIBA World Cup in China on Aug. 31-Sept. 15 with the goal of surpassing the Philippines' performance in the global conclave in Spain five years ago when he made his debut as a national player.
Blatche, who turns 33 on Aug. 22, played eight of the Philippines' 12 games in the FIBA Asia/Oceania World Cup Qualifiers from November 2017 to February this year. With Blatche in the lineup, Gilas posted a 6-2 record, losing twice to Australia. He averaged 16 points, 12.4 rebounds, 3.9 assists, 2.0 steals and 2.1 blocked shots in that stretch. Without Blatche, the Philippines' record was 1-3. At the FIBA World Cup in Spain in 2014, the Philippines registered a 1-3 record and failed to advance to the second round. There were 24 teams in Spain but in China, 32 are participating, assuring each country of playing in at least six games, including a classification round.
Blatche is now in Spain with 10 other players in the Gilas 19-man pool for the coming World Cup. He powered the Philippines to a 102-80 win over the Democratic Republic of the Congo and a 94-83 come-from-behind triumph over World Cup qualifier Ivory Coast in a pair of friendlies in Guadalajara before the team went to Malaga for a four-nation pocket tournament that started yesterday. Blatche averaged 21.5 points in the two wins. If the Philippines beat Congo in a rematch yesterday, Gilas will play the winner of the Spain-Ivory Coast contest for the championship of the pocket tournament today. The team is expected back in Manila on Tuesday.
"Dray has been working very hard to reach his peak form," said SBP special assistant to the president Ryan Gregorio who is in Spain with Gilas head coach Yeng Guiao, assistants Caloy Garcia and Ricky Umayam and assistant team manager Yvette Ruiz. "He is shooting well from the three with pin-point accuracy and attacking slower defenders off the dribble. His interior defense is solid and against Congo, he was tasked to protect the rim against taller and more athletic players. He still needs more scrimmage games for his timing and to get to his optimum playing weight."
Gregorio said Gilas newbies C. J. Perez and Robert Bolick are making their presence felt in the absence of key players left behind in Manila. Raymond Almazan couldn't get his Schengen visa on time and Stanley Pringle is nursing an ankle injury while Gilas players from San Miguel Beer and TNT are still seeing action in the PBA Commissioner's Cup finals. "C. J. and Robert are mostly playing the one and two spots," said Gregorio. "They're anchoring our relentless pressure defense and very comfortable with the tempo and sets of coach Yeng. They're attacking the paint using their quickness and making good decisions with the ball."
Perez finished with 11 points in the win over Ivory Coast, coached by Italian Paolo Povia. Gregorio said the games against Congo and Ivory Coast were a step in the preparation process for another African contender Angola. The Philippines is in the same bracket in the World Cup as Angola, Italy and Serbia.
"Ivory Coast is stronger than Congo," said Gregorio. "We are more focused on our development more than anything else. We wanted to simulate the way basketball is played in Africa. They're tall, built solidly and insanely athletic. They set strong picks, run like gazelles, crash the boards with impunity and work very hard on defense. It's all part of our preparation for Angola."
The positive sign that Gregorio noted early in the Spain trip was Gilas' chemistry. "We still need to play a lot of games to get us to our desired fitness level," he said. "We're working on our chemistry both inside and outside the court. Coach Yeng is maximizing our time by scheduling twice a day practices and ensuring that we spend as much time together off the court as well. We always eat together to ensure positive bonding time."