Ateneo coach reflects on Lady Eagles' championship season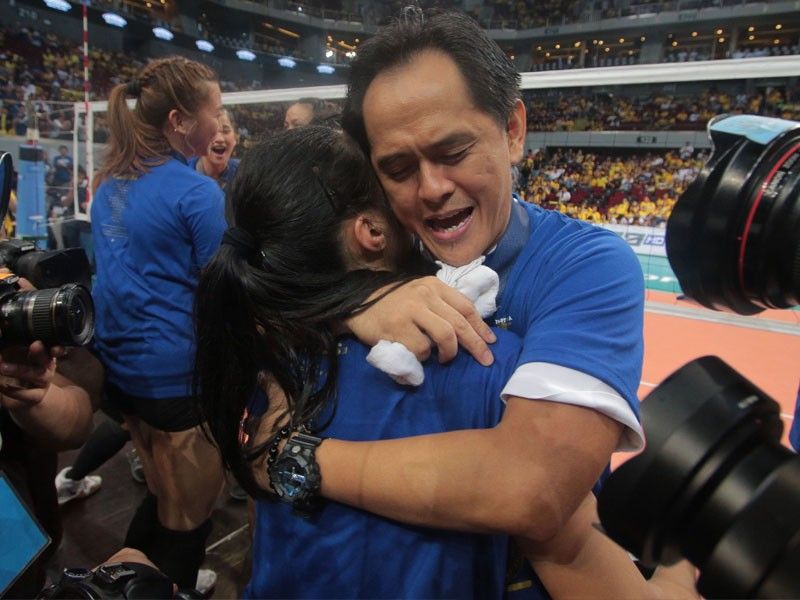 MANILA, Philippines – After Ateneo Lady Eagle Jules Samonte scored the championship point when the ball caromed off a pair of UST defenders, head coach Oliver Almadro slumped to the floor.
To say that Almadro is emotional is an understatement. He literally wears his heart on his sleeve. He showed that first while playing for Letran and then as head coach of the Ateneo men's volleyball team, then with NU, and with Ateneo once more. This time, it was guiding the women's team to a title in only his first year.
It was equal parts joy and happiness, and relief.
When he left the Ateneo men's volleyball team, it was in rebuilding mode although there were leftovers from their three-peat teams. When he joined the Lady Eagles, there were holdovers from the title years as well, but there was unfinished business for the girls.
"I was worried because of the expectations," revealed Almadro. "This team won two titles under Coach Tai (Bundit). There was uncertainty that I might not get the job done. I was running a different system from what they did before. It isn't right away that a team learns a new system. Sometimes it takes a year; sometimes two or three years. Then we lost Jho (Maraguinot) who is good for 20-plus points per game and about 15 on a bad day. Plus, the fact that we've never solved the receiving problems after Denden (Lazaro) graduated."
One of his first chores was to make sure that middle hitter Bea De Leon would come back for her final year of eligibility.
"I talked to Bea and said to her, 'Kailangan kita. Kailangan ka ng teammates mo. Baka this year na yung pinapangarap mo makabalik sa finals. Let us helpeach other achieve that."
After three months, de Leon agreed to return. But she asked Almadro for something in return. "Coach, promise mo sa akin mag-finals tayo this year, ha?"
Promise kept. Promise delivered.
However, it wasn't smooth sailing.
"Now why was I worried? Volleyball is my bread and butter. One big mistake and my family goes hungry."
True enough the Lady Eagles lost the first game of Season 81 in terrible fashion to erstwhile defending champion, La Salle. Then they also lost the first game of the Final Four and the Finals.
"We lost twice to La Salle in the elimination round," recounted Almadro. "My take is, it is really mental. "I worked with Ramil (De Jesus) before and I know how he prepares his team. Sa atin, hindi pa ganyan yung culture and mindset. But we will win over them in time."
Each time, they recovered — a testament to their will, grit and resiliency.
And there were a couple of moves that changed the way the Lady Eagles played and eventually, towed them to the championship.
One of them was key — moving rookie Vanessa Gandler to the bench in place of veteran, Samonte. "Vannie was my starter during the PVL, but the UAAP is a different animal and I thought she was overwhelmed by it. Sabi ko, 'you will have your time.' I may not have the best outside hitters but their passion and willingness to learn will always carry them through."
The second was bringing Dani Ravena to the bench to backstop Kim Gequillana at the libero position. "I never doubted Dani from the start. Her skills are there and she can spark the team. She can be awkward at times, but it is all about polishing her skills in time. I also told Kim who was recovering from a knee injury to work with Dani; for the two of them to find a way to help the team win. And they did."
With the third title for the Lady Eagles, and their first in four years, they are on Cloud 9 at the moment. They are losing four key players in Kat Tolentino, Maddie Madayag, De Leon and Kim Gequillana.
Almadro though remains optimistic (as he always is). "We have Faith Nisperos and Joan Narit, a six-foot blocker from Bohol who played for Ateneo de Cebu. A lot of other schools tried to recruit her and made her all sorts of offers. But she told me that she wants the challenge of high academic standards while also playing in the UAAP."
Narit finished with third honors at the Ateneo de Cebu. When she goes to Ateneo de Manila, she will be taking up Applied Chemistry where he brother is also currently enrolled and taking up Electronics and Communications Engineering.
"Next year…" paused Almadro. "We will just find a way to get better with what we have. It is proven that with faith in Him, the courage to face adversity, and the trust in each other and the system, we can get things done."