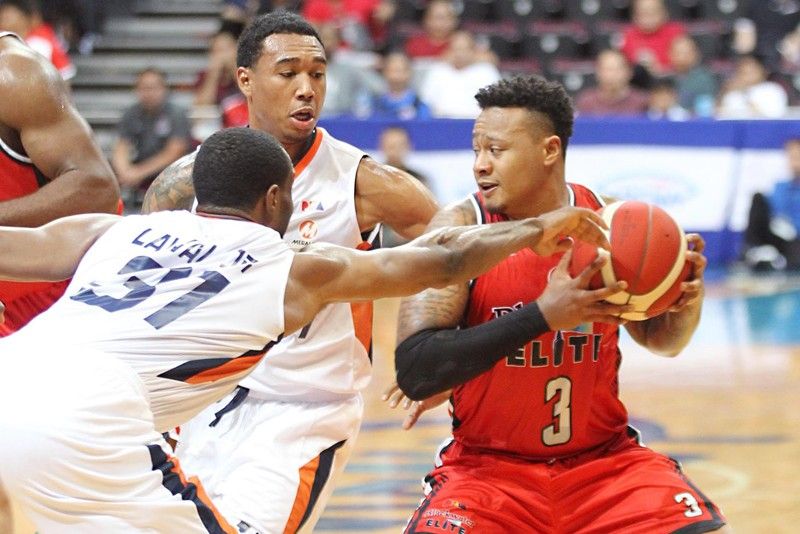 Blackwater rookie Bobby Ray Parks defends possession versus Meralco import Gani Lawal and forward Chris Newsome.
Jun Mendoza
Blackwater wins debut with Bobby Ray Parks
Olmin Leyba
(The Philippine Star) - May 20, 2019 - 12:00am
MANILA, Philippines — The Blackwater Elite gave coach Alex Dimaunahan and rookie Bobby Ray Parks a rousing debut with a pulsating 94-91 overtime squeaker over the Meralco Bolts at the start of the PBA Commissioner's Cup last night at the Mall of Asia Arena in Pasay City.
Alex Stepheson produced 21 points and 31 big rebounds while Mike Digregorio shared scoring honors with 21 and Parks dished out a 20-point effort as the Elite triumphed in the opener that tested their character in overcoming an 11-point deficit.
"I'm happy that the players stuck together. Even though we trailed against Meralco, a very strong team with a very, very good coach, and a contender, the players didn't fold up," said Dimaunahan, who took over the reins only after the Philippine Cup.
Blackwater broke free from an 89-89 stalemate with a clutch putback from Mac Belo and two cold-blooded charities from Digregorio en route to a four-point spread with 17.7 seconds left in extra time.
Meralco pulled to within two on a tip-in by import Gani Lawal, then Parks split his charities for a 94-91 breathing room, 9.7 ticks left.
The Bolts had one final chance to force a second OT but Lawal missed his heave at the buzzer.
"To tell you the truth I was so nervous. But credit to the players for sticking it out and working hard," said Dimaunahan.
Parks, the Elite's rookie pick who joined the team only this conference after his stint with San Miguel Alab Pilipinas in the ABL, made six of his 19 attempts and had eight boards, two assists, three steals and six turnovers in 41 minutes.
"As I've been saying, Rayray is a winner. He brings a lot to the table; it may not be all in scoring but his leadership, passing and defense even in the toughest of situations, are big for us," said Dimaunahan.
The Elite spoiled the 34-point, 21-rebound effort of Lawal for Meralco.
The Bolts appeared ready to blow past Blackwater when they seized a 50-39 tear early in the third. But the trio of Stepheson, Parks and Digregorio joined forces to unload a 17-2 assault and put the Elite in the driver's seat, 56-52.
Alaska cranked it up in the third quarter, pounding the Columbian Dyip, 34-13, en route to a 111-98 win over Columbian Dyip in the nightcap.
"It's always good to start off with the first win. The game is really important for us," said Alaska coach Alex Compton.
The scores:
First Game
Blackwater 94 – Digregorio 21, Stepheson 21, Parks 20, Maliksi 12, Belo 6, Sena 4, Sumang 4, Dario 3, Al-Hussaini 2, Alolino 1, Javier 0, Tratter 0, Cortez 0,
Meralco 91 – Lawal 34, Tolomia 11, Jackson 8, Pinto 7, Newsome 5, Salva 5, Hodge 4, Hugnatan 4, Amer 4, De Ocampo 4, Canaleta 3, Caram 2, Espinas 0, Quinto 0.
Quarterscores: 17-19, 37-42, 64-63, 85-85 (reg.), 94-91 (OT)
Second Game
Alaska 111 – Daniels 25, Banchero 20, Enciso 19, Cruz 14, Teng 8, Racal 7, Ayaay 7, Thoss 5, Casio 4, Baclao 2, Galliguez 0, Pascual 0,
Columbian 98 – Barone 30, Perez 19, McCarthy 13, Calvo 10, Escoto 9, Corpuz 8, Camson 3, Celda 2, Tabi 2, Khobuntin 1, Cahilig 1, Agovida 0, Reyes 0, Faundo 0.
Quarterscores: 25-23, 48-54, 82-67, 111-98