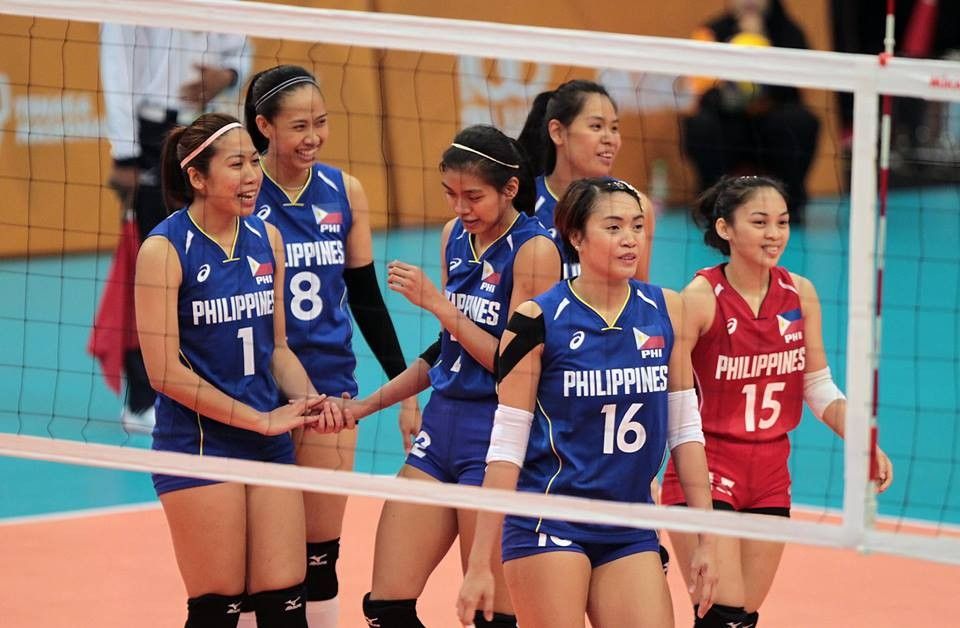 The Philippine national women's volleyball team during their 2017 Southeast Asian Games campaign.
Jun Mendoza
Women's, men's SEAG volleyball cast complete
MANILA, Philippines – The volleyball competitions in the 30th Southeast Asian Games will not be a walk in the park.
Larong Volleyball sa Pilipinas Inc. vice president Joey Romasanta disclosed that eight teams in the women's division and 10 teams in the men's side are tipped to see action in the prestigious biennial meet set from November 30 to December 15.
Reigning champion Thailand leads the cast of competitors together with perennial medalists Vietnam and Indonesia.
Malaysia, Myanmar, Singapore and even the tiny Timor Leste would also be seeing action, giving the home team a tough time achieving its mission of making it back to the medal podium.
"Usually, it's only six. But now, eight teams submitted their entry by name to Phisgoc (Philippine Southeast Asian Games Organizing Committee) recently," said Romasanta, who is also the first vice president of the Philippine Olympic Committee.
"There could be some changes along the way, but I'm glad that the sport is growing and other countries want to join us."
The same goes in the men's division as all but one country confirmed participation.
"The only country who will not join in the men's division is Brunei. But all 10 countries signified their intention to compete."
The last time the Philippines won a medal in women's volleyball was when the country hosted the Games in 2005.
Then, the Nationals had a long 10-year hiatus before resurfacing again in Singapore in 2015 and Kuala Lumpur in 2017, where it failed to win a medal.
This time, the federation made a bold statement that they will do everything to land on medal podium.
"As far as the federation is concerned, the goal of winning a medal of any color is still our objective," said LVPI president Peter Cayco, who tapped Shaq Delos Santos to handle the women's team and Dante Alinsunurin to call the shots in the men's squad.
Volleyball competitions will be held at the PhilSports Arena.