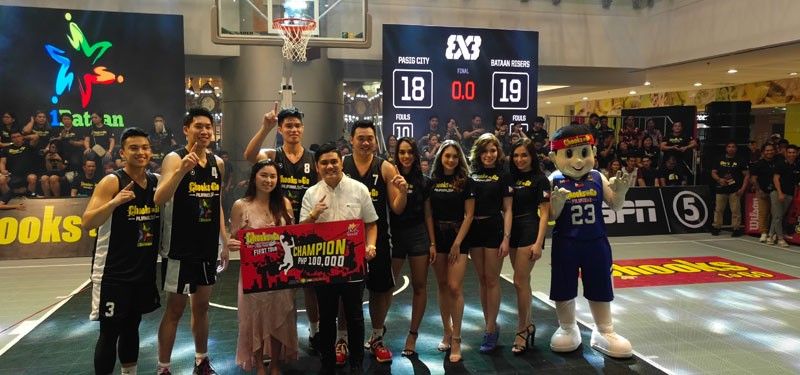 Bataan rules 1st leg of CTG Pilipinas 3x3
MANILA, Philippines – To the 11 other teams that make up the Chooks to Go Pilipinas 3x3 League, if you haven't met Alvin Pasaol, then this was your introduction to that force of nature from Davao.
Pasaol scored seven points in leading the 1Bataan Risers past Grindhouse Kings Pasig, 19-18, to win the first leg championship of the country's first national 3x3 league at the SM Megamall Events Center last Saturday, February 16.
The King University of the East Red Warrior scored all seven of his points, which sandwiched two free throws by Bataan teammate Leonard Santillan for a 16-11 lead. His determination to take it against the much taller Pasig team saw the latter enter penalty situation early in the game.
Following Pasaol's scoring spree, Dylan Ababou hit a bucket to break Pasig's silence. His Fil-American teammate, Taylor Statham, rattled off four straight points to take their side to within a point, 17-16.
After a failed drive, Pasaol was whistled for a technical foul by the referee but Pasig's Joshua Munzon was unable to level the score. Munzon redeemed himself by hitting a bucket to give Pasig an 18-17 lead. After a Bataan miss, Pasig was further unable to take advantage as they were whistled for a 12-second shot clock violation.
Santillan hit a free throw then scored against Pasig's Troy Rike to give Bataan a 19-18 lead with 30 seconds left. The Risers' tough defense held firm in the remaining time as Pasig was unable to get off a good shot.
En route to the championship, the Risers defeated Zark's Jawbreakers Quezon City, 21-14. For their second elimination round game, they crushed the Bacoor City Strikers, 21-12, to seal their spot in the sudden-death semi-finals against a talented Carga Valenzuela squad.
Bataan was able to somewhat stifle the hot shooting of Valenzuela's Chris DeChavez who was held down to four points. After DeChavez came within a point of Bataan, 18-17, Pasaol hit two free throws and Manganti scored on a reverse lay-up for a 21-17 win to enter the finals.
There they met the 3-0 Pasig team that was a favorite to win the title. That until Pasaol, Santillan, Manganti, and Anton Asistio had other ideas.
"Medyo pagod na kami pero kapag ayaw na pumasok yung tira mo sa labas, atakihin mo sa loob. Lalo na penalty na sila," said Pasaol of his team's strategy. "Nagsipag lang kami."
For their efforts, the 1Bataan Risers pocketed the cash prize of P100,000 from MLV Accounting RPS Zamboanga.
"This is sweet," gushed Manganti after the win. "And it means a lot to win it with these bunch of guys who I am happy to be teammates with."
"It was intense," added Asistio who although was held scoreless in the finals, played Joshua Munzon tough. "It's a nice win. I can't get enough of this."