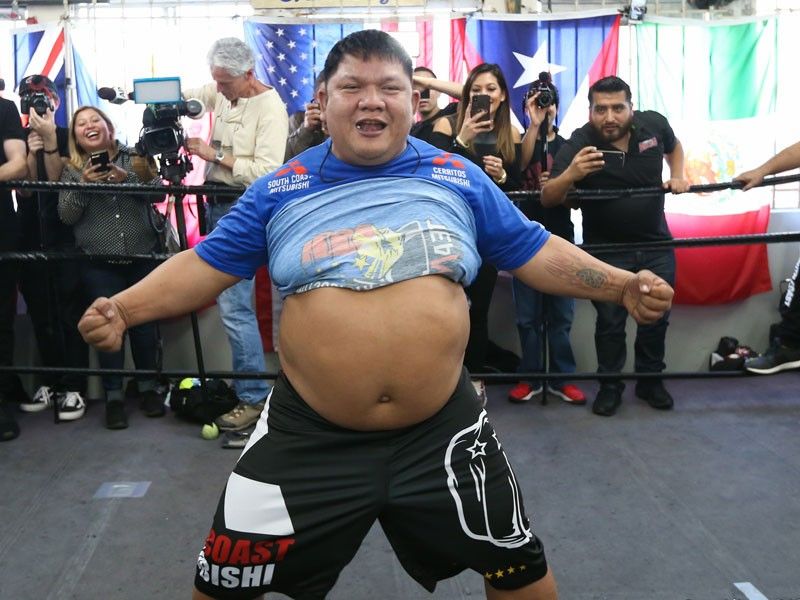 Buboy Fernandez goofs around with photographers during Wednesday's media workout at the Wild Card Gym in Hollywood, Los Angeles (Thursday Manila time).
Wendell Rupert Alinea/MP Promotions
Broner only looked to land KO punch – Buboy
LOS ANGELES – There is a reason Adrien Broner threw only a few punches in his bid to dethrone Manny Pacquiao.
He knew it would only take one to end the show.
Buboy Fernandez, Pacquiao's childhood buddy who's gone 2-0 since taking over as head trainer, said Broner's game plan revolved around landing that home run of a punch in the hopes of sending the Filipino to dreamland.
"Kahit anong gawin kong review, ang lumalabas pa din sa mata ko na flashback ay yung nangyari kay Marquez (No matter how many reviews I make, all I see is the flashback of the Marquez fight)," Pacquiao's cornerman told Filipino scribes the other day here.
Every Pacquiao opponent has referred to the fourth Juan Manuel Marquez bout in 2012 — where Pacquiao got knocked out cold — as their blueprint to beating the boxing star.
"Si Broner aantayin ka niya. Isa lang ang pinagaralan niya sa iyo (Broner would wait for you. He only trained to do one thing)," Fernandez recalled telling Pacquiao in the corner.
In 12 rounds, Broner threw only 295 punches. Only 50 found their mark.
The challenger often leaned back in the classic counterpuncher stance, waiting to pounce on Pacquiao who would often leave his head exposed when attacking.
"One shot lang tayo doon (It just takes one shot)," said Fernandez, cocking his right hand.
Pacquiao won by unanimous decision, an unquestionable result. He would have preferred though to go home with another knockout victory.
He had the chance to dispose of Broner in the seventh and ninth rounds when his left hand glassed forced the younger fighter to the ropes, but was told by his corner to hold back.
"Malay mo patibong lang yun (It might be a trap)," Fernandez continued.
There was no longer an order to go for the kill as Pacquiao was clearly ahead on points.
"Relax lang, timing na lang tayo. Hindi na kailangan mag-risk ka pa. Lamang na lamang na tayo sa puntos, (Just relax and focus on timing. No need to put things at risk because we have a huge lead," said Fernandez.
In the end, Pacquiao's trainer got the result he wanted.
"Lahat ng idea na gusto kong mangyari. Lahat ng pinagplanuhan ko, nagawa lahat (Every idea that I wanted to implement, every game plan I made, came to fruition)," he said.