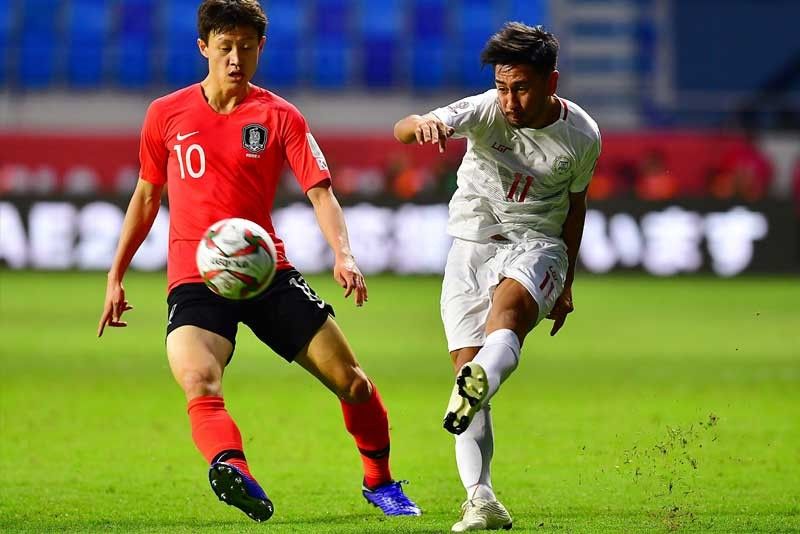 Daisuke Sato (right) fights for the ball during the 2019 AFC Asian Cup football game between Korea and Philippines at the al-Maktoum stadium in Dubai.
AFP
Class act by Azkals after Asian Cup loss to Korea
MANILA, Philippines – The Philippine Azkals made quite an impression both on and off the court when they absored a 0-1 loss to South Korea in the AFC Asian Cup, Monday.
Exceeding everyone's expectations, the Philippine squad held their ground against the powerhouse Korea. The higher-ranked team wasn't able to score in the first half and only managed a single goal against the Azkals.
But apart from the stellar performance in their first Asian Cup appearance, the Philippine Azkals made sure to show class even outside the pitch.
Left an empty stadium with full hearts tonight. Maraming Salamat Dubai! ???????? pic.twitter.com/vAhEFTPaMv

— The Philippine Azkals (@TheAzkalsPH) January 7, 2019
After the match, the Filipino booters left their locker room clean and spotless along with a thank you note to the cup's hosts.
Mimicking Japan during the 2018 World Cup, the Azkals impressed football fans around the world with their gesture.
RELATED: Coach lauds Azkals' tough stand vs Korea
The Azkals now look to notch their first Asian Cup win when they go against China tonight, 9:30pm local time.