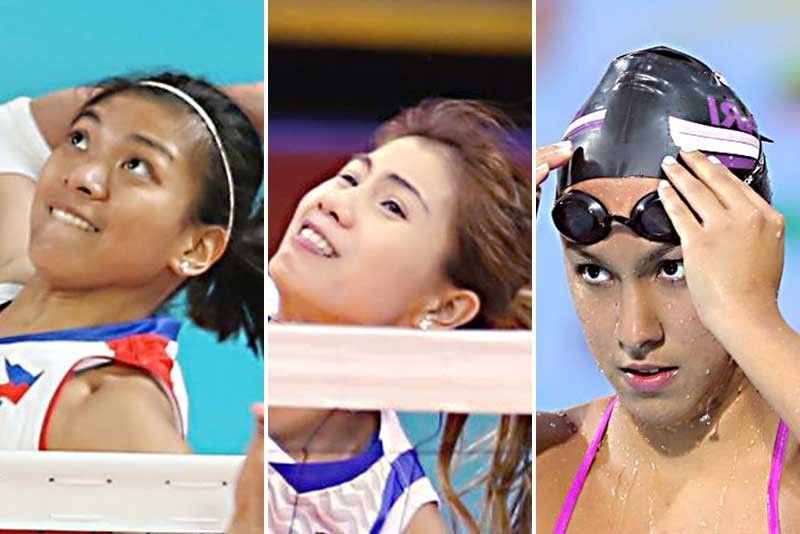 Among the muses for the PBA inaugurals are are Alyssa Valdez, Myla Pablo and Jasmine Alkhaldi.
PBA Sidelights: Sharon Cuneta a surprise muse
MANILA, Philippines — There will be beauty queens, athletes and actresses in the lineup of muses parading in the PBA's 44th season inaugurals at the Philippine Arena on Sunday but the standout is clearly megastar Sharon Cuneta. Magnolia PBA governor Rene Pardo said the other day Cuneta, who turned 53 last Sunday, is the perfect choice as a wholesome endorser of the franchise.
The complete roster of muses lists Olympic swimmer Jasmine Alkhaldi and volleyball's Myla Pablo for Blackwater, actress Kelley Day for Columbian, Miss Philippines Grand International 2018 Eva Patalinjug for Meralco, Mutya Ng Pilipinas 2018 top 12 finalist Anie Uson for Rain Or Shine, Miss International 2016 Kylie Verzosa for San Miguel Beer, actress Yam Concepcion for Phoenix, Mutya Ng Pilipinas Tourism International 2018 Aya Fernandez for NorthPort, volleyball's Alyssa Valdez for NLEX, actress Klea Pineda for Alaska, Miss Universe 2015 Pia Wurtzbach for Barangay Ginebra, actress Sam Pinto for TNT KaTropa and Cuneta for Magnolia.
Verzosa will make her second appearance as a PBA muse. She was with the Star Hotshots in 2016. Two volleyball players Valdez and Pablo will grace the parade. Another volleyball ace Michelle Gumabao declined an invitation from Blackwater to join the Elite's cast of muses. Gumabao, whose father Dennis Roldan played 37 games with Gilbey's Gin in the PBA in 1983, was the Makati Skyscrapers' muse in the opening parade of the MPBL Datu Cup last June. She probably turned down the invitation because her boyfriend Aldo Panlilio is the Phoenix FuelMasters' strength and conditioning coach.
Wurtzbach is Ginebra's calendar girl this year and traditionally, whoever is the company's choice for the date chronology is also the muse. But enlisting a former Miss Universe as a muse is a coup, calendar girl or not. Pinto was named to replace TNT endorser Julia Barretto.
* * *
The PBA will hold its first-ever Media Day at the Solaire Resort Tent from 1 to 4 this afternoon. It's a take-off from the NBA's media availability event where players and coaches are seated in a room for interviews, shoots and conversations with the press.
Each team will be represented by its rookies, five veterans and coaching staff. There will be four stations at the Tent – PBA Rush for TV interviews, Meet and Greet for selected Solaire patrons, Social Media and Photo Shoot. Each team will take a turn in every station, meaning at any one time, four teams will be in the four stations, leaving eight teams on the floor available for random interviews. Food and drinks will be served during the event. Sponsors are expected to set up promo booths at the Tent for product displays, flyering and merchandise giveaways.
"The Media Day will serve as a venue to extend our gratitude to our media friends for their unending support for our teams and players in particular and the league in general as well as a venue to open interviews and features to usher in the coming 44th season," said PBA commissioner Willie Marcial.
* * *
PBA operations and technical head Eric Castro explained that four new rule tweaks will make calls less judgmental and the game more exciting as the league prepares for the season opener on Sunday. The four rule tweaks are – goaltending will be reviewable, like a three-point shot, during a game; the traveling guideline of 0-1-2 will be observed as in the NBA and FIBA; coaches may call timeouts verbally without gesturing a T with their hands and advantage fouls will be reviewable at the referees' discretion.
Castro said the league isn't inclined to prolong games unnecessarily by allowing constant reviews. In advantage foul situations, he said if the call is obvious, there will be no need to delay proceedings and review film. Marcial said it is the league's priority to improve officiating. Another league priority is to enhance the in-venue experience of fans. Marcial said Excite Events CEO Gelo Serrano, now in charge of PBA marketing, has laid out a blueprint to entice more fans to watch the games live. Attractive prizes, live social media interaction, halftime entertainment and a more exciting game are the ingredients of Marcial's master plan to increase venue attendance.