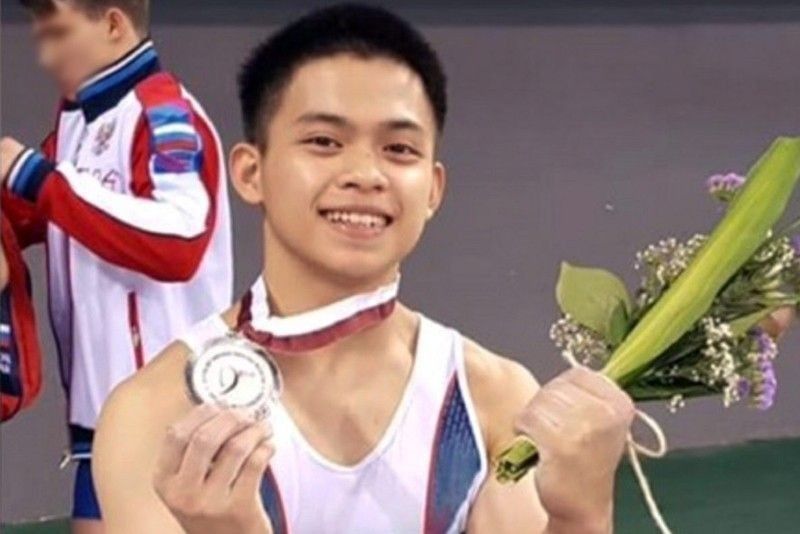 "Everyone but everyone tells me that Caloy is a very talented boy," said Gymnastics Association of the Philippines (GAP) president Cynthia Carrion.
File
Caloy Yulo qualifies for all-around, floor finals
MANILA, Philippines — Filipino gymnast Caloy Yulo has made a dazzling impression in the ongoing World Championships at the Aspire Academy Dome Auditorium in Doha, Qatar, with his biggest tests of progress coming in the 24-man all-around final tomorrow and the 8-man floor exercise final on Friday.
Gymnastics Association of the Philippines (GAP) president Cynthia Carrion said yesterday an official from the US has reiterated an offer to award Yulo a scholarship, free training and accommodations in an American university. Yulo, 18, is being hailed as one of the up-and-coming stars in the sport.
"Everyone but everyone tells me that Caloy is a very talented boy," said Carrion. "He's the youngest athlete in the men's competition and only his second as a senior going against seasoned veterans. The US came to me again. They're willing to give Caloy a scholarship and training, all for free with schooling and other benefits. I told them I'll think about it. But Caloy is doing great in Japan where he trains all year round with coach Mune (Munehiro Kugimiya). I wouldn't think of hurting coach Mune and didn't even discuss what school in the US or where."
Even the Lausanne-based Federation Internationale de Gymnastique, in its media releases from Doha, has taken notice of Yulo. Here was the FIG's report on the first day of qualifiers. "Yulo was the individual surprise of the day," said FIG. "The 18-year-old Manilan sits in fifth place in the all-around and is currently in the top eight in floor exercise, vault and parallel bars. His best performance came in floor exercise where his tumbling passes included stuck piked double front-half, back 2 1/2 to front 2 1/2, 3 1/2 to barani and triple twist. Yulo, who claimed silver in floor at this year's World Cup in Doha, is competing in his first World Championships."
In the qualifiers for six apparatus, Yulo finished fourth of 205 competitors in floor, ninth of 203 in vault, 52nd of 203 in pommel horse, 41st of 196 in rings, 27th of 196 in parallel bars and 162nd of 200 in horizontal bar. He easily made the cut-off of 24 qualifiers by landing No. 12 in the all-around standings, taking into account the points accumulated with the six apparatus. Yulo took the No. 12 spot with 81.230 points. China's Xiao Routeng led the way with 87.332 points. Carrion said making the 24-man cut-off for the all-around final earned for Yulo a ticket to the Olympic qualifiers in Stuttgart next year.
Yulo was brilliant in floor, scoring 14.766 points to wind up fourth behind top-notcher Artur Dalaloyan of Russia with 14.833. He missed the 8-man cut-off for the vault final but ranked first of three reserves to be called up in case of a withdrawal by a qualifier. The leader in vault was North Korea's Ri Se Gwang.
"Caloy trains every morning and afternoon," said Carrion. "What Caloy has accomplished in the World Championships is already historic. We've never in our gymnastics history ever qualified for the individual all-around final of any World Championships. It's a difficult feat to be proficient, not to mention world-class in all six of the men's events. Just a few years ago, Caloy was a two-event gymnast, competing in just floor and vault so to raise his level in four other events in a short period of time was nothing short of amazing. Also, not many gymnasts debut in the World Championships as the youngest competitor and make the foreign press turn and notice them right away. We are so proud of all the hard work he and all the people behind the scenes have put in."
There is one other Philippine gymnast in Doha. Corinne Bunagan, 15, is from New Jersey and trains under coaches Craig and Jennifer Zappa. The Fil-Am represented the Philippines at the recent Asian Games and finished No. 12 in the all-around final but failed to qualify for the final in the four women's apparatus. In Doha, Bunagan landed No. 50 of 113 in vault, No. 100 of 112 in balance beam, No. 43 of 110 in floor and No. 77 of 109 in uneven bars. She didn't make the cut-off for the all-around final.