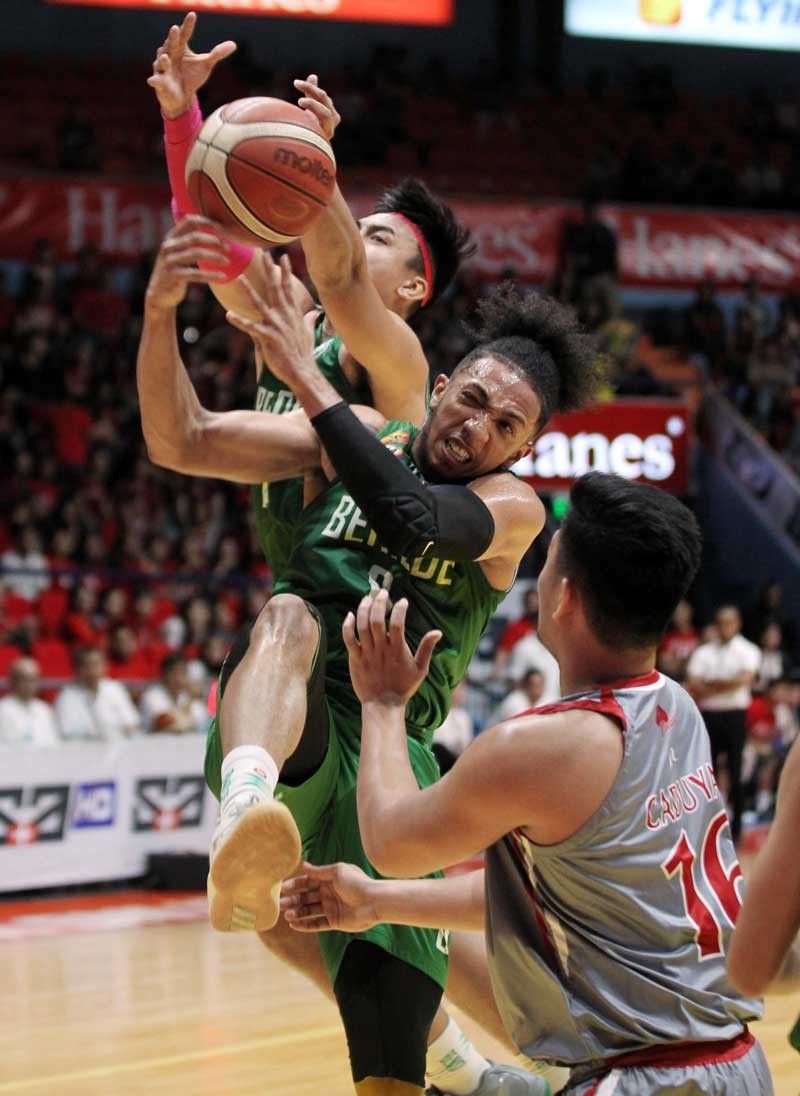 Blazers Justin Gutang (rear) and Yankie Haruna control the rebound while Raymar Caduyac of Lyceum looks on in their NCAA game yesterday at the Filoil Flying V Center.
Jun Mendoza
Pirates, Lions blast rivals, claim twice-to-beat edge
Joey Villar
(The Philippine Star) - October 12, 2018 - 12:00am
MANILA, Philippines — Lyceum of the Philippines shifted to high gear in the second half to nip College of St. Benilde, 77-64, and clinch a Top 2 seeding in the Final Four of the 94th NCAA basketball tournament yesterday at the Filoil Flying V Center in San Juan.
Jaymar Perez and Mike Nzeusseu paced the team with 17 and 13 points, respectively, but it was MJ Ayaay and Reymar Caduyac who took turns in leading the Pirates' surge in the last two quarters en route to their 15th win in 17 outings, which assured them of the twice-to-beat advantage in the semis.
In the other game, San Beda smashed Arellano U, 90-52, to retain the solo lead with a 15-1 mark while booking the other twice-to-beat edge.
The Chiefs slipped to 5-11.
Ayaay poured in seven of his 10 in the third quarter when LPU made its move while Caduyac put on the finishing touches in the fourth when he uncorked seven of his 10 markers.
LPU coach Topex Robinson later heaped praise on the feisty Caduyac, who sparked his clutch performance with seven assists, five rebounds and two steals.
"I call him 'speedy bagal (quick but slow),' you wouldn't believe he's a point guard," said Robinson of Caduyac. "But he's really super smart and what he lacks in physical ability, he makes it up by being smart. He's really a blessing to us as a team."
The Pirates also eliminated the Blazers from the Final Four race as the latter slid to 8-8, giving idle Perpetual Help Altas (11-5) the fourth and last slot to the semis in the company of Lyceum, San Beda Lions and the Letran Knights.
Interestingly, LPU will play San Beda next week in its final elimination round game in what could be the sneak preview of this year's finals.
The scores:
First Game
LPU 77 – Perez 17, Nzeusseu 13, Caduyac 10, Ayaay 10, Tangsingco 8, Marcelino JV 6, Yong 4, Pretta 3, Marcelino JC 2, Ibanez 2, Santos 2, Valdez 0
CSB 64 – Gutang 13, Leutcheu 11, Carlos 11, Dixon 8, Haruna 8, Naboa 7, Nayve 5, Pasturan 1, Belgica 0, Young 0
Quarterscores: 26-17; 37-35; 62-53; 77-64
Second Game
SBC 90 – Mocon 24, Bolick 11, Oftana 9, Tankoua 8, Doliguez 8, Canlas 6, Carino 5, Nelle 5, Soberano 5, Cuntapay 4, Presbitero 3, Eugene 2, Tongco 0, Abuda 0, Cabanag 0
AU 52 – Bayla 12, Alban 10, Canete 7, Alcoriza 6, Dela Torre 5, Concepcion 4, Dela Cruz 2, Segura 2, Sera Josef 2, Sacramento 2, Ongolo Ongolo 0, Codinera 0
Quarterscores: 22-15, 38-23, 60-37, 90-52