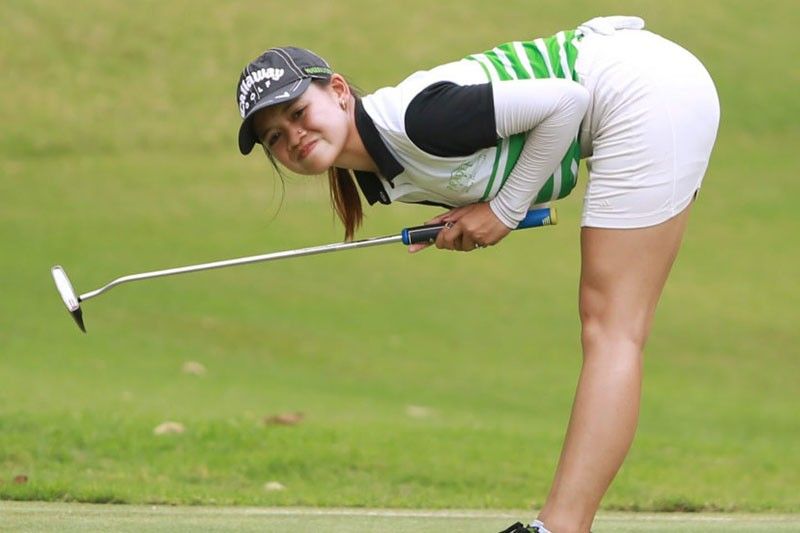 Pradera's Ika Nasser reacts after missing a birdie putt on No. 16.
Southwoods hangs on; Pradera Verde makes move
(The Philippine Star) - September 21, 2018 - 12:00am
MANILA, Philippines — Manila Southwoods slowed down with a 154 but held on to a three-point lead over Pradera Verde halfway through the 13th Philippine Airlines Ladies Interclub golf team championships at Rancho Palos Verdes Golf and Country Club in Davao City yesterday.
Marielle Tee bucked a double bogey on No. 16 to save a one-over par 73 equivalent to 53 points, while Laurea Duque and Samantha Dizon chipped in 51 and 50 points, respectively, as the Southwoods ladies assembled a 154 for a two-day aggregate of 310.
But the Carmona-based squad saw its overnight five-point lead reduced to three as the defending champions fought back with a 156 for a 307, guaranteeing a fierce duel in the last 36 holes of the annual event among the country's leading players.
Pradera Verde rode on Malaysian Ika Nasser's 53 points, Annyka Pineda-Cayabyab's 52 and Eliza Mae Kho's 51 to cut Southwoods' overnight lead with 156 points.
Cayabyab, 14, drained a difficult eight-foot putt to save par on the final hole.
Sunshine Baraquel (46) and Vinisha Gunaseelan (50) failed to count for Southwoods and Pradera, respectively.
Southwoods captain Claire Ong said she was happy her wards retained the lead.
"It's good that we have the options. At least we're still in the lead. That's what we want, and who knows?" said Ong.
Pradera skipper Norman Sto. Domingo, however, remained confident of pulling off a back-to-back feat.
"Whatever the outcome tomorrow (today), whether we are on top or not, I feel we're going to win. About four to five strokes," said Sto. Domingo, who plans to reserve Asian Games champion Yuka Saso and Nasser in the final round.
In the Founders division, Lady Eagles Australian Golfers 1 shot the day's best round – 158 points – to share the lead with overnight leader Del Monte at 274.