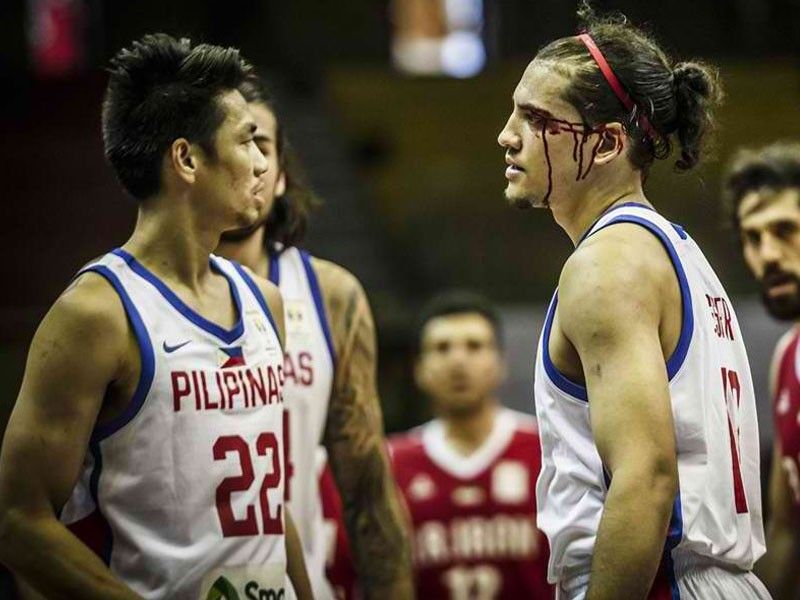 Bloodied but unbowed: Marcio Lassiter sporting a gash as teammate Allein Maliksi looks on
FIBA.com photo
4 takeaways from Team Philippines' FIBA Asia game vs Iran
MANILA, Philippines – The Philippines absorbed an 81-73 loss to Iran in Tehran, their third in seven outings, while Iran climbed to 6-1. Gilas battled Iran through 20 lead changes and a standstill for 32 minutes before succumbing.
While we're still all right, the game against Qatar on Monday, September 17, is a must-win.
Here are some takeaways from that match.
Our being on a short leash
I'm not sure whether or not knocking down an Iranian player or two was good or bad. Yes, we are on a short leash, but we're also not on our home court. But I do like Marcio Lassiter not backing down after he was bloodied.
We knew this was coming after the brawl with Australia. And it will be there for quite a while.
Iran has always been a tough and maybe even physical team and I will say that although it was more or less a well-officiated game, I thought that Iran got away with some unnecessary stuff. If that game had been played at home in the Philippines (prior to the Australia incident), there could have been retaliation and who knows what else.
FIBA has to be conscious about the physicality of the game. There should have been warnings issued during the match against Iran and the home team.
Those killer threes and that veteran, Bahrami
Both teams struggled from the 3-point arc, but Iran hit huge ones and late in the game. That helped provide the cushion from what was a close game for 32 minutes.
The Philippines hit 5 of 28 triples for a 17 percent field goal accuracy. Iran, on the other hand, were 7-22 for 31 percent. For the Philippines to stand a chance of pulling out a win, we have to hit some big ones in the crucial moments.
But those triples from the Iranians who weren't expected to hit them — Rouzbeh Arghavan and the always poor-shooting Mohammad Jamshidi. If Iran didn't know Beau Belga, well, we didn't know Arghavan. Tit-for-tat.
I haven't seen Samad Nikkhah Bahrami in a while, but while he is getting in on the years, he is still darn effective. He tallied 21 points, 8 rebounds, 4 assists and 1 steal. Not bad.
Christian Standhardinger is simply a handful for opposing teams
The Fil-German's awkward and unorthodox moves have opposing defenders off-balance. And he has arguably been the biggest call-up in recent years (aside from Roger Pogoy). Christian tallied a game-high 30 points, 12 rebounds, 2 assists and 2 steals versus 6 turnovers. He was the only Filipino in double figures.
Christian is deceptively fast, smart and unmindful of his physical being.
It certainly hurt that there wasn't much to back him up. Alex Cabagnot scored 9 points, but three of them came in the last seconds of a won match by Iran.
Different lineups for both teams that spell the future
I like the fact that this was a different Philippine team, but so was Iran. Iran, on the other hand, featured a mostly young team and their younger players delivered the killer blows.
I like the fact that other players were now released by the SMC group, but let's see if this happens for the rest of the windows.