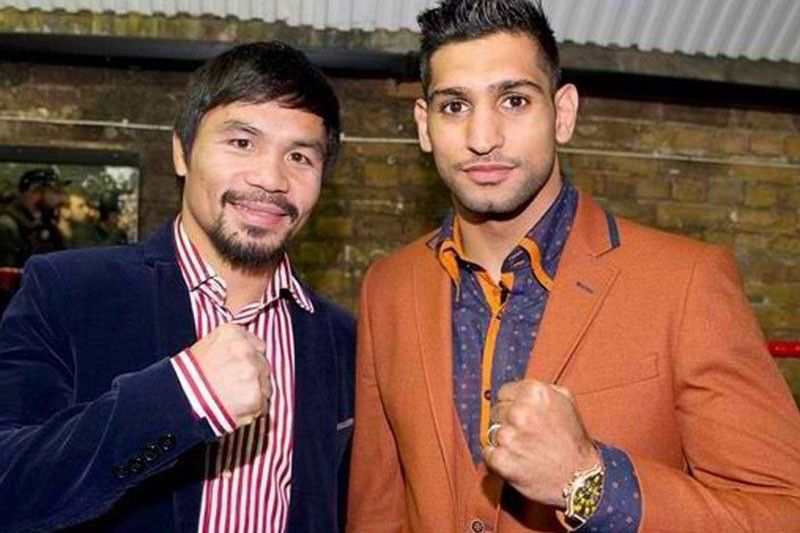 Manny Pacquiao and Amir Khan
Khan's father, uncle in secret Manila meeting
MANILA, Philippines — Three weeks before Top Rank CEO Bob Arum and stepson Todd DuBoef flew in from the US to meet WBA welterweight champion Manny Pacquiao for a few hours in General Santos City early last month, a two-man delegation from the UK was in town for two days to try to make a deal for Amir Khan with the Filipino Senator.
It was only the other day when a reliable source leaked the information that Khan's father Shah and uncle Taz came in from London to confer with Pacquiao's representatives on a fight in December. The source couldn't confirm if Pacquiao himself met with the Khans but said Joe Ramos of MP Promotions took the lead in the discussions.
"The Khans arrived on July 22 at night and left July 24 in the afternoon," said the source. "Then, on Aug. 10, Arum and DuBoef landed in Manila on a commercial flight from the US. They couldn't borrow Gov. Chavit Singson's private plane because it was in Dubai so they rented a jet to take them to General Santos to visit Manny. Arum and DuBoef arrived in General Santos at 10 a.m. and left at 3 p.m. then took the night flight back to the US so they were in the country for less than 24 hours. They must have spent $70,000 just to fly over."
After Pacquiao wrested the WBA welterweight crown from Lucas Matthysse in Kuala Lumpur in July, he's become a hot commodity in boxing once more at 39. Pacquiao said he'd like to stake his crown in December then line up two more big bouts next year. Retirement is not on his mind at the moment.
The source said Arum raised the possibility of Pacquiao fighting Jeff Horn in a rematch or Vasyl Lomachenko or Terrence Crawford, all of whom are signed up with Top Rank. But the main purpose of his visit was to clear up a business issue involving rights to Pacquiao's fights in the US. Top Rank contracted ESPN+ to air Pacquiao's fight against Matthysse and reportedly owes a rights fee of $1.7 Million to the Filipino icon. Arum and DuBoef left the country without resolving the issue.
As for the Khans, they were kicked out of the former WBA/IBF superlightweight champion's camp over financial and personal differences last year. Khan cut ties with his father, uncle and long-time friend Saj Mohamed after he was knocked out by Canelo Alvarez last May. But the family feud has been settled and everything is back to business as usual.
"Shah and Taz want $9 Million for Amir because that's how much he earned for fighting Alvarez," said the source. "But assuming Amir beats Samuel Vargas in England this morning (Manila time), his next option for a big fight can only be Manny. If he fights (former IBF welterweight champion) Kell Brook instead and loses, Manny can't be the next option. But if Amir fights Manny and loses, Brook can still be an option because losing to Manny won't knock him out of contention. Losing to Brook will."
The source said Khan is willing to fight Pacquiao anywhere, including Macau which is the Filipino's preferred site. But fighting in the UK is a possibility. Apparently, the tax bite in the UK isn't 40 percent as it was initially mentioned but 20 percent so it's manageable. The Khans, however, need to raise the ante for Pacquiao to even consider fighting in the UK.
Khan is backed up by Matchroom Promotions' Eddie Hearn who has a $1 Billion budget for boxing over the next eight years. Hearn is behind the on-demand streaming service called Dazn where his partners include Spotify founder Simon Denyer and former ESPN head John Skipper. Hearn appears ready to make Pacquiao an offer for broadcast rights in the US and UK.
Then there's WBC/IBF lightweight champion Mikey Garcia who's unbeaten with a 39-0 record, including 30 KOs. Garcia, 30, is making noise about challenging Pacquiao. Garcia and brother Robert are negotiating a fight for the vacant IBF minimumweight title between Filipino Mark Anthony Barriga and their protégé Carlos Licona of Mexico in November.