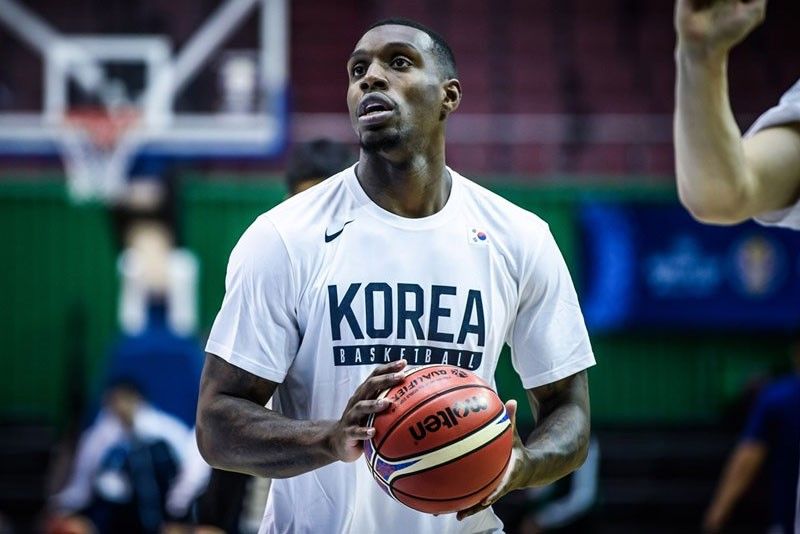 Without revealing details, Gilas head coach Yeng Guiao said he's confident of beating the Koreans who are now reinforced by naturalized player and former PBA import Ricardo Ratliffe.
FIBA.COM
Focus on South Korea, not Iran
MANILA, Philippines — A totally different gameplan from what the Philippines executed in last Tuesday's loss to China is what Gilas has in mind for South Korea when they clash in a knockout quarterfinal game in the Gelora Bung Karno Basketball Hall at the Asian Games in Jakarta on Monday morning.
Without revealing details, Gilas head coach Yeng Guiao said he's confident of beating the Koreans who are now reinforced by naturalized player and former PBA import Ricardo Ratliffe. "Against South Korea, it's a totally different gameplan," said assistant coach Caloy Garcia. "We had in mind to use Gabe (Norwood) at the four spot to quicken the pace (against China). Maybe, we'll do that against South Korea."
Assistant coach and chief scout Ryan Gregorio was busy detailing tendencies, strengths and weaknesses of each Korean player at presstime. He said the focus is just to beat South Korea. "We worry about Iran later," said Gregorio referring to Gilas' likely semifinal opponent if the Philippines hurdles South Korea.
Initially, there was confusion as to when the Philippines will play South Korea. Different sources reporting on the basketball competition had conflicting information. The official Asian Games handbook booked the quarterfinals on Sunday and Wikipedia said the semifinals will be on Aug. 31. But a check on the complicated tournament format with Gilas team manager Butch Antonio confirmed that the quarterfinals will be on Monday and the semifinals on Aug. 30. "The schedule in the (official Asian Games) handbook has been revised many times," said Antonio. "We play South Korea at 10 a.m. (11 a.m. Manila time) on Monday."
South Korea locked up the top spot in Group A after beating Thailand, 117-77, the other night. The Koreans previously crushed host Indonesia, 104-65 and Mongolia, 108-73. The defending Asian Games champion is hitting 43.7 percent from beyond the arc and averaging a whopping 34 assists a game. Coach Hur Jae's squad is also forcing an average of 20.7 turnovers on opponents. Against Thailand, guards Kim Sunhyung and Heo Ung knocked down a combined 5-of-5 triples. Against Mongolia, wingman Heo Ilyoung fired 6-of-9 triples and guard Lee Junghyun 3-of-5. Against Indonesia, Ratliffe was dominant with 30 points on 10-of-14 from the field and 10-of-10 free throws, 19 rebounds and six assists.
Ratliffe, 29, was renamed Ra Gun-ah after taking out Korean citizenship to play for the national team. He was a two-time PBA import with the Star Hotshots and the MVP of the 2014 Jones Cup. The 6-8 forward saw action in two years with the University of Missouri varsity, averaging 10.6 points in 2010-11 and 13.9 points in 2011-12. Gilas' Jordan Clarkson also went to the University of Missouri but played only a season in 2013-14, averaging 17.5 points.
Aside from Ratliffe and his sharpshooting guards, coach Hur relies on 6-7 center Kang Sangjae who hit 10-of-12 field goals in compiling 20 points with eight rebounds in the win over Thailand. Other bigs to watch are 6-7 Kim Junyl and 6-7 Choi Junyong. South Korea's strengths are its depth in the backcourt, outside shooting, quickness, crisp passing and Ratliffe's all-around play. Its weaknesses are lack of ceiling at the center position, no Plan B when the perimeter gunners aren't clicking, no lock-down defender for Clarkson and a tendency to break down under pressure.
If the Philippines overcomes South Korea, Gilas will advance to the semifinals against the quarterfinal winner of the game between Group B topnotcher Iran and the Group C runner-up, likely to be Japan. Chinese-Taipei will clinch No. 1 in Group C with an expected win over Qatar tomorrow, leaving Japan at No. 2. The semifinals will be played on Aug. 30. If the Philippines loses to South Korea, it will drop to the relegation round where the highest finish is fifth and the lowest is eighth. For Gilas to win the gold, it must beat South Korea, Iran and likely finalist China in succession.
The Philippines hasn't struck gold in basketball at the Asian Games since 1962 or 56 years ago and its last medal was a bronze with coach Tim Cone piloting the Centennials in 1998 or 20 years ago. China has topped seven of 11 Asian Games but is coming off its worst finish, fifth, from the Incheon Games in 2014. The Philippines is also trying to rebound from its worst finish, seventh, in 16 Asian Games.