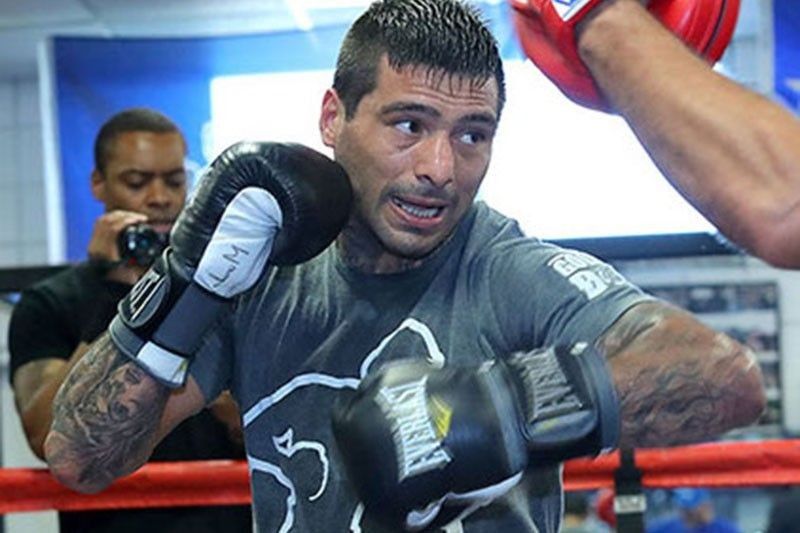 Matthysse's trainer Joel Diaz has declared in no uncertain terms that the bout won't go the distance and someone's going down.
File
Manny, Lucas hard at work
The anticipation for the "Fight of Champions" between defending WBA welterweight titlist Lucas Matthysse of Argentina and Filipino challenger Manny Pacquiao at the Axiata Arena in Kuala Lumpur on July 15 is nearing fever-pitch as the protagonists step up their training for what is expected to be a brawl to end all brawls.
Matthysse's trainer Joel Diaz has declared in no uncertain terms that the bout won't go the distance and someone's going down. Pacquiao isn't the type to predict an outcome but said he knows the fight will determine whether or not to continue with his ring career. He wants a convincing win to seal at least two more big-money fights before hanging up his gloves. A showdown with Ukraine's Vasyl Lomachenko and a rematch with Floyd Mayweather, Jr. could be down the highway waiting for Pacquiao if the stars are aligned. But Matthysse is the road block that Pacquiao must hurdle.
Top Rank CEO Bob Arum was recently quoted in media as doubting if the K. L. fight will go through. Neither Pacquiao nor Matthysse, however, is listening. The fighters are busy breaking sweat, getting ready for their duel and leaving no stone unturned in making sure they'll be in tip-top shape for the engagement. Arum isn't involved in the K. L. promotion but will take care of the fight coverage in the US, likely via the ESPN TV network and the ESPN+ streaming app.
Pacquiao's sales and marketing head Arnold Vegafria arrived from New York City the other day and announced that a TV talk special entitled "Boxing One-On-One," featuring Pacquiao and Matthysse in a face-off, will be aired 10 days before the fight in 170 countries. The show includes a segment where four guests fire two rounds of questions at the fighters then predict how the battle will end. The guests are Top Rank chief operating officer Brad Jacobs, Las Vegas-based international matchmaker Sean Gibbons, Pacquiao's Canadian adviser Michael Koncz and Cebu-based Panamanian boxing journalist Carlos Costa.
In General Santos City, Pacquiao is sparring with three recruits whose records show a combined 107 fights, indicating a ton of experience. The first is unbeaten 5-9 1/2 lightweight George Kambosos of Australia. Kambosos, 25, has a 14-0 record, with 8 KOs, and will see action in the undercard in K. L. The second is 5-7 superwelterweight Arnel Tinampay whose record is 24-21-1, with 10 KOs. The third is 5-5 superlightweight Ricky Sismundo with a record of 33-11-3, including 15 KOs. The three are rugged, tough and durable. Buboy Fernandez and Australian Justin Fortune are supervising Pacquiao's workouts.
MP Promotions media director Winchell Campos said the other day "Pacquiao is all business as he's focusing on the most challenging fight of his life." Campos said Pacquiao will elevate his sparring level to 12 rounds this coming week. "Matthysse and I are getting ready to give the fans their money's worth and July 15 will be huge for boxing in Malaysia," said Pacquiao.
Vegafria said fight preparations are proceeding as planned. "Everyone's on board," he said. "Everyone understands the situation and the fight is going on as scheduled." The event will showcase 12 fights, 108 rounds, nine unbeaten boxers, fighters from 14 countries and four world titles on the line. It wasn't easy assembling the blockbuster card but like the Pied Piper, Pacquiao rounded up the fighters eager to display their skills on a global platform. Tickets went on sale last June 6 with seven different prices – $125, $250, $350, $500, $1,000, $2,000 and $5,000.
Matthysse is training in a secluded desert camp at Coachella Valley in Indio, California, 95 miles north of the Mexican border. Los Angeles-based Filipino sports photographer Jhay Otamias visited Matthysse's camp a few days ago and reported that the Argentine slugger is in razor-sharp form. With Matthysse in camp were Diaz and his brother-in-law Mario Narvaez. Matthysse's sister Soledad is married to Narvaez whose brother Omar was a former world flyweight and superflyweight champion.
Otamias was welcomed to the camp by Diaz but stayed only to watch his gym drills, not his sparring. Diaz told Otamias that Matthysse will win by knockout because Pacquiao, at 39, isn't like what he was before. Matthysse, 35, has scored 36 KOs in 39 wins and lost four. One of his losses was to Viktor Postol in 2015 when he took the full count after suffering a fracture in his left orbital bone.