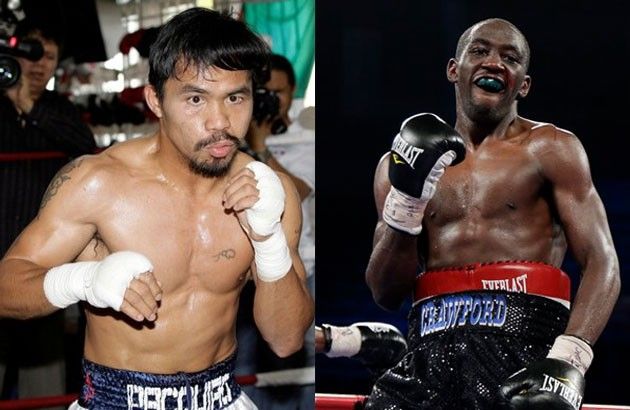 Manny Pacquiao and Terence Crawford
Crawford defends Pacquiao from 'ducking' allegations
MANILA, Philippines – If Manny Pacquiao is indeed avoiding a showdown with newly crowned WBO welterweight champion Terence Crawford, the Filipino icon is well within his rights to do so.
This is what Crawford himself said when asked if Pacquiao is deliberately ducking the younger champion, who is arguably the best pound-for-pound fighter in the planet today.
In a recent interview with SiriusXM Boxing Radio, Crawford — fresh from his massive TKO win over Jeff Horn to become a three-division champion — argued that Pacquiao deserves to cherry-pick his opponents from now on after everything he has achieved in the sport.
"Pacquiao earned the right to go out how he wants to go out. He had fought everybody there is to fight — when they was there to fight. He fought all the top names. Eight-division champion. He accomplished everything there is to do in the sport of boxing," the 30-year-old undefeated fighter explained.
While Crawford battered Horn over nine one-sided rounds, Pacquiao struggled against the Australian slugger in a loss last year — a clear indication that Pacquiao is no longer the fiery fighter he once was.
Now, the belt that once belonged to Pacquiao is in Crawford's hands. Pacquiao, for his part, is trying to salvage a measure of pride against WBA welterweight titlist Lucas Matthysse in Kuala Lumpur, Malaysia next month.
Even before Pacquiao controversially lost to Horn, there had been talks about pitting the fighting senator against Crawford — talks that will likely resurface if Pacquiao gets past Matthysse on July 15.
But there is no interest from Pacquiao's camp about a Crawford bout, and Pacquiao himself is non-committal about taking on the American star in the future.
Given that Pacquiao is already on the decline while Crawford is still on the rise, it may be the proper stance for Pacquiao and his camp.
And Crawford has no problem with it.
"So if he (Pacquiao) chooses to go out with some fights of his choice, he deserved that. He earned that right," he said.