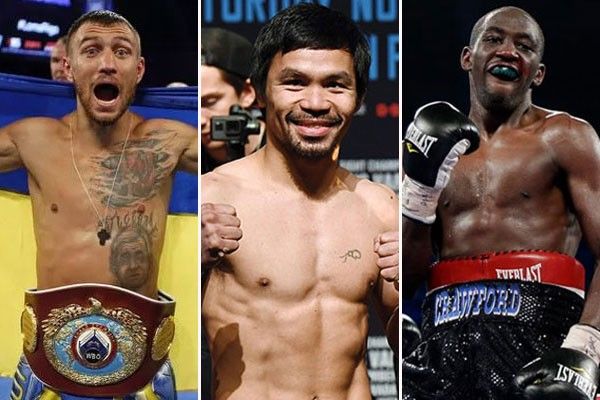 Vasyl Lomachenko, Manny Pacquiao and Terence Crawford
Crawford not on Pacquiao's radar, says Koncz
MANILA, Philippines – If he gets past WBA welterweight champion Lucas Matthysse in July — and looks good in doing so — Manny Pacquiao is going after Ukrainian star Vasyl Lomachenko in November.
Pacquiao's camp prefers Lomachenko over Terence Crawford, the other pound-for-pound star who's likely to cross paths with the Filipino icon in the near future.
Michael Koncz, Pacquiao's adviser, told Filipino sportswriters last week that they want no part of Crawford, citing the American fighter's slick style.
"Styles make fights. In my opinion, the Terence Crawford fight is a bad style for Manny. That type of fighter is similar to (Floyd) Mayweather. We've always had trouble with those types of fighters," Koncz said.
It's no secret that Pacquiao has had difficulty fighting technically inclined boxers, and Crawford happens to be one of the best such fighters in the planet right now.
If Pacquiao unseats Matthysse on July 15 in Kuala Lumpur, Malaysia, he could be on a collision course with Crawford, who is favored to win his upcoming fight with Jeff Horn — Pacquiao's last opponent — in June.
But Koncz insists that a Pacquiao-Crawford showdown is not in their immediate plans.
"Terence Crawford is gonna do whatever it takes for him to win. That's just him. He's a talented fighter, he can switch back and forth. It's just the style is not for Manny. I'm not saying he can't be successful but why risk it when we have other opportunities?" Koncz continued.
For Koncz, Lomachenko, the former featherweight and super featherweight champion, is the much better match-up for Pacquiao.
"I think the fans want that (Pacquiao-Lomachenko fight). Manny says he wants that. This has the potential to be a tremendous fight," said Pacquiao's adviser.
Lomachenko likewise has to win his match against Jorge Linares on May 12, and Pacquiao needs to catch his attention with an impressive win over Matthysse.
"If we can't be successful here (Matthysse fight) and have a good showing how am I gonna convince Lomachenko to fight? We won't be able to," said Koncz.