2019 SEAG: More than 30 sports eyed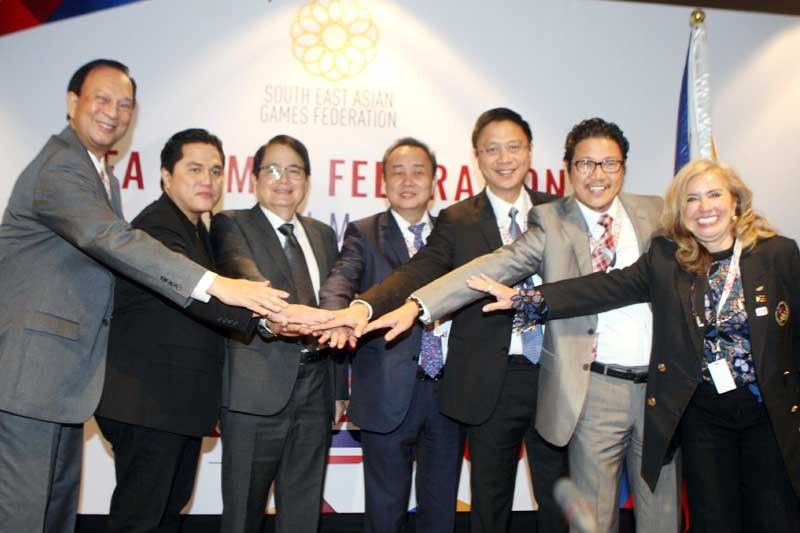 MANILA, Philippines — After two days of simultaneous meetings, members of the Southeast Asian Games Federation put their stamp of approval on 30 sports to be played in the 2019 SEA Games in the Philippines.
The number, according to SEA Games Federation head and Philippine Olympic committee president Ricky Vargas, may reach as many as 44 in time for their next meeting in November.
"We will meet again sometime in November to finalize the list," said Vargas in a lengthy press briefing at the Shangri-La at BGC.
Rep. Abraham Tolentino, POC chairman, explained the significance of the 30 sports – the next SEA Games being the 30th edition, and it being the campaign pitch of President Duterte (DU30) during the 2016 elections.
"That's why we have 30," he said during the briefing also attended by key officials of the Philippine SEA Games Organizing Committee (PHISGOC), including executive director Ramon Suzara and director general Patrick Gregorio, and SEA Games executive council members Celso Dayrit, the former POC president, and Cynthia Carrion.
Erick Thohir, the Asian Games Federation president and a high-profile businessman from Indonesia, joined the head table, and hailed the success of the two-day meeting.
"Thumbs up to PHISGOC for its hospitality and the presentation. It's remarkable," said the VIP from Indonesia.
The list includes arnis, athletics, aquatics, archery, badminton, baseball/softball, basketball, billiards, bowling, boxing, cycling, equestrian/polo, fencing, football, golf, gymnastics, judo/jiujitsu, karatedo, sailing, sepak takraw, shooting, squash, taekwondo, triathlon, volleyball, weightlifting, wrestling/kurash, wushu, arnis, dancesport and muay.
The Philippines will leave no stone unturned ensuring a successful hosting, only its fourth in SEA Games history, and at the same time improve on its medal ranking.
Vargas said he only has two things in mind.
"Put our best foot forward as hospitable hosts and give the best that we can and, second, improve our standings to at least the top three, and best if we get the overall championship," he said.
The Philippines was third when it hosted the SEA Games in 1981, second in 1991 and first in 2005, when it won 113 gold medals.
But there's been a steady decline when it comes to the medal standings, and in the 2017 SEA Games in Kuala Lumpur, the Philippines wound up sixth overall with a measly 23 gold medals.
"We want to improve from sixth to the top three. But if we can get the overall championships, of course, we will also try to do so," said Vargas, nearing his 100th day as POC president.