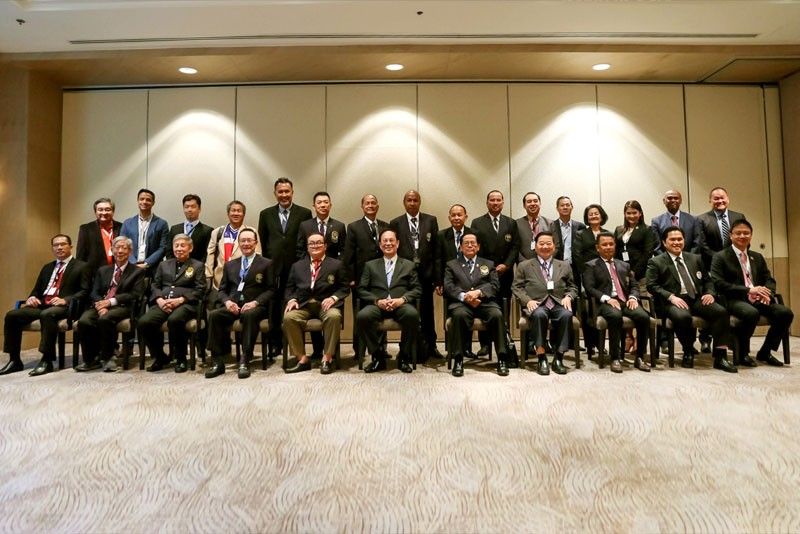 Members and officials of the Southeast Asian Games Federation Executive Committee pose after their first meeting at the Shangri-La Hotel at the Bonifacio Global City in Taguig yesterday. The Philippines' Celso Dayrit (seated, sixth from left) serves as chairman of the SEAGF. He was joined by SEAGF Executive Committee vice chairman Tom Carrasco (standing, seventh from left), Philippine SEA Games Organizing Committee (Phisgoc) director of operations Ed Picson (standing, leftmost), Honorary Secretary Arturo Aro (standing, second from left), Karen Tanchanco-Caballero (Women and Sports Committee, standing third from right), Dr. Raul Canlas (Medical Committee, standing rightmost), Phisgoc director general Patrick 'Pato' Gregorio (seated, rightmost) and members from the 10 other countries taking part in the 30th SEA Games the country will host in 2019.
MVP to host fellowship dinner for SEA Games family
MANILA, Philippines — Sports patron Manny V. Pangilinan will host a fellowship dinner for delegates of the Southeast Asian (SEA) Games Federation to climax two days of committee and council meetings at the Grand Hyatt Manila in Bonifacio Global City tonight.
Pangilinan and presidential consultant on sports Dennis Uy are advisers of the 2019 Philippine SEA Games Organizing Committee (PHISGOC). Pangilinan recently spearheaded the Philippines' winning bid with Japan and Indonesia to host the 2023 FIBA World Cup and was also instrumental in landing the hosting rights for the FIBA 3x3 World Cup at the Philippine Arena on June 8-12.
Some 80 delegates from 11 countries attended meetings of four committees at the Shangri-La Hotel in BGC yesterday. Simultaneous meetings of the Medical Committee headed by chairman Dr. Jose Raul Canlas, Sports and Rules Committee headed by chairman Tom Carrasco and Women and Sports Committee headed by chairperson Karen Caballero were held from 9:30 a.m. to 12 noon. In the afternoon, former POC president Celso Dayrit presided in the Executive Committee meeting where Dr. Canlas, Carrasco and Caballero reported on the deliberations of their committees.
Aside from Dayrit, the other members of the Executive Committee are Carrasco as vice chairman, Prof. Hoang Vinh Giang of Vietnam as vice chairman, Gen. Charouck Arirachakaran of Thailand as vice chairman/chief of office, Muhammad Zamri Hamdani of Brunei Darussalam, Nuth Sa An of Cambodia, Hellen de Lima of Indonesia, Phoouvanh Vongsouthi of Laos, Norza Zakaria of Malaysia, Khin Maung Lwin of Myanmar, Dr. Tan Eng Liang of Singapore, Prof. Charoen Wattansin of Thailand, Mateus da Cruz de Carvalho of Timor Leste and Arturo Aro of the Philippines as secretary.
Last night, PHISGOC Executive Board chairman and Foreign Affairs Secretary Alan Peter Cayetano hosted cocktails and dinner for the SEA Games Federation delegates and guests at the Marquis Events Place in BGC. The well-attended affair brought in top Filipino officials from the public and private sectors involved in the development of sports.
This morning, Dayrit will present the Executive Committee report on the discussions of the Medical, Sports and Rules and Women and Sports Committees to the SEA Games Federation Council. PHISGOC executive director Ramon (Tats) Suzara will also make a 20-minute audio-visual presentation of what to expect when the Philippines hosts the SEA Games in Manila, Clark and Subic on Nov. 30-Dec. 9 next year. The council officers are POC president/PHISGOC co-vice chairman Ricky Vargas as president, POC secretary-general/PHISGOC director general Patrick Gregorio as secretary and POC communications head/PHISGOC director of operations Edgar Picson as treasurer. Honorary Federation life presidents Haji Prince Sufri Bolkiah of Brunei Darussalam and Jose Cojuangco, Jr. will attend the meeting. Vargas, Gregorio, Suzara and Dayrit will brief the media on what was discussed at the SEA Games Federation council meeting at a press conference this afternoon.
Tonight's dinner will celebrate the success of the two-day sessions and signal the start of a new partnership in the SEA Games family leading to the staging of the next conclave. The atmosphere will be festive with jugglers in stilts entertaining the guests by shuffling 11 rings to signify the member nations in the SEA Games and performances by two-time Global Excellence Award winner as Asia's outstanding performing group Nocturnal Dance Company, 2017 Aliw Awards winner for best classical performer Lara Maigue and international vocalist Noel Cabangon.