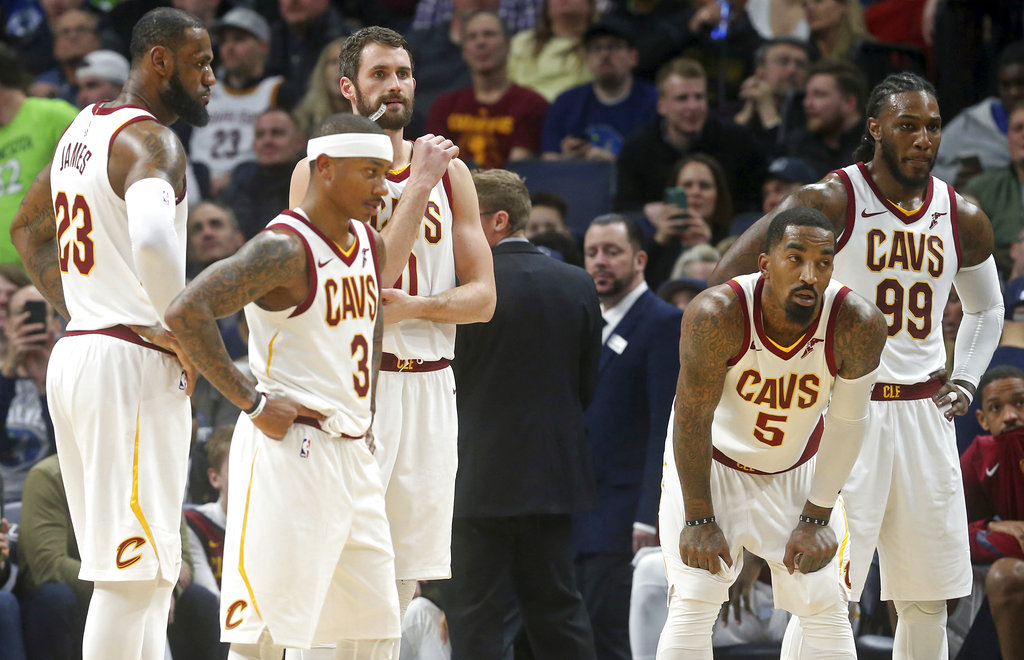 In this Jan. 8, 2018 file photo, Cleveland Cavaliers players, from left, LeBron James, Isaiah Thomas, Kevin Love, JR Smith and Jae Crowder take a break during a review in the second half of an NBA basketball game against the Minnesota Timberwolves in Minneapolis. | AP Photo/Jim Mone, File
Twitter goes crazy over Cavs' last-minute trade deals
(philstar.com) - February 9, 2018 - 11:19am
MANILA, Philippines — The Cleveland Cavaliers made use of the trade deadline to completely revamp their roster.
The Cavs on Friday traded six players, including Isaiah Thomas, Dwayne Wade and Derrick Rose, and two future draft picks in a series of deals.
READ: Turnover: Cavs overhaul roster with stunning trades
Social media went aflame with reactions spanning from confusion to mockery of the Cavs for their decision-making.
what are the cavs doing

— rojelio (@rojelioxgarcia) February 9, 2018
@cavs: new team who dis?

— _____ (@Angel__Moreno__) February 9, 2018
Baduy na ng cavs

— Khal (@paolorasonable) February 9, 2018
Anyare cavs?

— Ron (@RonMvP06) February 9, 2018
RIP Cavs

— Dan Vincent (@danvncent) February 9, 2018
Pero seryoso, ano ba nasa isip ng Cavs management at kung bakit ayaw niyo bitawan si JR Smith at Tristan Thompson?

— Christian Granados (@Chris_Granados9) February 9, 2018
The cavs just put names in hat shook it up and pulled random people to trade..

— shawnlo (@shawnlo4) February 9, 2018