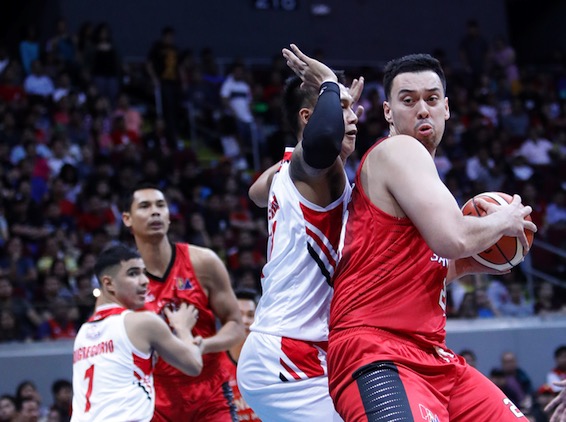 Barangay Ginebra's Greg Slaughter (right) muscles his way into the paint against Blackwater Friday night at the MOA Arena. | PBA Media
After shock loss to Blackwater, Slaughter says Gin Kings should always bring A-game
MANILA, Philippines — They've been touted as favorites in the PBA Philippine Cup with their towering big man back in the fold. They were coming off a two-game win streak. They always have the crowd behind them.

But those didn't matter on Friday night when Barangay Ginebra fell flat against the hungry and now fully equipped Blackwater side when they tangled at the Mall of Asia Arena. The Gin Kings, coming off a championship campaign a month earlier, fell to the Elite, 94-77.

"We can't come out resting on our laurels," center Greg Slaughter rued. "We always have to bring our game. Hopefully, we learned that lesson tonight (Friday)."

It couldn't come more unpleasant as Tim Cone, Ginebra's mentor, declared in their earlier game against GlobalPort that he was wary of the young Blackwater crew. And this was echoed by the now-healthy Slaughter, who in the losing effort netted 20 points to lead his team.

"He was warning us and you could see how they were playing their first couple of games. This team's for real," he shared. "They've been building, making the right moves. They've really been building themselves to be contenders."

Blackwater, which has always fallen short — if not failed to qualify — in the playoffs, have acquired notable talents to bolster their chances in this season. With Mac Belo back and healthy, and with Allein Maliksi and JP Erram finally finding their groove, teams have penciled the Elite as a darkhorse in the all-Filipino conference.

Oh, and there's the workhorse in the third overall pick in Raymar Jose.

And that very mix of talent is what spelled Ginebra's downfall that night, according to Slaughter.

"[It's] tough when they spread (the floor)," he said. "We didn't really make it hard for them, and they took advantage of that every time."

The loss sends Ginebra alongside four other teams that now have a 2-1 record. The Kings face Alaska next on Sunday, January 21, at the Ynares Center in Antipolo, Rizal.