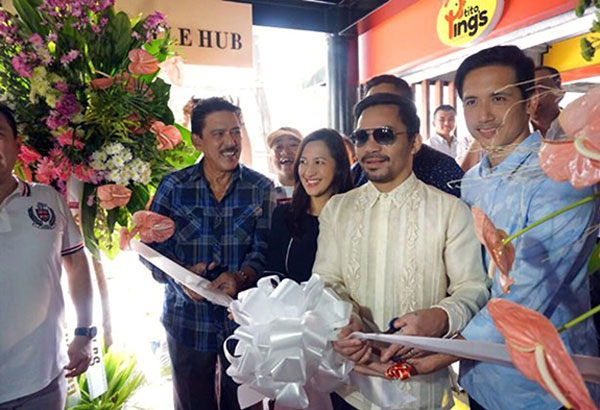 Sen. Manny Pacquiao leads the guests together with Sen. Tito Sotto and Quezon City Vice Mayor Joy Belmonte in the inauguration of Tito Ping's roast chicken franchise along Xavierville Avenue in Katipunan. Also in photo is Councilor Gian Sotto.
Pacquiao mulls return to ring April?
Abac Cordero
(The Philippine Star) - December 7, 2017 - 4:00pm
MANILA, Philippines — Filipino boxing icon Manny Pacquiao may fight again probably in April 2018.
Pacquiao, who hasn't fought since July, made the disclosure yesterday during an event that had nothing to do with either boxing or politics.
The fighting senator was somewhere in Quezon City, as guest in the inaugural of a roast chicken business put up by his Filipino friend, Ping Nepomuceno.
Sources said Pacquiao is looking at April as his return to boxing since losing his WBO welterweight crown to Australian Jeff Horn.
There's nothing definite regarding the opponent or the venue or the exact date.
But the source said Pacquiao is planning a tune-up fight in April before he pursues the bigger fight, possibly against Conor McGregor by November possibly in China.
Pacquiao is a frequent China visitor, putting up a boxing card that took place a couple of months ago. He was back in China late last month.
Word is that Pacquiao had been meeting potential backers for his own fight to be staged before the millions of Chinese fans.
Floyd Mayweather Jr. was also in China more than a week ago.
But Pacquiao said it was "just a coincidence."
Pacquiao told ABS-CBN yesterday that he could provide a clearer picture of his return to the ring by January next year.
Another possible venue is Dubai although Pacquiao had bared plans of fighting in the Philippines.
The source told The STAR yesterday that McGregor also plans to do a fight in April, and if they both win, they can start negotiating for a showdown in November.
He said McGregor might even visit the Philippines to drum up interest.
Pacquiao created a stir in the boxing world when he greeted McGregor on social media during Thanksgiving Day.
McGregor clicked the "like" button on Pacquiao's post, along with over 184,000 fans, but did not say a word.
The UFC superstar fought Mayweather last August, reportedly earning around $100 million.