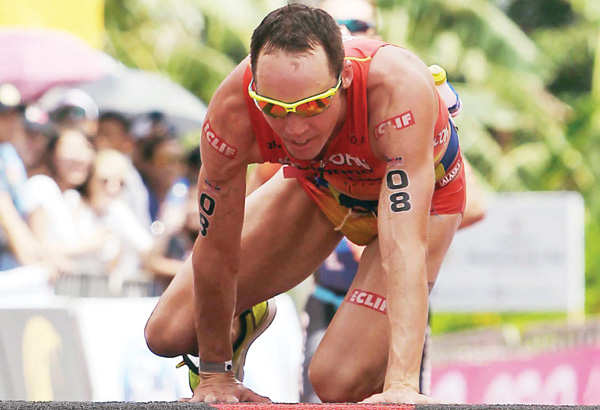 Tim Reed. Jun Mendoza/File
Reed targets first Bellevue 5150 diadem
(The Philippine Star) - November 2, 2017 - 4:00pm
MANILA, Philippines — Ironman champ Tim Reed goes all out to foil fellow Australian Sam Betten's three-peat bid as he seeks to nail his first 5150 crown in the Bellevue Resort Triathlon which unwraps Sunday at the Bellevue Resort in Panglao Island, Bohol.
Winner of the longer, tougher Ironman 70.3 Philippines in Cebu the last three years, the 32-year-old Reed hopes to stamp his class in the 1.5km swim, 40km bike and 10km run event although he remains wary of his chances against an elite cast of rivals in the centerpiece men's Open championship of the event organized by Sunrise Events Inc. and backed by title sponsor The Bellevue Resort.
That includes Betten, who has also primed himself up for a shot at a third straight crown along with Alex Polizzi, also of Australia and a veteran Ironman campaigner, and Rwanda's Gabe Manner.
The 6-4 Betten beat Henry Beck by almost nine minutes to cap a back-to-back title feat last year with the victory also extending his run of 5150 romps to four, making him the triathlete to beat in the event capping SEI's triathlon calendar for the year that included the Alaska IronKids series, Xterra Danao, Ironman 70.3 Subic and Regent 5150 Subic.