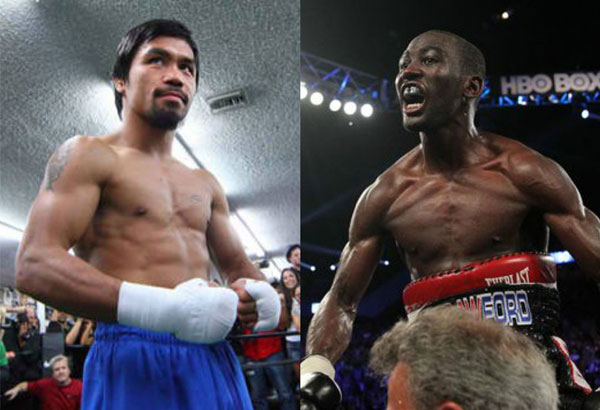 Will we ever see a fight between Manny Pacquiao and Terence Crawford? Crawford said it's up to the Filipino icon.
Crawford to Pacquiao: 'Are you willing to fight me?'
MANILA, Philippines – Undefeated star Terence Crawford has decided there's nothing left for him to do at super lightweight and thus moved to the heavier welterweight division.
Crawford's migration to the 147-pound class puts him on a possible collision course with Manny Pacquiao.
In a report by Philboxing.com's Dong Secuya, the 30-year-old fighter was asked if he is still open to a showdown with Pacquiao, who remains a major player in the welterweight division.
"That's not the question. The question is, is Pacquiao willing to fight me?" Crawford (32-0, with 23 KOs) fired back.
The Omaha, Nebraska-based boxer, who has recently unified the IBF, WBA, WBC and WBO, has long been considered as an opponent for the ageing Pacquiao.
But for various reasons, the fight never materialized, with Pacquiao's longtime trainer Freddie Roach not keen on pitting his ward against the younger, more dangerous Crawford.
Roach had stated that 38-year-old Pacquiao might already be too old to take on Crawford, which could well be true given the Filipino icon's previous performance against Australian Jeff Horn.
Pacquiao struggled against the burly Horn, a relatively limited fighter, when they fought at the Suncorp Stadium in Brisbane, Australia last month. Pacquiao appeared to be a shell of his former self in the bout that it's not hard for observers to predict he'll have an even more difficult time against the highly skilled Crawford.
Horn stakes the WBO welterweight title he won from Pacquiao against British Gary Corcoran in December. The WBO, which recently named Crawford its Fighter of the Year, has reportedly installed the boxer as the mandatory challenger to the winner of Horn-Corcoran.
Crawford, for his part, is ready to take over the division, confident he can beat any welterweight — including Pacquiao.
But as Crawford said: Does Pacquiao want any part of him?