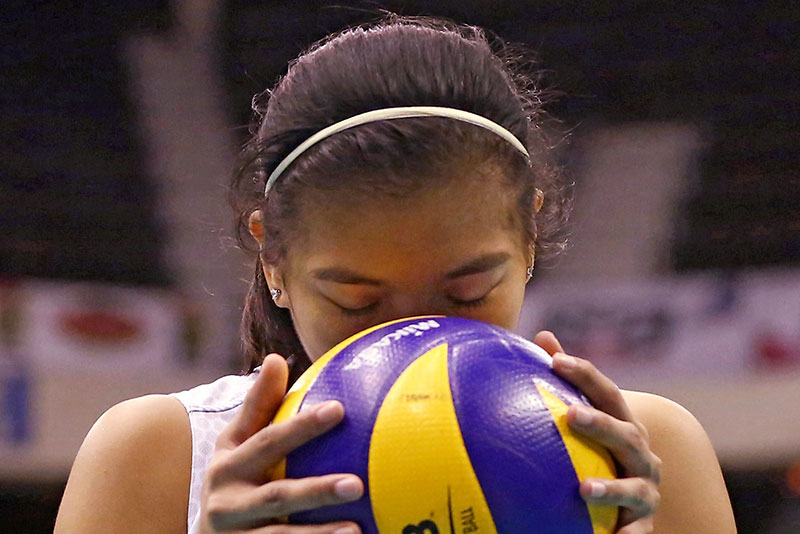 Valdez shines in 'PVL On Tour' win despite travel woes
MANILA, Philippines — Avid fans from Batangas City waited long lines just to see their idol Alyssa Valdez play. They went home happy.
Valdez, the most popular volleyball player in the country today, traveled from Iloilo to Bacolod to Manila and Batangas City on the same day to arrive in time to lead Creamline to a heart-stopping 17-25, 18-25, 25-17, 25-23, 19-17 win over BanKo-Perlas in the second leg of the "PVL on Tour" at the Batangas City Coliseum Sunday night.
Valdez had to endure the rigors of traveling from Iloilo to Batangas City after her flight was cancelled days before but eventually made it just in the nick of time to help the Cool Smashers pull off a come-from-behind win.
"We were stranded in Iloilo. Our flight was supposed to be 10:30 p.m. October 13 but it was cancelled," said Mozzy Ravena, who was with Valdez at that time.
"She (Valdez) had to travel by ferry to Bacolod where she eventually found a flight at 2 p.m. and thankfully arrived in Manila where she travelled by land to go to Batangas City in time for the game," Ravena added.
Valdez, who took a brief break from her duties with Chinese Taipei club Attack Line just to attend the PVL on Tour, was obviously a little sluggish in the first two sets but ended up finding her groove and leading the Cool Smashers to a comeback win.
"I was inspired to play hard because the fans who came to watch us here deserve nothing less," said Valdez.
Silence enveloped the venue during warmups but when Valdez came out of the locker room to join her teammates, the place rocked in loud cheers.
In the only other game, Myla Pablo spearheaded Pocari Sweat to a 17-25, 27-25, 16-25, 26-24, 15-5 win over a Grethcel Soltones-led Bali Pure.
Valdez is also scheduled to play when the PVL on Tour visits Iloilo on October 17 and Bacolod on Oct. 18 in this event co-organized by the PVL and Grid Athletic Sports, a group that included Beach Volleyball Republic founder Charo Soriano.