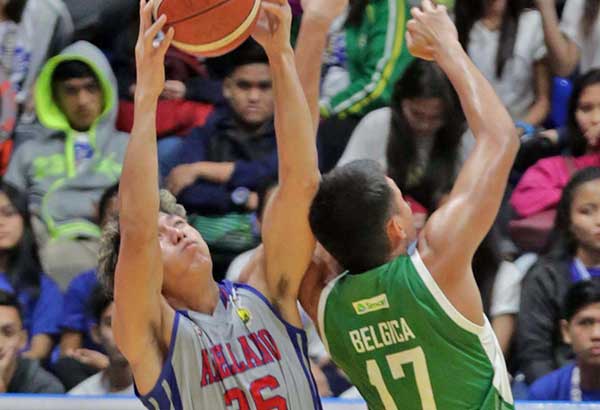 Arellano's Lervin Flores grabs the rebound against Kendrix Belgica of St. Benilde during their NCAA clash in San Juan. Ernie Peñaredondo
Chiefs sink Blazers, enhance Final 4 bid
Joey Villar
(The Philippine Star) - October 5, 2017 - 4:00pm
Games today
8 a.m. – SBC vs EAC (jrs)
10 a.m. – JRU vs SSC-R (jrs)
12 noon – SBC vs EAC (srs)
2 p.m. – JRU vs SSC (srs)
4 p.m. – LPU vs Letran (srs)
6 p.m. – LPU vs Letran (jrs)
MANILA, Philippines — Kent Salado dished out a double-double game as Arellano University trampled a listless St. Benilde side, 95-65, yesterday to stay in the Final Four hunt in the NCAA seniors basketball tournament at the Filoil Flying V Center in San Juan.
Salado shot 16 points and turned in a season-high 11 assists while drawing solid backup from at least five players as the Chiefs notched their sixth win against nine defeats.
They tied the Emilio Aguinaldo College Generals at sixth, still far behind the fourth running Letran Knights (8-7) and the No. 5 San Sebastian Stags (7-7).
But a sweep of their last three games against the Stags on Oct. 10, the Perpetual Help Altas on Oct. 12 and the Mapua U Cardinals on Oct. 20 could keep them in the race for a playoff for the last semifinal seat.
Lyceum of the Phl U and defending champion San Beda have clinched the first two Final Four spots with a 15-0 and 14-1 slate, respectively, including the twice-to-beat edges in the semis.
"It gives us hope that we can make it to the Final Four, we just have to close our games hard," said Arellano coach Jerry Codiñera, who also lauded the other players who stepped up.
Zach Nicholls churned out 13 points, including three triples, while Lervin Flores chipped in 12 markers and Richard Abanes, Rence Alcoriza and Levi dela Cruz all finished with 11 points.
"We're finding ways to look for other options. We're still upbeat that we can make it to the Final Four," said Codiñera.
The ousted Blazers fell to 3-13.
The Chiefs took control early, 28-16, held sway at the half, 47-33, before pouring it all in the last two quarters to post the 30-point rout.
Undermanned Mapua dashed whatever hopes Perpetual Help had in its semifinal bid as the Cardinals hacked out a 76-71 victory in the other game.
Andoy Estrella fired 22 points, including nine points in the fourth quarter to power the Cardinals to their third victory against 12 defeats. He also grabbed four rebounds and made four assists and a steal.
Christian Bunag also stepped up and scored 19 points and completed a double-double effort with 14 rebounds while Laurenz Victoria had 14 points, nine boards and five assists for the Muralla-based squad.
"I'm proud of my team for really working hard even though we only have just a few players," said Mapua coach Atoy Co.
The Altas slid to 4-11 and out of the Final Four race.
The scores:
First Game
Arellano U 95 – Salado 16, Nicholls 13, Flores 12, Abanes 11, Alcoriza 11, dela Cruz 11, Viloria 8, Canete 4, Enriquez 4, Meca 3, Padilla 2, Concepcion 0, Ongolo Ongolo 0, Taywan 0, Filart 0
St. Benilde 65 – Belgica 18, Domingo 14, Naboa 8, Dixon 5, Leutcheu 5, San Juan 4, Johnson 3, Sta. Maria 3, Young 3, Pili 2, Castor 0, Suarez 0, Velasco 0
Quarterscores: 28-16, 47-33, 69-50, 95-65
Second Game
Mapua 76 – Estrella 22, Bunag 19, Victoria 14, Aguirre 9, Gabo 6, Raflores 6, Jimenez 0, Nieles 0, Orquina 0, Pelayo 0
Perpetual Help 71 – Ylagan 22, Pido 18, Eze 15, Sadiwa 5, Yuhico 5, Lucente 4, Dagangon 2, Clemente 0, Coronel 0, Mangalino 0, Tamayo 0
Quarterscores: 22-17, 38-42, 55-55, 76-71