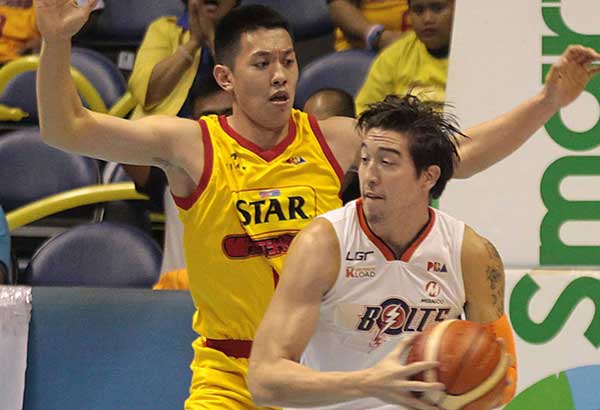 Cliff Hodge of Meralco Bolts tries to find a way around Rome dela Rosa of Star Hotshots in their semifinal game last night at the Smart Araneta Coliseum. JUN MENDOZA
Bolts streak past Hotshots
Game today (Smart Araneta Coliseum)
7 p.m. – Ginebra vs TNT KaTropa
MANILA, Philippines — Meralco, feeding on its fighting spirit, beat Star, 91-88, in a grind-out overtime battle and claimed the first berth in the PBA Governors Cup best-of-seven finale at the Smart Araneta Coliseum last night.
The Bolts found the breakthrough as the Hotshots hit the wall in the crunch, turning to Jared Dillinger, Ranidel de Ocampo and Cliff Hodge for the big baskets as Meralco completed a three-game sweep of Star in their Final Four face-off.
"Tonight's game was what I expected. They never gave up and we really gutted it out to win it," said Meralco coach Norman Black.
"We had a hard time executing against their pressing defense. We needed to work hard. My hats off to my players, they're the reason why we're back in the finals," added Black whose troops gained a return stint in the championship series of the season-ending tourney.
With the sweep, the Bolts will enjoy some respite before fighting either Barangay Ginebra or TNT KaTropa in the title playoff.
"We've played eight games in 16 days. It's good to get some rest before playing the finals," said Black.
Titleholder Ginebra and tough challenger TNT KaTropa go at each other once again tonight, slugging it out for the pivotal 2-1 lead in their own series.
The two teams have been in a virtual seesaw duel in the conference, with the Texters winning their elims showdown at 121-92, the Kings bouncing back with a 121-94 rout in the opener of their semis playoff, then the Texters pulling off a bounce-back win of their own, 103-96, Wednesday.
The Hotshots hit the end of their campaign in the season as they suddenly threw bricks entering the last two minutes of regulation play.
They went scoreless in a long six-minute stretch up to the overtime period. They nailed a basket again on a short stab by Marc Pingris with just 35 seconds left in the game.
The Bolts forced overtime at 83 on a basket by Chris Newsome and successive defensive stops. They then seized control in the extension period on a triple by Dillinger and a long twinner by De Ocampo.
After the Hotshots made it 85-88 on Pingris' basket, Hodge seized the moment, firing away a lethal trey.
The scores:
MERALCO 91 – Durham 24, Hodge 18, De Ocampo 13, Amer 10, Dillinger 10, Newsome 9, Hugnatan 7, Lanete 0, Tolomia 0.
STAR 88 – Barroca 21, Pingris 16, Jalalon 12, Sangalang 8, Ramos 8, Dela Rosa 7, Reavis 6, Acox 4, Gamalinda 3, Melton 3, Simon 0.
Quarterscores: 30-27, 54-43, 69-68, 91-88.