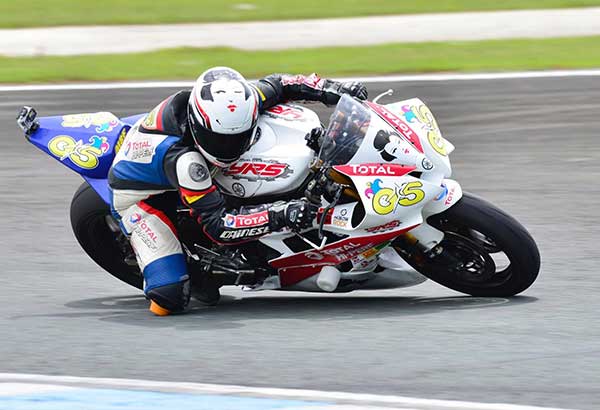 Jacq Buncio cruises to one of her past wins.
Buncio shoots for superbikes win
(The Philippine Star) - September 30, 2017 - 4:00pm
MANILA, Philippines — Seventeen-year-old Jacq Buncio made history as the youngest and first female motorcycle circuit racer to win the overall championship of the Pirrelli Lightweight Category last year.
Can "Lady Jacq" repeat history this time around?
Buncio shoots for another stunning achievement in the Heavyweight B Category the 2017 Pirelli Philippine Superbike Championships today at the Clark International Speedway
The youngest sister of the late superbikes' great Maico Buncio currently leads the Heavyweight B Category (199 points), despite using a 600cc Yamaha R-6 bike in the face of opposition dominated by numerous 1000cc-and-above displacement machines ridden by older, male opponents at that.
Using the same 600cc bike, the Mandaluyong born and UST Angelicum College student placed second during the fifth leg of the 2017 Pirrelli Superbikes at the Batangas Racing Circuit last Sept. 4.
Buncio tried hard to race with the bigger bikes, but her "smaller R-6" proved no match to the 1000cc-and-above machines.
Still, Buncio placed second in the BRC leg, a big achievement in itself for who fans christened as "the Fastest Lady on Two Wheels."
Today, Buncio will try to win it all with the aid of primary backer YRS Motorcycle Modification Inc., owned by her father Yoyong Buncio, who is preparing her race bike to make sure no mechanical issues will happen in the coming final championship race.
"We are making sure Jacq is armed with a capable racing machine on Sunday (today)," said the elder Buncio. "Her bike may be smaller, but it's her big fighting heart that will carry her through."
Buncio's team is heavily supported by Total Oil Philippines, Hi-Perf and Kojie San Philippines. Other sponsors include Amaron Batteries, SSS Chain, Motoworld, Empire Boxing, Hollow Rock and Monster Energy Drink.