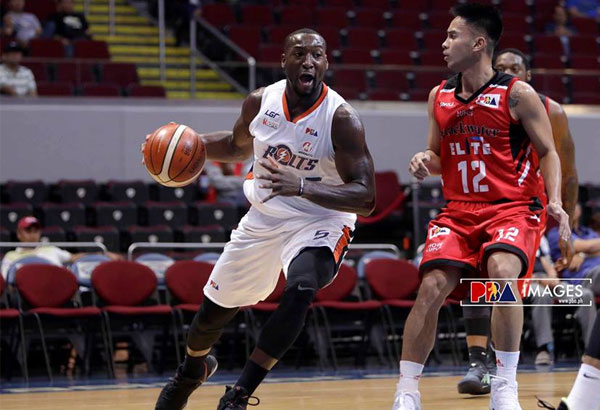 Meralco's Allen Durham drives against Roi Sumang of Blackwater. | PBA Images
Injured Durham upbeat on suiting up for Meralco's semis duel vs Star
Game Sunday (Alonte Sports Arena)
6:30 p.m. – Meralco vs Star
MANILA, Philippines – Meralco import Allen Durham left the Smart Araneta Coliseum Thursday night favoring his sprained right ankle, but expressed confidence he would be ready to play as they battle the Star Hotshots in their PBA Governors Cup best-of-five semifinal showdown starting Sunday at the Alonte Sports Arena in Binan, Laguna.
Coach Norman Black, meanwhile, hinted at the possibility of looking for a backup so that they have someone to turn to in case Durham needs to rest.
"We'll have to work the lines, I guess. But hopefully that's not the case," said Black, hopeful their do-it-all import can continue to play and help the team improve on their runner-up finish in this tourney last season.
The Bolts were anxious as Durham writhed in pain down the floor after tweaking his right foot when he stepped on Poy Erram's foot with 7:01 left in their do-or-die faceoff with Blackwater.
But the fact that Durham was able to return in the last four minutes of the game and help Meralco salvage the game, 104-96, makes the Bolts confident their import can play on.
"He said it's pretty bad, but the fact that he came back and played means that maybe it's workable," said Black.
Durham was set for checkup Friday afternoon.
The reigning Governors Cup import insisted, though, that he would be ready Sunday.
"The doctor has got a plan of action and we'll get back and work on it," said Durham.
No doubt, Durham was the big difference in Meralco's top finish in the elimination round of the season-ending tourney.
And despite his condition Thursday, Durham came through in the clutch, helping the Bolts overcome the scary challenge of Henry Walker and the Blackwater Elite.
The prolific Meralco import scored six points in the homestretch capping a near triple-double job with 18 points, 20 rebounds and nine assists.
He's again the leading contender for the Best Import plum, averaging 27.8 points, 19.4 rebounds and 7.09 assists through the elims. His closest rival is TNT KaTropa's Glenn Rice Jr. who norms 32.8 points, 11.2 rebounds and 4.8 assists.
As they got past Walker and the Elite in their quarters faceoff, Durham and the Bolts will now face Kris Acox and the Hotshots in the semifinals.
Meralco topped Star, 95-90, in their elims matchup where Durham collected 29 points, 27 rebounds, seven assists, three blocks and one steal against four turnovers.
The Hotshots, however, were still then with Malcolm Hill then.
Star made the semis on an 89-77 drubbing of NLEX in their quarters showdown.