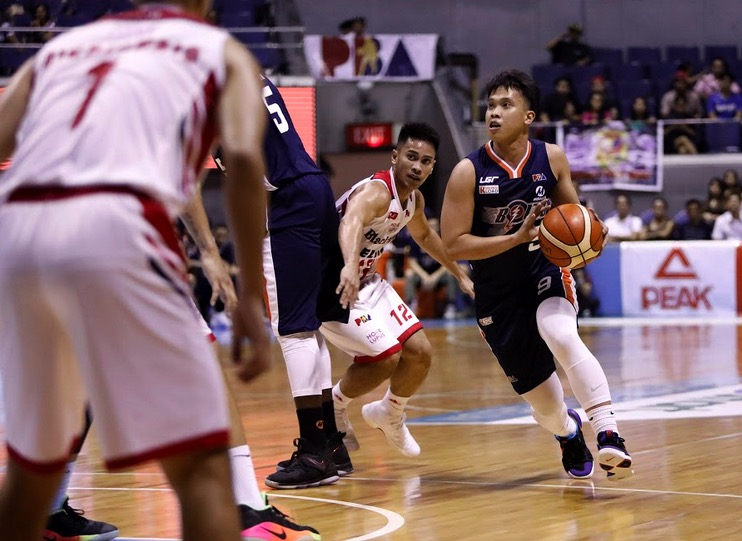 Baser Amer during the quarterfinals clash of Meralco and Blackwater. The Bolts knocked the Elite out of playoff contention Thursday night at the Big Dome. | PBA Images
Black's halftime talk fires up Bolts in gutsy win over Elite
MANILA, Philippines – In a last-ditch effort, coach Norman Black leaned on an old tactic off his playbook: A good old pep talk.

With their backs against the wall and their commendable season on the verge of becoming a footnote at the hands of the eighth-seed Blackwater Elite, the Bolts dug themselves out of a 12-point third period hole en route a 104-96 victory Thursday night at the Big Dome.

"[During] half time, we just talked, "This is our season already ... this wouldn't have meant anything if we lost tonight," Black shared. "I think everybody just said 'Hey let's give it our best shot try to get the score down as slowly as we can.'"

And it took off from there. Baser Amer, who was celebrating his birthday, already had 10 points prior the huddle. He added 22 more in the next half. Jared Dillinger shot the lights out, too, pouring all of his 15 points in the turnaround.

Ranidel de Ocampo then played hard-nosed defense to clamp down on Blackwater import Henry Walker. Another late addition to the crew, Garvo Lanete, sank crucial triples.

After a couple of dizzying sequences, the Bolts were looking like who they were all conference long: the top-seeded team of the Governors' Cup.

"My guys showed a lot of heart in this game tonight. We were down at half time and we had to find direction for the team," Black said. "We couldn't do anything right defensively or offensively and we were having a hard time defending Walker who lit us up."

In the end, it all boiled down to adjustments. And having been in the Finals in the previous edition of the conference definitely turned the Bolts into a much better version of themselves.

And it indeed, showed. The question now is whether the Bolts could tap on that sense of maturity when they face an equally grizzled and lethal Purefoods side in the semifinal which begins this Sunday in Biñan, Laguna.

The scores:
MERALCO 104 – Amer 31, Durham 18, Lanete 17, Dillinger 15, De Ocampo 14, Newsome 7, Hodge 2, Tolomia 0, Caram 0, Hugnatan 0, Nabong 0.

BLACKWATER 96 – Walker 34, Erram 18, DiGregorio 11, Maliksi 10, Canaleta 6, Marcelo 6, Belo 5, Sumang 4, Pinto 2.

Quarters: 22-22; 52-40; 77-73; 104-96.