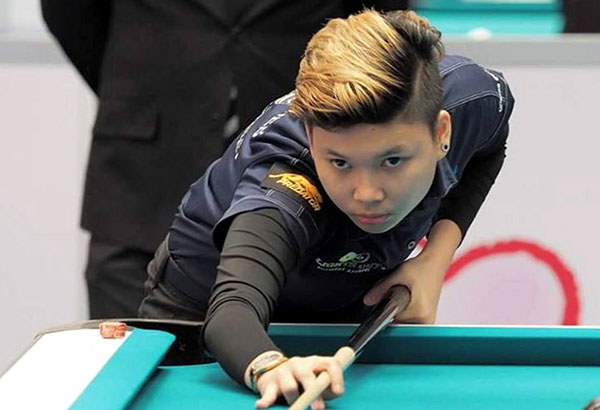 Centeno eyes gold; Delarmino bags silver
(The Philippine Star) - September 22, 2017 - 4:00pm
ASHGABAT, Turkmenistan – SEA Games gold medalist Chezka Centeno ripped China's Liu Shash, 7-3, to advance to the finals of women's 9-ball singles in the fifth Asian Indoor and Martial Arts Games (AIMAG) at the Ashgabat Olympic Complex here Thursday night.
Centeno, 18, won six of the first eight racks in their race-to-seven encounter then pounced on her rival's miscue on the 10th to clinch the victory and seal a title clash with Han Yu, also of China.
The match was being played at presstime at the Billiards Sports Arena.
A native of Zamboanga City, Centeno will try to add the AIMAG title to her recent win in the Kuala Lumpur SEAG.
Bowler Kenneth Chua and muay thai bet Philipp Delarmino, meanwhile, lost in the final of their respective events and settled for silver medals.
Chua fell to Thailand's Annop Arromsaranon, 247-212, in the men's singles at the Bowling Arena, while Delarmino suffered a 30-27 defeat to Thailand's Chotichanin Kokkrachai in the men's -57kg division at the Muay Thai Arena.
The national team also earned bronze medals through Carlo Biado in the men's 9-Ball singles and Al Rolan Llamas in the men's -60kg in Kurash. Biado lost to Taipei's Chang Jung Lin, 9-2, in the semis, while Llamas bowed to Turkmenistan's Erkin Omurzakow at the Martial Arts Arena.
Team Phl has two gold medals courtesy of jiu jitsu fighters Margarita Ochoa and Annie Ramirez while Rio Olympics silver medalist Hidilyn Diaz and SEAG winner Eric Cray fell short of their respective gold medal bids.
Other silver medalists were jiu jitsu's Gian Taylor Dee, Marc Alexander Lim and Jenna Kaila Napolis, while the bronze medal winners were Kristopher Robert Uy, Francis Aaron Agojo and Kristie Elaine Alora (taekwondo), Alvin Lobreguito (traditional wrestling) and Jefferson Manatad (belt wrestling).