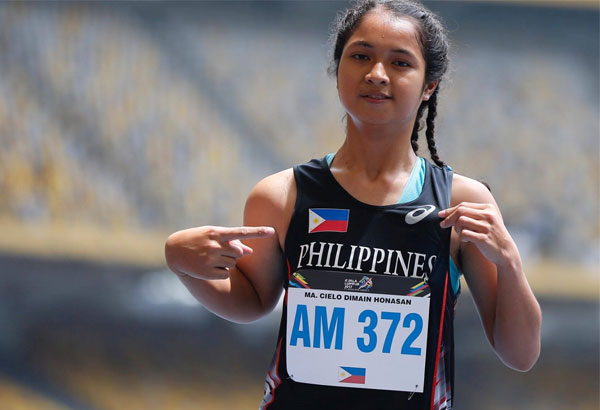 Sprinter Honasan strikes gold for Philippines in ASEAN Para Games
Joey Villar
(philstar.com) - September 19, 2017 - 9:50am
KUALA LUMPUR — Teenage phenom Cielo Honasan showed shades of a Lydia de Vega as she blitz her way to the 200m gold for T44 to jumpstart her bid for a sprint treble in the ninth ASEAN Para Games at the Bukit Jalil National Stadium here Tuesday.
Honasan — who is turning only 16 on November 5 — lived up to hype and clocked 28.51 seconds, blowing past rivals Karisma Evi Tiarani of Indonesia and Nguyen Thu Thuy of Vietnam to claim the first of three sprint golds she is targeting.
The latter two checked in at second and third with times of 31.12 and 33.07, respectively
The outcome was actually known as early as the heats when Honasan, whose left leg is shorter than her right due to polio she acquired in childhood, emerged with the fastest time of 28.55, reducing the finals to a battle for the silver.
After her recent feat, the Santiago, Botolan, Zambales native will go for two more gold medals in the 100m event Wednesday and 400m Thursday.
"Competing here is already a dream come true for me, winning a gold made it more special," said Honasan, who was discovered when she won a gold in the regular events of the Palaro regionals and eventually qualified in the nationals in Antique.
It was an effort that impressed Honasan's coach Joel Denada.
"She (Honasan) reminded me of Lydia de Vega because at a very young age, she's also as good. Her time actually qualifies her in the Asian Para Games and the Paralympics," he said.
Meanwhile, Christopher Chiu Yue gave the Philippines its third gold in tenpin bowling at the Bandar Sunway in Petaling Jaya, Selangor.
Yue posted 1239, enough to parry the challenge put up by Malaysians Mohd Azrin Bin Rahim and Abu Bakat Bin Nyat, who scored 1216 and 1211 to settle for a silver and bronze.
Filipinos Angelito Guloya, Rufo Tablang, Benjamin Ramos also competed in the same event but wound up with 1011, 990 and 940, which was good for seventh, eighth and 14th place, respectively.
The Philippines also picked up two silver medals at the track courtesy of Jeanette Aceveda in shotput for F11 and F12 combined, and Arman Dino in the 400m for T47.
Dino's silver shone like gold as he beat Indonesian Marthin Losu and Thai Yamee Sutat, the gold and silver medalists in the 2015 Singapore staging.
Dino clocked 52.77 while Sutat took the bronze in 53.38 and Losu ended up fourth in 53.75.
It would have been a gold medal if Indonesian Nur Ferry Pradana didn't spoil it by snatching the mint himself in 50.49.
Claire Calizo, who snared a bronze in the 100m freestyle the day before, bagged a silver in swimming's 200m freestyle for S14 with a time of 2:44.81, finishing behind eventual winner Daielle Moi Yan Ting of Singapore, who checked in at 2:29.89.
Singaporean Che Zi Ling got for the bronze in 2:53.00.
Battle-scarred Agustin Kitan lifted a 158 kg to go home with a bronze.
Thai Narong Kasanun pocketed the gold with 171 kg while Vietnamese Nguyen Thanh Xuan the silver with 170 kg.
As of posting, the Philippines has three golds, six silvers and four bronzes, which was good for seventh place.
Indonesia led the way with a 35-17-18 (gold-silver-bronze) medal haul followed by host Malaysia and Vietnam with 30-21-20 and 15-22-15, respectively.
Raul Angolunan took a bronze in the 800m for T46 in 2:11.85, checking in behind Malaysia's Muhammad Ashraf Bin Hasham (2:04.05) and Vietnam's Tran Van Duc (2:04.80).