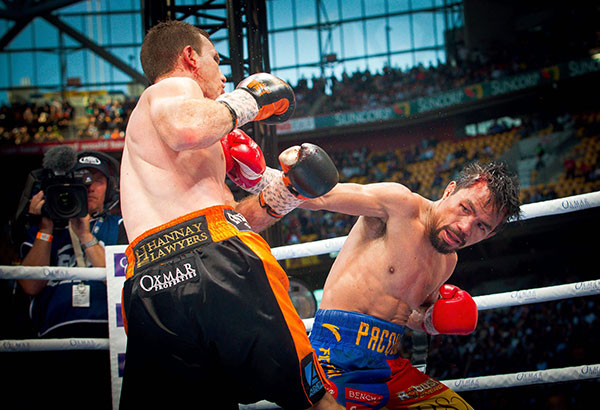 Manny Pacquiao lands a right against Jeff Horn during their World Boxing Organization bout at Suncorp Stadium in Brisbane. AFP
MANILA, Philippines - Brushing off calls for him to permanently retire from boxing, Manny Pacquiao has verbally committed himself into a rematch with Australian Jeff Horn.
"May rematch," Pacquiao said last Monday.
The 38-year-old boxer talked about the rematch during dinner at his mansion in General Santos City.
He did not mention retirement.
Instead, he spoke lengthily on facing Horn a second time, and how he could avenge the bitter loss and the alleged raw deal he suffered against the judges, and the referee.
It could take place in November as long as it does not interfere with his senatorial duties.
"Pag-uusapan yan (It will be discussed)," he said.
Pacquiao said last Sunday's fight was the last under his promotional contract with Top Rank but he refused to elaborate.
"It will be the last in our contract," Pacquiao said.
Horn said last Sunday he would face Pacquiao in a rematch even if he had to travel to the Philippines. But the day after, the Australian said he'd rather do it again in his home country.
"Bakit ayaw nila dito (They don't like it here?)?" said Pacquiao.
"Eh di sa Brisbane. Dun tayo sa Brisbane ulit. (Then let's do it in Brisbane) No problem," he said.
This early, Pacquiao is devising a plan to get back at Horn and the judges and the referee that worked the biggest boxing match Australians had ever seen.
Pacquiao said his biggest mistake against Horn was that he focused so much on scoring a knockout.
"Mali eh (That was wrong)," said Pacquiao, who tried each round, and failed, to catch Horn with one punch that could end the fight, and at times missing wildly and looking sluggish.
"Hindi talaga pinipilit ang knockout (You don't force a knockout). Dapat ang plan is to throw more punches. Throw more punches," he said.
If ever it happens, Pacquiao also wants a say in the selection of the referee and the judges.
"Hindi marunong yung referee. Humaharang (The referee was not knowledgeable. He is blocking my path)," said Pacquiao.
"I will not ask the judges to favor me but I want them to be fair. Kung talo ako, talo. Kung panalo ako, panalo (If I win, then I win. If I lose, then I lose)," he said.
There's a clause in the fight contract that if Pacquiao lost, he could seek a rematch. Now, he wants to exercise the right because he felt he was robbed (of the victory).
During the post-fight press conference, Horn said he was ready for a rematch, as well as his outspoken trainer, Glenn Rushton.
"Bring it on," said Horn, who reportedly will get $2 million for a rematch or four times bigger than what he was paid for Sunday's fight.
"We will beat him by a wider margin in the rematch," said Rushton?
"Ganun ba? (Is that so?). Eh di mag-rematch tayo (Then let's do the rematch)," Pacquiao said.