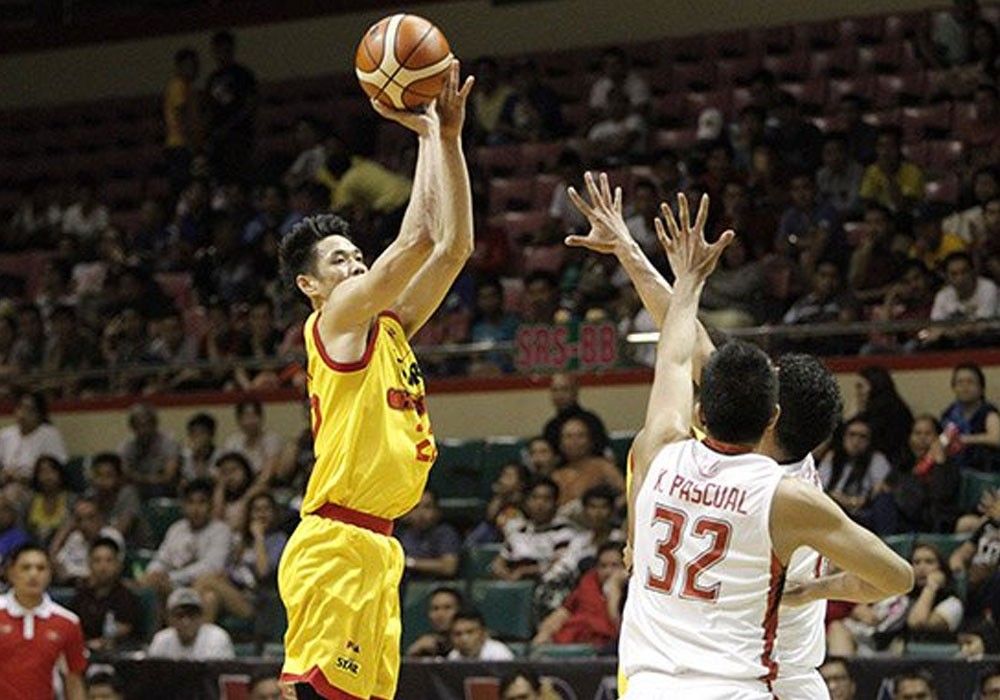 Star's Allein Maliksi takes a jumper over the outstretched arms of Blackwater defenders during their game Wednesday.
PBA Images
Hotshots pummel Elite for share of No. 4
Games Friday (Cuneta Astrodome)
4:15 p.m. – Mahindra vs NLEX
7 p.m. – Phoenix vs Alaska
MANILA, Philippines – The Star gunners took turns in lighting up the board, combining for 16 three-pointers as the Hotshots clobbered the Blackwater Elite, 111-95, to gain a piece of fourth place in the PBA Philippine Cup at the Cuneta Astrodome Wednesday night.
Allein Maliksi, Jio Jalalon, Paul Lee and Justin Melton all showcased their outside shooting prowess, striking hardest in the second and fourth quarters where the Hotshots dealt the Elite the severe beating in their 16-point triumph that lifted the team to joint fourth with Alaska Milk and Rain or Shine at 5-4.
The crucial Star victory dashed the remaining playoff hopes of Meralco (3-7), NLEX (2-7) and Mahindra (2-7), leaving six teams in contention for the five remaining quarters berths.
Blackwater is in a precarious spot after losing four of its last five games and thus closing out its elims stint with a 5-6 record.
The Hotshots, meanwhile, rallied into contention for a Top Two finish after winning five of their last seven outings.
"We knew Blackwater can explode on any given night, and I challenged my players to play defense. They did play tough defense and their hot shooting followed," said Star coach Chito Victolero.
"I hope we'll be able to sustain the same effort in our next two games. I know the guys are veterans and they're mentally tough," Victolero added, confident they can keep their hot charge in their last two games against Meralco and Mahindra.
A sweep of their last two games guarantees the Hotshots of a playoff shot at a twice-to-beat advantage in the quarterfinals.
Maliksi, Jalalon, Lee and Melton were big keys in their conquest of the Elite on their avalanche of treys in the second and fourth quarters.
Jalalon and Melton strung up six three-pointers and a combined output of 27 points as the Hotshots wiped out a six-point deficit and seized control, 59-45, at the half.
After the Elite narrowed the gap, 70-78, at the end of the third, Maliksi and Lee took their turn to unload three-point bombs, and the Hotshots broke away for good, chalking up a fifth win after earlier victories over NLEX, Phoenix, Rain or Shine and TNT KaTropa.
Maliksi collected five triples and a game-high total of 26 points while Lee, Melton and Jalalon contributed nine treys and a total of 44 points together. The Elite, on the other hand, were good for only 7-of-19 treys.
On defense, Star's crucial effort was holding Art dela Cruz down to six points after exploding for 17 in the first half.
The Hotshots wreaked havoc in the second and fourth quarters, clobbering the Elite, 69-41, on those two periods.