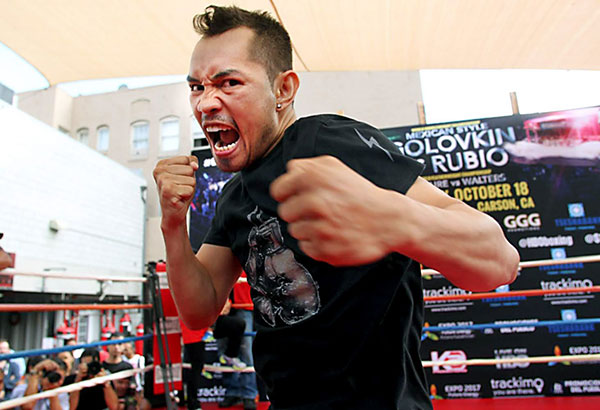 Nonito 'Filipino Flash' Donaire. Chris Farina
Donaire hopes for rematch vs Magdaleno
MANILA, Philippines – Former IBF flyweight, interim WBA superflyweight, WBO/WBC bantamweight, IBF/WBA/WBO superbantamweight and WBA featherweight champion Nonito Donaire Jr. isn't sitting idly at home waiting for a fight contract. He's back to work in the gym, expecting to log three bouts next year and his hope is one of them will be against unbeaten Jessie Magdaleno who took away his WBO 122-pound title in Las Vegas last month.
Magdaleno, 25, initially told Donaire he would give him a shot to regain the throne. Donaire said Magdaleno entered his dressing room after their fight to show respect and gratitude for the title crack. But last week, Magdaleno changed his tune, insisting that Donaire should earn his chance for a rematch. Worse, Magdaleno even claimed Donaire avoided fighting him twice and finally agreed to face him because he was a mandatory challenger, leaving the Filipino Flash no choice.
A source from Donaire's camp said Magdaleno is "out of his mind." Magdaleno declared that he owes Donaire nothing and won't agree to an immediate rematch. Top Rank CEO Bob Arum, however, has the ultimate say on the matter. If Arum decides on a rematch, Magdaleno will fall in line. "People did question the result of the fight and a rematch could very well be appealing," said Arum, quoted by Rick Reeno. "It certainly would be appealing to me."
Donaire is convinced he did enough to repulse Magdaleno although the three judges saw it the other way. Steve Weisfeld and Burt Clements both scored it 116-112 while Adalaide Byrd had it 118-110, all for Magdaleno.
"I definitely won the fight," said Donaire who finished strong and appeared to sweep the later rounds. "I never thought I could lose this. I had a great second half and thought I controlled the fight." Donaire said he was the aggressor throughout the 12 rounds when Magdaleno, as the challenger, should've taken the fight to him. If he didn't attack Magdaleno persistently, Donaire said it would've been a boring fight.
Magdaleno said Donaire has to work his way back to a position where he can demand a title shot. Donaire is now ranked No. 3 by the WBO after No. 1 Cesar Juarez and No. 2 Rey Vargas, both of Mexico. Ironically, Juarez lost to Donaire on points for the vacant WBO superbantamweight title in San Juan, Puerto Rico, last December. Juarez, 25, is coming off back-to-back wins over Filipinos Albert Pagara and Richard Pumicpic. His record is 19-5, with 14 KOs. Vargas, 22, is fresh from halting former WBC superflyweight champion Alexander Muñoz of Venezuela and has a 28-0 record, with 22 KOs. One of Vargas' victims is Filipino Silvester Lopez who capitulated in eight rounds in Baja, California in 2014.
"I would like Donaire to get some more fights in and make his way back up," said Magdaleno, quoted by Ryan Burton. "He's been all over Twitter and Instagram saying he gave me an opportunity but he didn't give me no opportunity. I worked hard for it. I was the mandatory fighter for that belt since the beginning of the year and he didn't want to give me the fight. He actually ducked me twice. Maybe, later on down the road, that fight can happen but for now, I want to see what else is out there for me. I want to see whatever other big names at 122 are there for me."
Writer Bob Velin of Boxing News of London said Donaire "often seemed a half-step slower than his opponent ... came on strong in the second half and seemed to have Magdaleno hurt in the 12th but couldn't put him away." Donaire said he staggered Magdaleno at least twice in the last round and if he had another three minutes, the outcome would've been different.
But Donaire said he's not dwelling on what could've been. "It's done, nothing I can do about it," he said. "What's the point of being angry or frustrated? I'm moving on. I'm back in the gym training for my next fight. My focus is to get better, learn from what happened in my last fight. What I'll cherish about my fight against Magdaleno was the support from the fans. It was like I fought before a homecrowd. Magdaleno was born and raised in Las Vegas but it seemed like he wasn't backed up by the home fans. It was an honor for me."
Donaire, 34, has repeatedly said he doesn't care whom he fights. But he's ready to take on the best out there. "That's up to Bob and my manager Cameron (Dunkin)," he said. "I'm hoping to do three fights next year, all for the world title if that can be arranged. I'll fight anyone, anywhere."
In case Magdaleno isn't available, an option for Donaire is to face WBO featherweight champion Oscar Valdez who halted Japan's Hiroshige Osawa on the same card as his fight against Magdaleno. Valdez, 26, has a 21-0 record, with 19 KOs. Other options are a rematch with WBA superbantamweight titlist Guillermo Rigondeaux of Cuba and a fight against the winner of the Jan. 28 showdown between WBA featherweight king Carl Frampton of Belfast and Leo Santa Cruz of Mexico. Frampton, 29, boasts a 23-0 record, with 14 KOs while Santa Cruz, 28, is 32-1-1, with 18 KOs. Santa Cruz' only loss was a majority decision to Frampton in Brooklyn last July.