Manulife Philippines honors hardworking 'champions' of 2021
MANILA, Philippines — Last April 21, Manulife Philippines honored 300 awardees, consisting of financial advisors and agency leaders, who shined in their respective fields in 2021.
The "Champions' Dinner" held at Conrad Manila in Pasay City celebrated the achievements of employees amid the challenges brought about by the COVID-19 pandemic and focused on the theme "Glorious."
A critical part
"Manulife keeps pushing and stays optimistic during these tough times by staying true to what we stand for, about making decisions easier and lives better for our customers," Richard Bates, president and chief executive officer of Manulife Philippines, said.
For Bates, professionals from the life insurance industry should stay true to what they stand for and believe in.
"That means listening to their customers, caring about their customers, taking the time to understand what their challenges and problems are and, more importantly, advising them on their whole life journey. This means offerings and solutions that are going to be relevant to them, not just now but all the life stages in the future."
Melissa Henson, chief marketing officer of Manulife Philippines, stressed the significance of the insurance company's third Asia Care Survey, where they learned how the pandemic made a huge impact on Filipinos' physical and financial health.
"We heard from them that there is an increased awareness of mental health because the pandemic has caused so much worry and anxiety," she noted. "A lot of that is actually linked to finances and the expected cost of medical care just in case something happens to them in the future."
This triggered the clamor for Filipinos to be more financially stable. Thus, Manulife Philippines introduced affordable insurance solutions for them through their financial advisors, who were all honored for their achievements last year.
"Manulife financial advisors are a critical part of our winning team because, in many cases, they are the first point of contact for our customers. We make sure they are continuously upskilled, up-to-date with the most recent trends, and also know how customers' needs are evolving so they can be true partners in fulfilling their dreams and making their every day better," Henson added.
Achievements worth celebrating
At the Champions' Dinner, Stephen Ong, chief distribution officer, highlighted the financial advisors and agency leaders' strength, courage and glory in all the work they did in the past year.
"Tonight is a celebration of your strength, courage and glory," he said. "Here's to a glorious future for I know that this is only the beginning of our epic success."
Taly Ong, awarded "Unit Head of the Year" and won the title three times, said the event highlighted her fellow employees' achievements in 2021 and further bolstered their courage entering 2022.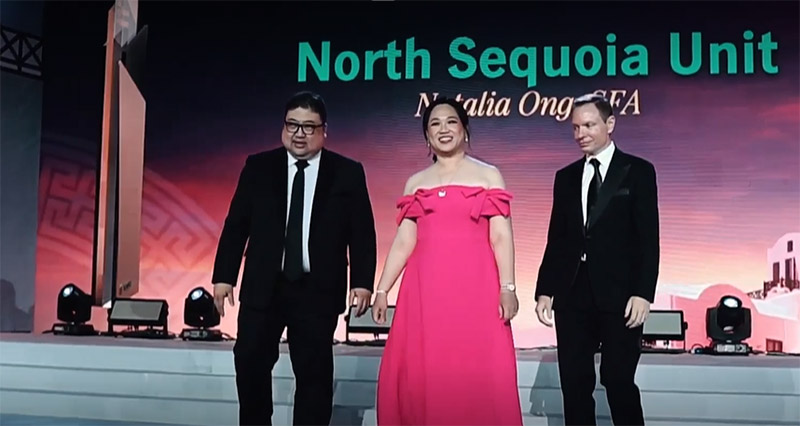 "We are here together to celebrate the achievements of 2021 and to find inspiration and courage from our peers as we move forward this 2022," she said. "To my Manulife family, and all the departments, each one of you has a contribution to what we have achieved."
Also headlining the event was Kim Zandueta who at 28 became the youngest financial advisor to bag the "Financial Advisor of the Year" award.
"I hope Filipinos will be more open about proper financial planning. Proper financial planning teaches individuals to be responsible when it comes to their finances and instills the discipline needed in order to keep track of their financial goals. This discipline can help reduce economic inequalities and develop more empowered Filipinos," she said.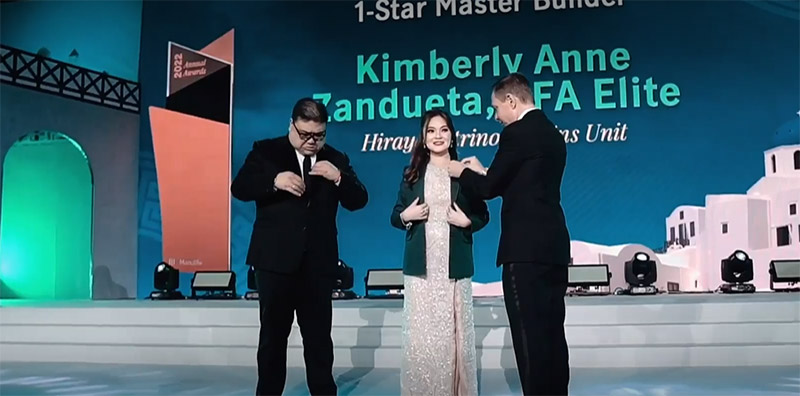 "These are agency leaders and financial advisors whose performances are absolutely worthy of celebration. I am so proud of everyone here tonight," Bates enthused.
"We've achieved a lot and we weathered through these very tough times and now, we're stronger with renewed hope, optimism, and confidence. Let's ignite the fire within all of us and turn all of our glory to greater commitment for our purpose."
Stephen Ong said that the road to a better future would be no easy feat, but stressed that he would offer his heart and soul for the betterment of the employees and customers of Manulife Philippines.
"I can't promise that the road to the future will be easy to tread, but I assure you that whatever happens, this leadership will continue to have a heart that will not only accompany you in every fight but will also offer his heart to every one of you," he concluded.