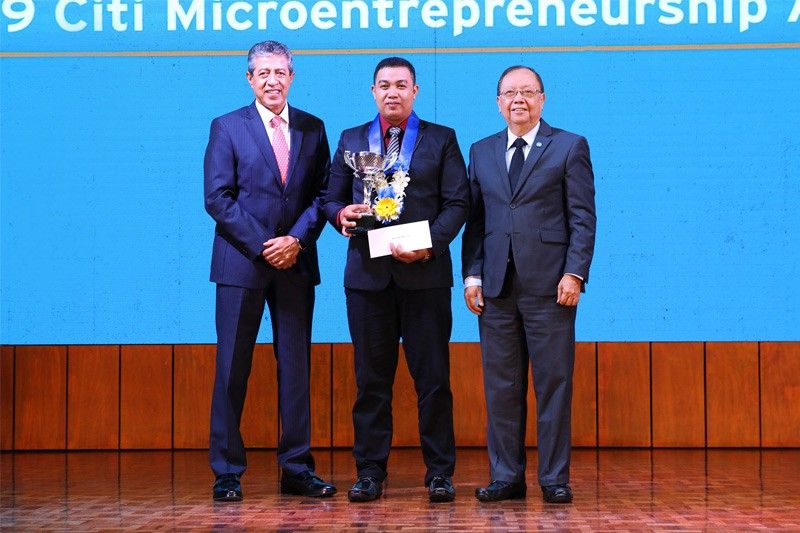 Romualdo Blanco Jr. (middle) was honored as the 2019 CMA Youth Microentrepreneur of the Year. With him are (from left) Aftab N. Ahmed, chief executive officer of Citi Philippines, and Juan de Zuniga Jr., member of the Monetary Board.
Photo Release
For this award-winning Batangueño businessman, the secret ingredient is 'diskarte'
(The Philippine Star) - April 1, 2020 - 12:00am
MANILA, Philippines — Barely 30 years old, Romualdo Blanco Jr. discovered a way not just to earn a living but also to provide livelihood to others.
Romualdo's childhood story is one that we are all too familiar with: at a young age, he was forced to quit school so he could work in order to help his family. He got married when he was 17, and even left his hometown in Batangas and traveled to Manila to try his luck.
But instead of allowing his story of struggle to have an unfortunate ending, Romualdo chose to take a different path.
After working as a kargador at the market, a tricycle driver, and a delivery boy, he decided to go back to San Pascual, Batangas and put up his dream business. Having successfully done so at only 28 years old, Romualdo was chosen as Youth Microentrepreneur of the Year at the Citi Microentrepreneurship Awards (CMA) for 2019.
Promoting microfinance and enterprise development
The CMA is a signature initiative of the Citi Foundation aimed at generating economic opportunities for low-income people, including the youth, around the globe. The awards program provides entrepreneurs with resources to strengthen their business, including access to networks, capital, tools and training; and enables individuals to create economic sustainability for themselves, their families and their communities.
The CMA program highlights the combined efforts of the Bangko Sentral ng Pilipinas, Citi Philippines, and the Microfinance Council of the Philippines Inc. to strengthen microfinance and enterprise development and financial inclusion in the country.
Hands-on learning experience
In his late teenage years, as Romualdo and his wife Jovelyn lived in Manila, he worked as an all-around helper for a manufacturer of kakanin or native rice delicacies like puto.
"Lahat ng trabaho doon, nagawa ko. Nakapagluto at nakapagtimpla ako. Nakita ko kung paano kumita at paano ang proseso ng paggawa (While I worked there, I was able to do the cooking and preparation, so I saw the whole production process as well as the earning potential of the business," Romualdo said.
When Romualdo's employer stopped operations after a few years, Romualdo decided to go back to Batangas in 2012. He was hoping that with the little money he had saved, he could already start his own business.
Romualdo began by selling fruits, and then street food like fish balls. While selling in front of the local branch of Bangko Kabayan, he met a loan officer who convinced him to apply for a loan. The P10,000 he initially loaned was used as additional capital for his business until he decided to focus on his dream business.
In 2014, using what he learned during his previous employment, he began mixing, cooking and selling puto and kutsinta. Later on, he added more products like maja blanca, pichi-pichi, and nilupak. He named his business PK Maja's Special, after his daughter, Princess Khaye.
Growing the business
Romualdo continues to be a client of Bangko Kabayan. "Bawat tapos ng utang, nagre-renew ako para dagdag-puhunan. Kaya ako pinagkakatiwalaan, kasi good payer po ako ng Bangko Kabayan (After each loan cycle, I would file for another loan so I can add more capital to the business. BangkoKabayan trusts me because I have a good payment record)," he explained.
Because of this additional capital, Romualdo has been able to invest in kitchen equipment and motorcycles, so that deliveries could be made to neighboring towns: Lipa, Rosario, Malvar, Calaca, and Lemery.
Products are delivered on consignment to about 40 to 50 stores daily. Payment is collected only on the following day, as Romualdo delivers a new batch of products. Store owners are allowed to use the trays for their display, at no extra cost.
Romualdo always makes sure that his products come in big sizes, and quality is never sacrificed just to save on production cost.
Business opportunities shared with others
"Nakakatulong ako sa mga dinedeliver-an ko. Kumikita sila, kumikita ako, kumikita ang mga nagde-deliver (I am able to help the stores that sell my products. While they are earning, my delivery team and I are also earning income from the business)," added Romualdo.
Once Romualdo's business became stable, the young entrepreneur was able to buy a house and lot for his family. He is also now able to help with the financial needs of his parents. In the future, he hopes to buy more motorcycles and expand delivery areas so he can provide employment to more people.
"Hindi lang sipag, hindi lang tiyaga, pati diskarte. Yun lang ang aking natutunan sa paghahanapbuhay (It's not only hard work and determination, but also resourcefulness. These are the important things I learned in business)," Romualdo ended.
Shining the light on outstanding microentrepreneurs
As CMA Youth Microentrepreneur of the Year, Romualdo received a cash prize of P100,000, as well as a laptop, life and health insurance coverage for one year, and access to grassroots entrepreneurship training at the Citi Microenterprise Development Center, another Citi Foundation program in partnership with Bayan Academy.
Romualdo and seven other winners were chosen by a National Selection Committee co-chaired by Bangko Sentral ng PIlipinas Gov. Dr. Benjamin Diokno, Ph.D., and Citi Philippines CEO Aftab Ahmed.
The committee members are: Jose Ma. Concepcion III, president and CEO, RFM Corporation; Teresita Sy-Coson, vice chairperson, SM Investments Corporation; Ramon Lopez, secretary, Department of Trade and Industry; Imelda Nicolas, president, Samahan ng mga Pilipina para sa Reporma at Kaunlaran; Marixi Rufino-Prieto, former chairperson, The Philippine Daily Inquirer; Dr. Michael Tan, former chancellor, University of the Philippines; and Fernando Zobel de Ayala, president, Ayala Corporation.