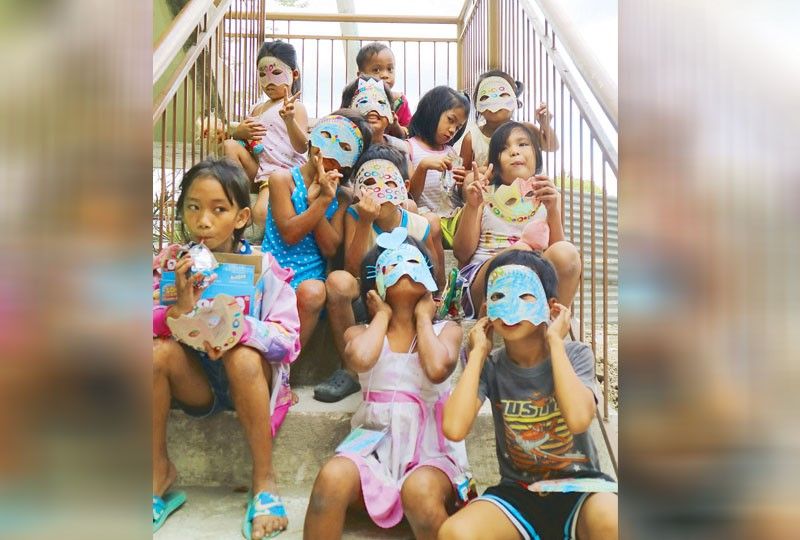 Museo Pambata at 25: Always for the Filipino child
MANILA,Philippines — Through the years, Museo Pambata has become an iconic part of the lives and hearts of Filipino children in Manila and beyond. Many have fond memories of sliding down the giant tongue; taking a picture looking out of the window from the second floor of the bahay na bato; pretending to ride the galleon, the tranvia and the kalesa; and talking to heroes on the telephone.
On Wednesday, the world celebrates Universal Children's Day, described as "a day of worldwide fraternity and understanding between children."
It was instituted by Resolution 836(IX) of the United Nations General Assembly in 1954. The date Nov. 20 was chosen as it marks the day the UN general Assembly adopted the Declaration of the Rights of the Child in 1959 and the Convention on the Rights of the Child in 1989.
The Convention, which is the most widely ratified international human rights treaty, sets out a number of children's rights including the right to life, to health, to education and to play, as well as the right to family life, to be protected from violence, to not be discriminated against and to have their views heard.
Universal Children's Day is celebrated worldwide with a wide range of events by governments and organizations such as schools, civic groups and businesses. It is described by the UN as "a fun day with a serious message." STARweek joins children and children at heart everywhere in celebrating this day.
"When we first started, we had zero funds and zero exhibits, but my mom and I knew it was going to be a good project. She got the funds and the board members and I worked on the concepts and proposals to corporations," recalls founder and former president Nina Lim Yuson, referring to her mother, the late Estefania Aldaba-Lim.
"The other co-founder was mayor Fred Lim, as it was his Manila Council through him that approved a ten-year lease of the historical Elks Club building. We opened in December 1994 after a year of developing the exhibits and restoring the building."
"Working closely with my mom for six years offered me many opportunities, like meeting various people and groups and including the Museo in their agenda or CSR. Mom was my mentor in financial management and spotting potential donors. I miss her now but thank God we were a dream team!" Yuson shares. "When I took over as president in 2000, Museo went into organizing museum workshops, publications, bringing the staff on three international trips, holding two international conferences in Manila and organizing a consortium of museums. We also developed four major traveling exhibits."
The leadership of the museum was recently turned over to Bambi Mañosa Tanjutco. "So far, the last ten months have been exciting and challenging at the same time," she says. "I have big shoes to fill taking over from Nina Yuson. I'm up for the challenge. Looking forward to continuing her legacy."
Tanjutco says the museum team continues working to make Museo Pambata a place for children to play, create and explore "a place where they can enjoy being children, being Filipino, where they can experience the kind of childhood that we remember and want future generations to have."
On the cusp of 25 years of existence, many of those who went to the museum when they were young are now bringing their own children to Museo Pambata. They may soon be in for a pleasant surprise as the museum is being renovated and re-curated, surely a good reason for Museo Pambata fans young and old alike to revisit the museum.
Most of the iconic exhibits will stay, executive director Maricel Montero assures those who have nostalgic memories of the museum. Both Montero and Tanjutco have fond memories of the museum themselves.
"I used to take my art students here in my younger years. Students from my Creative Kids Studio as well as from my outreach workshops with the Muntinlupa Development Foundation back in the 90s," says Tanjutco. "Then when I got married, my parents used to take their grandchildren here. They would play for hours."
Montero shares, "I started as a volunteer because my daughter always wanted to go to Museo Pambata. Then I helped start the Children's Advocacy Program in 2001."
As the executive director of the museum, she says, "So many wonderful memories, our Peace Program wherein kids wrote letters to children in armed conflict areas. The international conferences that Museo Pambata hosted twice in 2008 and 2012. We hope to do more of these in the coming years too."
Montero adds, "We always say that working for Museo makes us proud because we make children happy, we make children learn new things through fun ways. And how lucky for us to do work that does not make a capitalist rich, but work that makes a better place for our children and our children's children."
The renovations and re-curation hope to make the museum even more exciting to more generations of Filipino children.
"We are currently working on the curatorial concept and we hope we can make it current and relevant and, most especially, Filipino," says Montero. "We are lucky to have on board Dayang Yraola, Erwin Romulo and of course our president, Bambi Mañosa Tanjutco leading our curatorial team, together with Arch. Timothy Ong, our exhibits staff are learning along the way."
Tanjutco says, "The imperative for the curatorial plan now is to provide a solid foundation for the next 25 years. Museo Pambata is the first and only interactive museum in the Philippines that is for the Filipino child. That's something that's sustained and kept us relevant for the past 25 years and that's what we'll keep to in the future."
The new president and CEO says, rather than updating the exhibits, "we are refining the experience to what we feel is essential to the Filipino child. We know a lot of children have parents who have grown up with fond memories visiting Museo Pambata and that is something they will share with them."
She adds, "No matter how much has changed in the world since we first opened our doors to the public, we believe that what kids need to have is an experience of childhood that remains the same. A lot of what we're doing with the exhibits is providing them with that experience."
The update, however, definitely does not mean adding more digital screens for children to look at.
"They are bombarded with screens everywhere else, including in their homes," says Tanjutco. She highlights the need for children today to go back to the basics of analog play, exploration and interaction.
This year, Manila Mayor Isko Moreno renewed the museum's lease, allowing Museo Pambata to stay in its home in Manila. "It was a total surprise to get the 25-year lease extension from the new Mayor Isko," says Yuson. "I am told that he knew us from the start and saw how earnest and hardworking we are and how much we have contributed to the city as an alternative learning center… He even suggested barangays where our mobile library should go. I am proud that Museo Pambata is a fine example of a government and private sector endeavor. It can work!"
For Montero, the renewal gives them peace of mind that the museum will have a home for the next 25 years. "It is very important for us as we can now think of more programs and services for the Filipino children, especially those who need it most."
"Mayor Isko Moreno is very keen on Museo Pambata and he has given us his all-out support. He believes, like we do, that Manila needs Museo Pambata. It is now part of its heritage. We have been meeting with like-minded individuals who believe in our vision and want to help us make this happen," says Tanjutco.
In celebration of Universal Children's Day on Nov. 20, Tanjutco and Montero share their hopes for children from the Philippines and around the world: "I wish that they will be given an opportunity to know the options available to them. To know and enjoy their rights and responsibilities. To be able to love their Filipino culture and show love for country," says Montero.
Tanjutco shares a fond memory of her father, the late National Artist for Architecture Francisco Mañosa, to illustrate her wish: "My dad used to take all his grandkids out. They would go off on their own. Later I found out he would make them all ride inside his car. He'd have them cover the windshield with lots of flower petals. Then he'd drive fast so all the petals would scatter with the wind," she says. "I want all children to have that sense of wonder. It doesn't take much after all."
As for their plans for Museo Pambata's 25th anniversary and beyond, Tanjutco says, "We have many things lined up next year. We are holding a Children' Festival. The theme will be in line with the Awit at Laro project I worked on with Gary Valenciano. It's all very exciting and it'll be the first of its kind."
Yuson remains active in supporting the museum. "I passionately loved my work at Museo. As president and CEO, I spent 25 years from beginning to where it is today. I still am involved, for example in fund development. We would like to organize the 5th Asia Pacific Children's Museum Conference in Manila next year. I wish we could help set up children's museums in the country."
For the coming years, Tanjutco says, "Our emphasis is creating community, communing with nature and fostering Filipino values. We want to go back to the fundamentals, go back to the basics and bring back the pure fun of being a child."
No matter what changes the museum undergoes in the next 25 years and beyond, Tanjutco assures, "Museo Pambata will always be for the Filipino child."