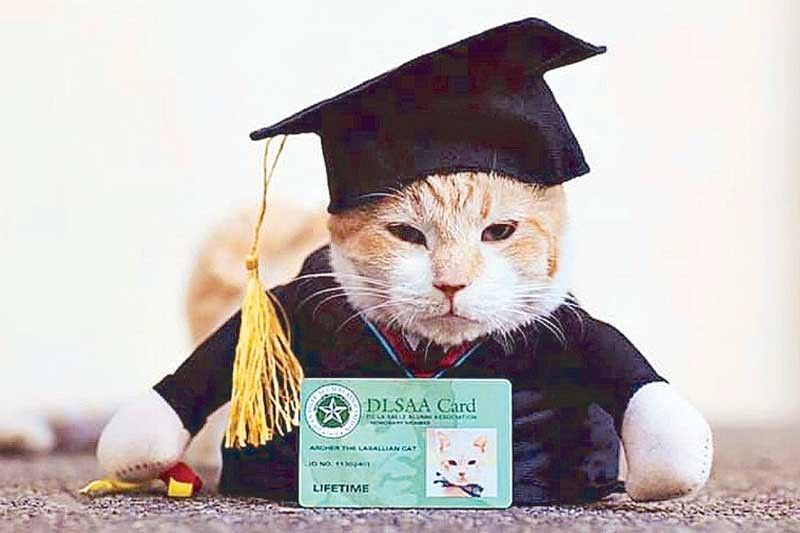 Archer's graduation pictorial by Paws and Click
MANILA, Philippines — As students across the country celebrated their graduation in the past month, one very special commencement ceremony was held at De La Salle University-Manila – the graduation of Archer, a beloved campus cat.
When six-year-old Archer had to be re-homed because of health conditions, he was sent off in grand fashion, complete with toga and cap, a stage, screen and photo wall step up, and more than 300 guests in attendance.
The orange cat was born mid-2013, during the construction of the Henry Sy Building, which became his territory.
When the building was about to be inaugurated, the staff tried to round up all the stray cats in the area and there was one orange kitten that ran so fast and always managed to escape capture.
He became known to the guards and staff as Lion King; to the faculty as Security Cat, because he would post himself at the entrance of the Henry Sy gate; and to the students as Archer.
Archer, together with the other cats of La Salle, have been well taken care of by the volunteers of DLSU-PUSA (Professors for the Upliftment of Society's Animals) since 2015.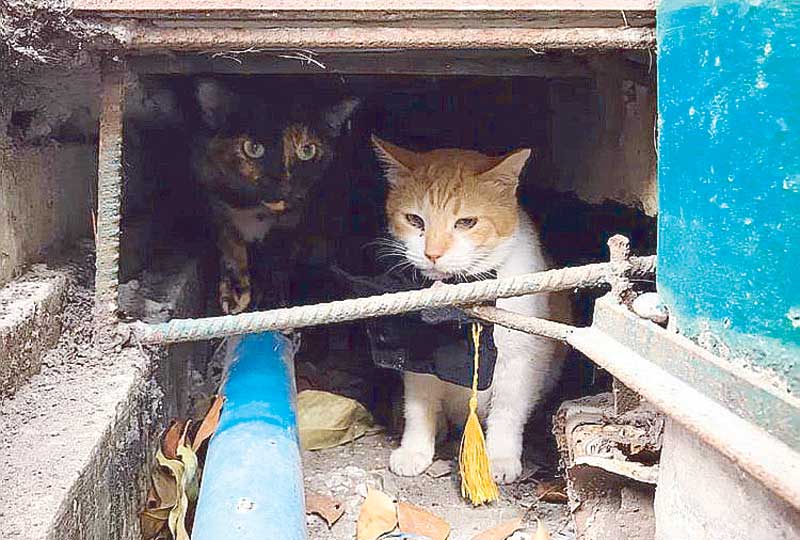 Archer once again escapes the grasp of humans and spends a few moments with his best friend Animo during the graduation ceremony.
"We just wanted to do a social engagement project," says Dr. Laureen Velasco, a Philosophy professor and founder of DLSU-PUSA.
She had previously done a trap, neuter, release project in her subdivision and decided to implement the same project in DLSU. Velasco and her fellow cat-loving professors from the different departments in the university decided to organize a group to take care of the cats around the campus.
While this is the first formally organized group, Velasco notes that they can trace cases of faculty caring for the La Salle cats back to the 1980s with the likes of National Artist Cirilo Bautista who taught under the Literature Department.
The organization ensures that each cat under their care gets documented and monitored, and fed cat food and clean water twice daily – even on weekends.
There has been some opposition from those in the community who are not animal lovers. However, DLSU-PUSA got the support of the administration. In an open letter to the Lasallian community, one of the organization's staunchest supporters, Brother Michael Broughton FSC, former vice president for Lasallian Mission, said: "I see it as a blessing that I am reminded each day that I share this world with a host of non-human lives who have a right to exist in a safe and protected environment. Inclusivity is one of our Lasallian core principles.
"I am personally inspired by our professors and student volunteers of PUSA, who at great personal expense, pay for the neutering, ongoing medical care and proper food bills of these cats. They feed the cats twice every day, rain or shine, 365 days a year. That's dedication to a cause higher, greater and bigger than themselves – the foundation of all spirituality."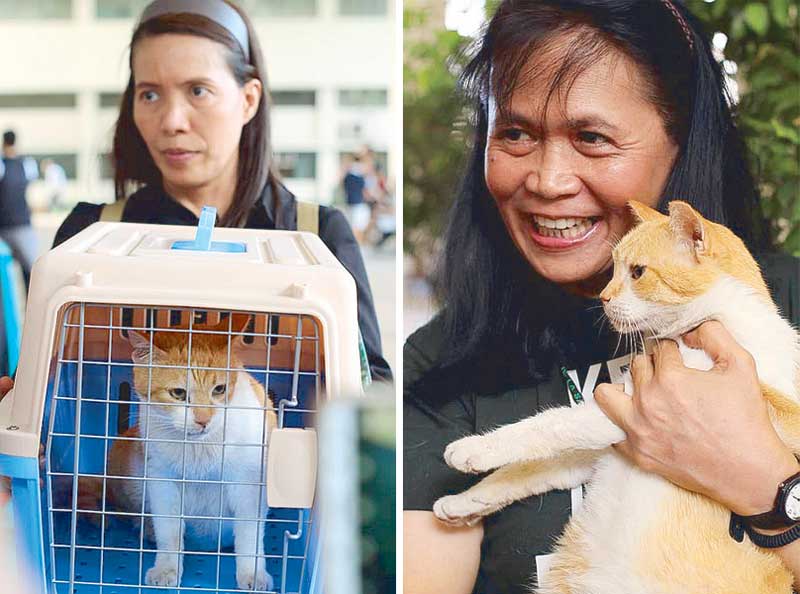 Dr. Laureen Velasco of DLSU-PUSA shows Archer to his graduation guests(left). Archer is embraced by his new fur mom, former university security personnel Jenny (right). - Sabrina Hizon
Addressing those who were against the PUSA program, Broughton said, "We can all afford to be a little bit more compassionate."
Velasco adds, sometimes they have bigger problems not with the cat haters, but with the cat lovers – those who can't help but pet the cats despite being told not to. To minimize scratching incidents, Velasco hopes to put up signs around the campus. The clinic has also asked DLSU-PUSA to document each cat (in a catalogue) so they can monitor those who might be too aggressive.
To address concerns on the cats' waste, DLSU-PUSA is coordinating with the buildings and grounds department.
For Velasco, the positive effects outweigh the negative. She notices the anti-depressant effects of the cats on stressed-out students. She sees them studying while cats lounge nearby in a peaceful coexistence.
Furthermore, the cats of La Salle have brought the community together. The group has grown to include what Velasco calls "pusaporters" from senior high, undergrad and graduate students, and even alumni who take part in feeding the cats and raising funds for their upkeep. The cat population on campus has grown as well – from less than 30 cats in 2015 to some 70 cats today.
Ninety percent of the cats are named by Velasco. The cats near the STRC building have names that begin with the building acronym: Sunkist, Shadow, Tiramisu, Tycoon, Racoon, Rambo, Custard, Cinnamon. The two original cats near the Gokongwei building were named Goku and Weiwei. This started a theme, so now all the cats on that turf are the Japanese gang.
Gatorade was found on top of the university's gate; Bela near the Velasco building; and of course there's Archer and his BFF Animo.
"When you love the creatures and you have a relationship with them and feed them every day, you will remember their names," says Velasco.
Recently, some of the volunteers noticed that Archer would just stare at his water bowl for a long time, so they decided to take him to the vet. They discovered that Archer had three times the normal level of creatinine and double fatty liver. "We drastically changed his diet immediately," says Velasco.
However, it would be difficult to monitor his health closely at school. DLSU-PUSA called Jenny, a former university security personnel who had always loved Archer. She immediately agreed to take him in. Velasco says, "Ate Jenny had a relationship with Archer ever since he was a kid, since he was a nobody. Archer also loves Ate Jenny."
Archer's graduation leaves a small but significant absence that can be felt in the DLSU campus. "The graduation was a way of humoring ourselves... to lessen the heartache," says Velasco. What started as a small gathering soon turned into a school-wide event. "Much ado about a cat," Velasco exclaims. "It still hasn't completely sunk in. It was all for Archer. Everybody was there for him. It brought joy to a lot of people."
During the ceremony, when the cage was opened so Archer could make a "graduation speech," the mischievous cat leapt out of the cage and took to his familiar hangout, a nearby gutter, where he spent a few last moments with his be(a)stfriend, Animo.
"Our top priority now is his health," says Velasco. Since he graduated, Jenny has been giving the community daily updates on Archer.
Meanwhile, DLSU-PUSA continues to monitor and feed the remaining cats of La Salle. "We want to help more cats, re-home as many as we can. They need a loving home where they can get a lot of TLC."
Last year alone, the organization was able to facilitate some 40 cat adoptions. Velasco's vision for the organization includes a senior high club, PUSA junior organization for the undergraduates and a satellite – or, catellite – network of PUSA organizations across the La Salle campuses.
"I just want them to know the joy," Velasco says of her animal advocacy. "It's a lot of work, it's a lot of expense, but the joy on a soulful level... if only they would take care of our animals."
What's next for Archer? With the alumni card he was given during his graduation, he can come back to his alma mater anytime he wants, but graduate studies in Purr-losophy may have to take a backseat for the meantime. This La Salle graduate already has a job waiting for him as a brand ambassador of a cat food brand. Truly, the fur-ture is bright for Archer. Animeow La Salle!