Star-studded 'Women of Style & Substance' 2023
September 28, 2023 | 12:00am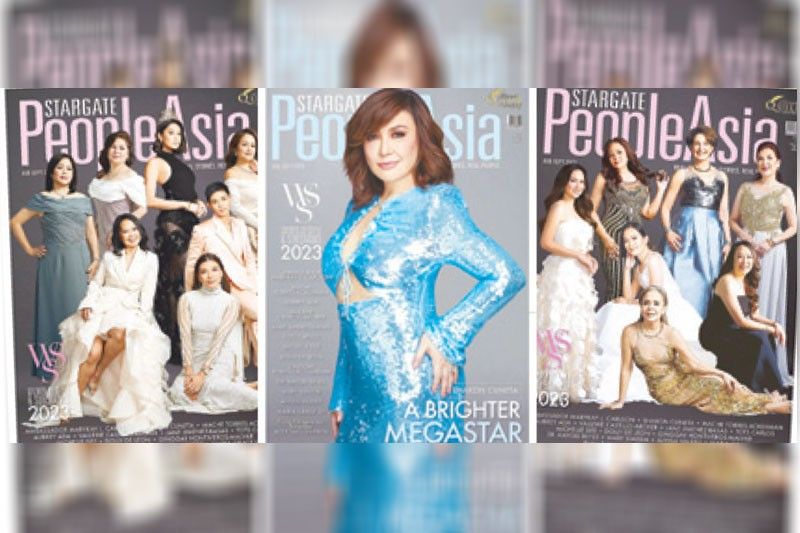 From the Megastar to a top diplomat, to a veteran Filipino actress making history in Hollywood and a beauty queen poised to conquer the universe, all the way up to business leaders, advocates and athletes, each one of PeopleAsia's "Women of Style and Substance" 2023 awardees is definitely a star in her own right.
Gracing this year's solo cover is no other than Megastar Sharon Cuneta, who may have lost 100 lbs., but none of the sparkle that has made her an icon after 45 years in the biz. "I want to be healthy. I want to run around with my future grandchildren. I don't want to get sick. My mortality was dawning on me. It was becoming more real, suddenly," she tells PeopleAsia's managing editor Jose Paolo S. dela Cruz. "It's kind of your duty as a public figure. I felt like I kept on disappointing my fans. I was like a rubber band, losing a little bit and then just when everything was looking good, I would gain it back, if not gain even more."
Also leading this year's roster is US Ambassador MaryKay Carlson.
When Ambassador Carlson was nominated by President Joe Biden as envoy to the Philippines in 2022, she was so thrilled, saying it was beyond her "wildest dreams." And so far, it has been a thrilla' in Manila for her.
"I have never been at a place where I have felt the connections to be so tight and so meaningful as they are here in the Philippines," she told me in an interview. She also reiterated that Philippine-US relations are "ironclad."
MediaQuest Holdings president and CEO Jane Jimenez-Basas, on the other hand, shares how she keeps close tabs on almost all forms of entertainment as part of her job. "It's very important that I'm able to assess the current state of business as well as opportunities for the future to be able to define a growth path, both short-term and long-term," adds Jane, who also heads Cignal TV and Nation Broadcasting Corp. (NBC).
As first vice president and chief reputation and sustainability officer for Aboitiz Equity Ventures Inc. (AEV), Ginggay Hontiveros-Malvar says that her job "is focused on building, enhancing and protecting the Aboitiz Group's reputation, and providing direction and strategy for our group sustainability pathways."
Converge ICT Solutions Inc. president and co-founder Maria Grace Uy, on the other hand, is being recognized for balancing her no-nonsense leadership style with her trademark grace. "We founded Converge because we really believed that our people deserve something better…We aim to provide services for SMEs so that they can grow and compete."
Also shining bright on this year's "Women of Style & Substance" roster is Dolly De Leon. How does one become the first Filipino actor to be nominated at the prestigious Golden Globe Awards and British Academy of Film and Television Arts Awards (BAFTA)? "I don't know. You drive and go get in a car? Just keep working. Just keep working and working and working. Audition and keep auditioning," says the veteran actress, who is set to fly abroad to film a series alongside Oscar-winner Nicole Kidman later this year.
Aside from being Miss Universe Philippines 2023, Michelle Marquez Dee is also at the forefront of creating an "autism-open nation" as a goodwill ambassador of the Autism Society of the Philippines, which helps people with autism secure livelihood opportunities, among other things. "The difference with our approach is we just don't leave them and the companies that took them in after they get hired. If both parties have any concerns, they can talk to us," says Michelle, whose half-brothers were diagnosed with autism.
Creamline Cool Smashers team captain Alyssa Valdez also graces the list for the second time. The humble volley belle, better known as "the Phenom" on court, still blushes at the thought of having so many fans. "Why would people consider me as someone that they could look up to? It's weird because we all put the same effort. We all put the same intensity and discipline in our craft."
Three-time Premier Volleyball League MVP Tots Carlos, on the other hand, opens up about her journey on- and off-court. "At the end of the day, I always ask myself, 'Why do I do this? Why am I here?' And I always return to my purpose. That it's because of my dream and it's for the team," says the Creamline Cool Smashers opposite hitter.
Dr. Kaycee Reyes, founder of Luminisce Skin and Laser Clinic, also helps women (and even some men) in their pursuit of holistic beauty. "For me, beauty really is in the eye of the beholder, and it is important that they also celebrate their own true beauty and like what they see," she adds.
Raffles and Fairmont Makati hotel manager Aubrey Ada, also opens up about her journey as a successful hotelier and a mother of four children, including a son who was diagnosed with leukemia at age four. "If it wasn't for my faith in God, I know I wouldn't have survived the challenges and gone through the motions with clarity."
Businesswoman Mary Simisim, who founded BlueWater Day Spa in 2005, also shares how she makes self-care her mission. "You can't look after other people if you are running on empty. That is why you also need to endeavor to look and feel good inside and out."
Advocate, climate warrior and motivational speaker Mache Torres-Ackerman is all about serving others." I'm very passionate about service, which means helping others not just financially but physically. For instance, I do outreach work in the Women's Correctional, and go around different provinces to connect with people as part of my climate change work," says Mache.
Meanwhile, Philippine Airlines' assistant vice president for catering operations Chef Vallerie Castillo-Archer is on a mission to make each and every meal aboard the flag carrier memorable. "I look at teamwork as a dish, every team member a vital ingredient who all have to come together to produce the best result."
PeopleAsia is also recognizing its first-ever 'Rising Entrepreneur' awardee, Juju Glow founder and CEO Acee Sayson-Paita, who launched her impressive array of FDA and SGS- tested wellness products in the thick of the pandemic. "We want to be known not only for our proven and tested products but also as the wellness brand that financially empowered Filipinos."
Indeed, these women are shining stars in their own corners of the universe! *