ANYA: A warm embrace in cool Tagaytay
February 18, 2022 | 12:00am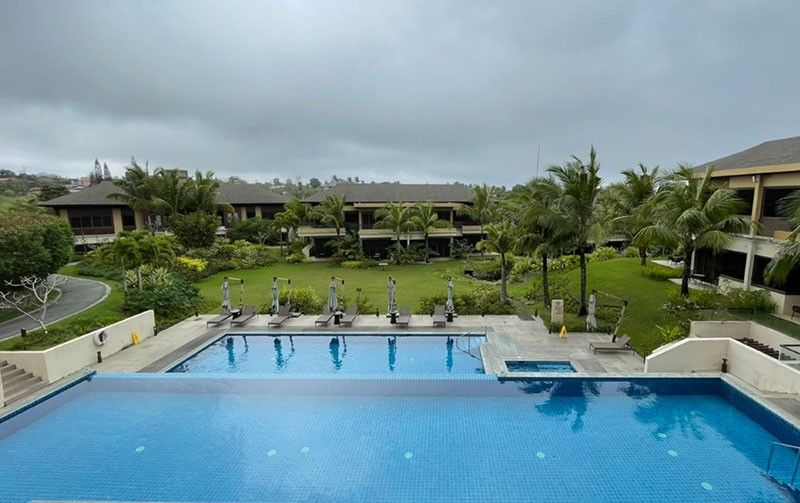 One of the best things I remember about Hawaii and Bali is that one need not travel far from the city center to enjoy a getaway a world apart from the urban jungle. Hotels in the city have their own pampering, but to immerse oneself in rolling hills of green grass and palm trees, chirping birds that awaken you in the morning, sweater weather to cocoon in at night — and only 60 minutes from my neck of the woods — is a time-saving escape to paradise.
It's like you leap-frogged in 60 minutes from the hustle and bustle of city life to 7.2 hectares of serenity, with no building taller than the trees visible from your balcony, just blue skies and mist.
Anya Resort Tagaytay is not too far off the beaten track (you can get to a convenience store in 10 minutes) but is certainly tucked away in some secret corner of the Tagaytay sky.
Anya Resort Tagaytay is a member of the Small Luxury Hotels of the World (SLH). This group includes the best luxury hotels in the world, comprised of 500 hand-picked hotels across the globe.
***
My husband Ed and I had a staycation at Anya before Valentine's Day and it is indeed where nature has clicked the refresh button. After unexpected volcanic ash (at first unwelcome) rejuvenated its foliage, after the lockdowns from the pandemic forced it to shutter for short periods of times in the last two years, Anya now looks like it has undergone its own pampering in nature's own rejuvenating spa.
A guest's pampering starts before check in. You are requested to fill up a form online for your preferences in room scent, pillows, what you want in your mini-bar, where you want to reserve for dinner, your preferred cocktail drink, etc. So if you ask for Soju, they won't be surprised. Guests of all ages are welcome, including kids and lolos and lolas. (Check the website for vaccination and testing requirements as these change.)
But before and during Valentine's Day and other special occasions, Anya really is for couples, IMHO.
For privacy and for safety reasons, an "Experience Assistant" meets you in a golf cart in the parking lot, and with your luggage in tow, brings you directly to your villa. Anya has 78 suites designed with Vigan's colonial houses in mind. Villas are lined up like houses on a street, so it looks like a Filipino village in a hacienda.
In the comfort of the living room of your villa, you are checked in by the hotel's staff.
I don't know if my husband connived with Anya's general manager Mikel Arriet, but white wine chilling in a bucket, cheeses and cold cuts, and freshly baked carrot cake were a welcome greeting on one table of the spacious living room. I then entered the adjoining bedroom, which has glass doors overlooking a garden, and voila! A bouquet of pink roses. "Because we know you like pink," says the detail-oriented Mikel.
Beside the bouquet, a book with my portrait on the cover, mine to keep! And spelled out with coconut leaves on the king-sized bed were the words, "Welcome home."
Home? You mean paradise?
Both.
***
After checking in, we enjoyed a late lunch in the veranda of Samira, which features Mediterranean dishes. We opted instead for Filipino dishes and had crispy pata (available upon request) and sinigang na salmon. Dessert was a triumvirate of Burnt Basque Cheesecake (Mikel is from the Basque country, after all), chocolate lava cake (but of course, with Taal volcano close by!) and ube ice cream.
After lunch and a brief stroll, I had a 60-minute foot massage in the villa from the expert hands of a therapist from Anya's Niyama Wellness Center and it was pure bliss. I don't know how my foot being pinched and kneaded like that can lull me into a deep sleep but I heard myself snoring during the massage, waking up refreshed and energized.
We had cocktails at sunset in a separate villa. I felt I was in Europe with the tapas and the wines and gin and tonic for my husband. Coffee and cocktails in Europe, as I know it as a tourist, are unhurried rituals. You take your time. You chill. You unwind. You think out loud. At Anya in early February, there was only the evanescent rain and the rays of the setting sun enveloping the villa to eavesdrop as we had cocktails. Mikel knows this lifestyle.
"I would like to be known as the home out of your home in the south. For the team, we work to hire candidates with the best attitude and who understand our philosophy of service or purpose. Especially the Anya Experience team, they need to be on top of the guest before, during and after his stay, learning the likes and dislikes to anticipate the needs of each guest, without being too invasive," says Mikel, who has been living and working in the Philippines for 16 years now. He combines his past experience working in Europe and his keen understanding of the Filipino psyche for that unique Anya flair.
According to my husband, and to many others who have been to Anya, its food is as compelling a reason to visit as its amenities. For dinner we had grilled octopus tentacle, mini pizzas with cheese fermented in the farm of the Roxas family (owners of Anya), and apahap done the Basque way — not too many spices, just lots of garlic and olive oil. Then rib-eye done the way my husband likes it — not saucy. Dessert was perfect as usual — ice cream on slivers of young coconut. After dinner, we had tea by the fireplace before walking "home" to our Vigan-style villa.
You really have to check your diet at the gate or opt for the resort's many healthy offerings, after all, it grows its own vegetables.
Back in our room, I was met with another invitation — a tub with rose petals strewn all over it.
I didn't rise with the sun as my date with the soft bed was just too lingering. Ed had his usual American breakfast and I had my usual Continental starter. But we were told that if we wanted crispy danggit and fried rice, all we had to do was ask.
There is a heated pool in the property but I chose to work off the excess calories by taking a leisurely walk.
Soon, it was time to go. Leaving "home" is never easy, but the consolation is — it is close enough to return to every time you miss its embrace.
(You may e-mail me at [email protected]. Follow me on Instagram @joanneraeramirez.)