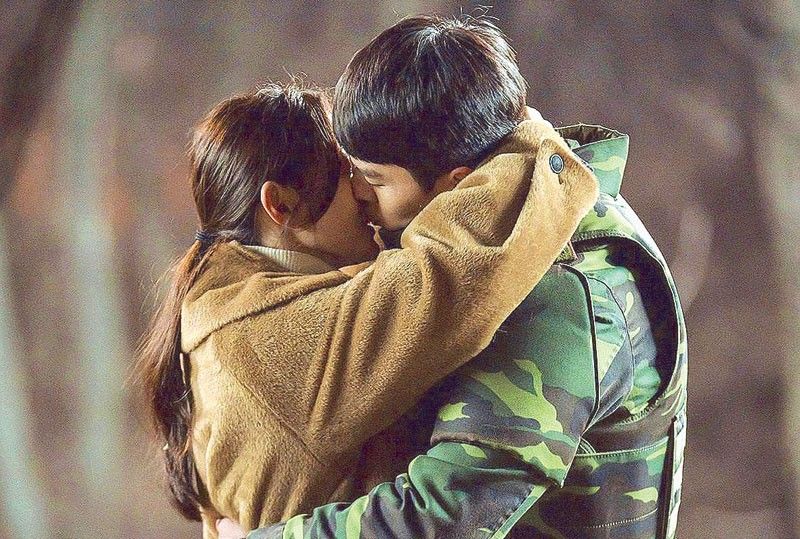 Son Ye-jin as Yoon Se-ri and Hyun Bin as Capt. Ri Jeong-hyuk in the hit Netflix original series Crash Landing on You.
www.facebook.com/tvNDrama
Crush landing on you, again
No way am I going to spoil your viewing pleasure by spilling on you the ending of the Netflix "K-drama" Crash Landing on You (CLOY). That would be cruel. But if you don't want to read someone (me) gushing about it, stop with the period after this sentence.
Was the ending happy? Was it sad? Was it open-ended? Was it hanging?
Was it all of the above?
My lips are sealed. But let me just tell you — it wasn't an ending.
Go figure.
***
I was a K-drama virgin till news that the final two-hour episode of CLOY broke television records made me break my vow of abstinence. So, it was with a bit of insouciance that I sat through the first episode of my very first K-drama, my eyes swinging like a ping-pong ball between the subtitles and the scene unfolding in front of me. But wooed by Capt. Ri Jeong-hyuk's (portrayed by South Korean actor Hyun Bin) brooding stares and half smiles, I gave in to a second episode. And another, till I was hooked. When I finally reached the finale, I was hopelessly devoted. Riveted. Not just on Captain Ri but on the love story between him and Yoon Se-ri (so refreshingly essayed by Son Ye-jin), who paraglides accidentally from South to North Korea during a freak force of nature into a situation that was going to be another force of nature in her life.
I became part of the legion of titas in Manila (one young, beautiful and wealthy tita is said to have the photo of Hyun Bin as the screensaver on her phone!) who had a crush on the tall and handsome fictitious North Korean army officer and piano virtuoso, who deftly plays sonatas with the way he looks at the woman he loves.
And Se-ri complements the dashing Captain Ri, a serious man of few words, with her twinkling eyes, her dazzling smile and the light teasing and flirting she does with him from time to time after she first crash landed into his world. She is a natural, playful tease who knows how to make the stoic military officer blush. Son Ye-jin is also a natural beauty, and according to reports, refused to wear eyeshadow, enhance her eyebrows and put on blush during the filming of the scenes in the fictitious rural North Korean village where she crash landed (some scenes that supposedly were set in North Korea were filmed in South Korea and Mongolia) simply because she wanted to look like a typical village girl.
Captain Ri and Se-ri's chemistry, and the build-up to their romance, kept me glued.
"I wonder which one is love. Hoping that you're worrying about me like I am for you and wishing that you're pining for me like I do for you. Is this love? Or on the other hand, is it wishing that you won't be worried about me, that you'll forget about me and all the moments we've shared? Is that love? If it's neither, is it love that I'm willing to go through everything from the very beginning just so I can meet you once again?" is how Se-ri describes the contradictions in her heart.
"Even if I have to worry about losing you every day, I want to have you in my life. Even if it breaks my heart because it's a dream that can't come true, I'd like to sincerely dream of the future," is how Captain Ri describes the price he is willing to pay for a dream.
The trembling #RiRi romance — spiced up by several villains, and sweetened by the comic relief effortlessly sprinkled on the plot by Captain Ri's loyal sidekicks (some called them "ducklings") and neighbors in his military housing village — made Crash Landing on You a vow between the viewer and the lead characters. Walang iwanan. Till the last episode do us part.
***
I think one more reason the Netflix series is such a hit is that, like the main characters Captain Ri and Se-ri, it doesn't give all in the beginning. The series stretches the anticipation of the viewer like a rubber band — stretches it, and stretches it, and just before it snaps, comes the moment of truth. Aside from awaiting with bated breath the outcome of the seemingly doomed romances in the movie, the viewer is also eager for the unmasking of its true villains, whether in the North Korean military, or in the family of Se-ri, who owns and runs a chaebol in South Korea.
But the subplots and the corny moments (and the "porkies") do not distract or detract a bit from the tender love story between Captain Ri and Se-ri (hence #RiRi). Theirs is definitely the story of forbidden love, of unconditional love, of everlasting love whether or not they actually have the chance for a happily-ever-after (my lips are sealed, remember?).
So many crucial scenes unfold in bridges — from Switzerland to Korea — symbolic perhaps of the writer and filmmaker's desire to build a bridge between the people of South and North Korea, between warring family members, between people in love who cannot love.
***
K-dramas also seem to serve up romance on a silver platter without torrid (passionately brief, yes) love scenes, bed scenes or nudity. Sex sells, but why is CLOY a monstrous hit even if it didn't have explicit sex on the menu? As for violence, the fighting scenes were action packed, but not gory.
This conservatism — which did not interfere with its commercial success — makes Crash Landing on You a template for those who want to make movies, sell them, without having sex and violence as a prerequisite to their success.
In the middle of the series, Se-ri tells Captain Ri while they were on a train to Pyongyang, "There is an Indian proverb that goes, 'Sometimes the wrong train takes you to the right station. It was like that for me, too. Throughout my life, I always felt like I was on the wrong train. One time, I wanted to give up. I didn't want to go anywhere. So I thought of jumping off the train. Look where I am now. I took the wrong train again, and a very wrong one at that. Still, you should think about the future, even if things don't go as you wish. I hope you arrive at the right station, no matter which train you take."
The train did arrive on the 16th episode. But was it at the right station?