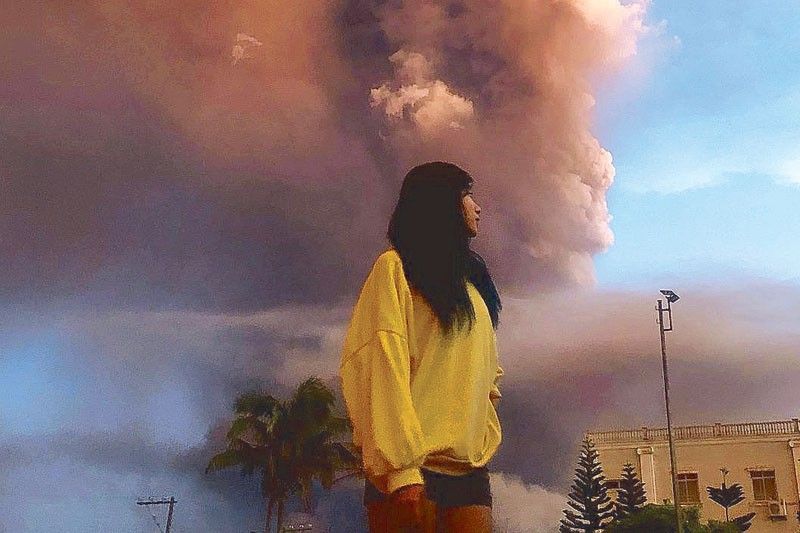 PeopleAsia's Maica Maglipon in the foreground of nature's wrath.
Photo by TABITHA NOVENARIO
In the eye of the eruption
To those beholding the cone on the lake spewing forth a plume of smoke spiraling toward the heavens amid flashes of lightning, the eruption of Taal Volcano was mesmerizing. A sight to behold.
At least two people who saw it from Tagaytay City, which has arguably the most panoramic view of Taal Volcano and Taal Lake, described the phenomenon as "a beautiful disaster." A devastating one, but while the cone was purging itself of all the smoke and steam in a pirouette, it was entrancing.
Petroleum executive Charmaine Canillas was attending the wedding of her nephew Chino Vaflor to Kat Bautista Palomar in Savanna Farm Tagaytay that volatile Sunday.
"When the ceremony started at nearly 4 p.m., I took photos of what looked like beautiful moving clouds," recalled Charmaine, who was a wedding sponsor. "I heard rumbling sounds and thought they were thunder. There were flashes of lightning, too. I wanted to egg on the priest to finish the vows as this couple were childhood sweethearts and had been together for ages and I didn't want a storm to spoil 'the kiss'."
She thought it was a storm.
Then Charmaine's son, Angelo, who was one of the groomsmen, sent her a text message that Taal Volcano was erupting. It wasn't a storm.
"And I realized that what I thought were insects fluttering around the venue were actually ashes," she added.
"As we marveled at the site of a beautiful disaster, we were wondering if we would stay or leave," continued Charmaine. The newly-wed couple decided to cut the reception short, and made their escape from Tagaytay at 6:30 p.m.
"We left as a convoy. By then the streets were dark and covered with mud. No electricity. Establishments were closed. And it felt like a ghost town."
***
Indeed, only a sea of gray remained of the verdant, postcard-pretty farm of Tess Pantoja in Talisay, Batangas that she and her husband Popo christened "Pondok Talisay." After Sunday's eruption, she rued that Pondok Talisay is but a memory. Now buoyed by hope and prayers, and the consolation that volcanic soil is fertile and her farm will bloom riotously again, Tess said that when she first saw photos of the devastation in her farm, "I thought they were taken in black and white."
***
Singer Louie Heredia was in Tagaytay for a dinner, and since it was a Sunday, had checked in at the Grand Dame on the Ridge, Taal Vista Hotel. From his room facing the lake, Louie thought the volcano looked like "a monster getting bigger and bigger because of the smoke, the flashes and the lights. Like it was ready to eat up the world!"
Since relatives and friends were urging him to go pack up and return to Manila, he checked out of the hotel and found himself in the midst of another disaster — Carmageddon! After being stuck for two hours in his brand-new car under heavy ashfall on the Tagaytay-Nasugbu Highway, Louie decided to turn back and seek refuge once more in Taal Vista. After he checked in a second time, he was not allowed to leave anymore as there were non-stop tremors. Unable to sleep, Louie got down on his knees and prayed and felt a certain "calm and strength." Surprisingly, despite the earth's shaking, he then fell into a deep sleep at 6 a.m. and awoke refreshed after three hours. On Monday, it took him only an hour and a half to get home, but the drive was somber as he saw the devastation around him.
***
Interior designer Bern Concepcion was having a late lunch at Balay Dako also on the ridge when the volcano started rumbling. As the steam and the fiery material swirled and seethed, reflections swirled as well in Bern's mind. "People do ignore signs," she thought to herself.
She noticed that not only did the diners stay put, "even residents and boats around the lake seemed stationary, with seemingly no intent to flee despite the clear signs of danger."
Looking back, she says, "We should have scrambled out of Tagaytay and headed home after seeing the first signs."
She also saw for herself that, "Those who have little give more. Ordinary people living in small houses by the roadside opened their homes to motorists, brought out pails and water hoses to help motorists clean their windshields. And they refused money when we tried paying them."
And finally, Bern thought to herself, "It doesn't mean that just because one is silent and unseen, one is not active." She likens the volcano to the Almighty. "He is actively brewing something and waiting for that perfect moment for the eruption of His blessings."
***
Like many who were in Tagaytay early that Sunday, PeopleAsia graphic artist Maica Maglipon thought the thickening buildup of smoke in the horizon was just another IG moment.
"Some vendors told us that it was a massive fire. Some said that it was the volcano. In a few moments, I was able to confirm that Phivolcs had, indeed, reported that the seemingly small but mighty Taal Volcano, whose last major eruption was in 1977, was spewing ashes due to hydrothermal activity. Since it didn't feel or look so alarming, we went on with our trip. Maybe it was just another Instagram moment. Who knew?
"We even decided to have lunch in a restaurant that offered a view of the volcano. We saw no reason to panic. If anything, the smoke added drama and novelty to the backdrop that was Taal Lake. That was until we started hearing what we thought was thunder. Little did we know that it was already the volcano erupting. After 43 years, Taal Volcano was fully awake once more.
"The restaurant had a roof deck, and from inside I could hear the pitter-patter of what sounded like rain. I decided to go out for an unobstructed view and photo. It was then when I realized that it wasn't just raindrops making those sounds; they were from the small rocks falling down from the sky."
***
Charmaine, Louie, Bern and Maica made it out of Tagaytay unscathed, except perhaps by the traffic. They were the lucky ones. Those who had no homes in Metro Manila to seek refuge in had to stay in evacuation centers. Many animals got left behind.
Beautiful disasters bring out the worst in nature, but usually the best in people (except for those selling face masks at exorbitant prices!).
In the long run, Taal will be blanketed by fertile soil again, plants and crops will blossom like never before, people will make contingency plans for animals, people will learn to listen to the signs and heed them.
As Bern said, "It doesn't mean that just because one is silent and unseen, one is not active."
Never underestimate silence. *