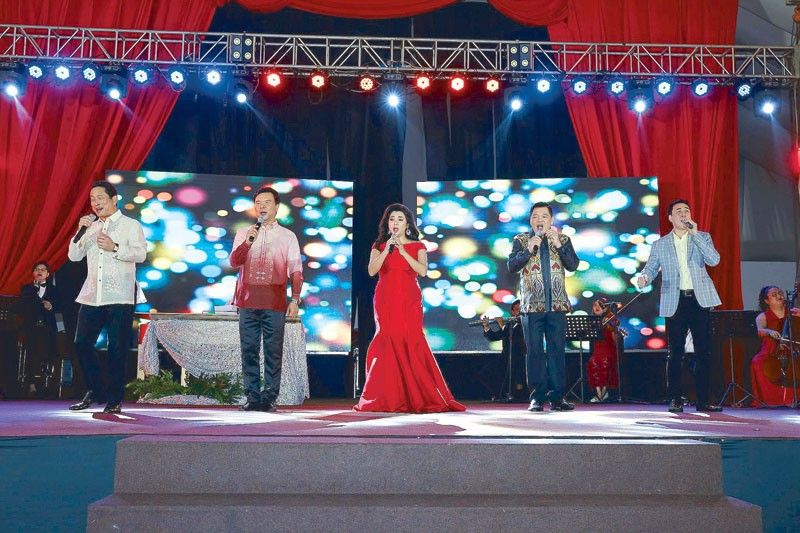 The author with (from left) Byeong In Park, Rachelle Gerodias, Manila Hotel president lawyer Joey Lina and Gino Padilla.
What was it that our national hero, Dr. Jose Rizal, said about the youth? "The youth is the hope of our future."
The "Great Malay" himself died at the young age of 35, and it is his martyrdom in his youth that fanned the flame of change, revolution, and eventual independence from Spain.
Last December, we commemorated the 123rd anniversary of the nationalism and martyrdom of Dr. Jose Rizal. He was the quintessential Renaissance man whose ideals and vision were way beyond his time. He serves as a monumental example for our youth to emulate.
I have often looked to Rizal as inspiration both in my personal and professional life. Thus, when asked by former senator and former governor lawyer Joey Lina, who is the current president of the Manila Hotel Corp., to perform for the Knights of Rizal, in support of several of their laudable projects, I accepted without hesitation.
The Knights of Rizal is a civic and patriotic organization established by Republic Act No. 646 in 1951 as an instrumentality by which the teachings and life of our national hero may be propagated among the Filipino people and others to the end that they may emulate him. The organization counts retired Supreme Court chief justices Hilario Davide and Reynato Puno as among its illustrious members.
As mentioned in my earlier columns, any chance to perform before an audience to support a charitable and humanitarian cause is an opportunity one must not let go.
Moreso, when it entails being on stage with not just one but two world-class performers: soprano Rachelle Gerodias and Korean baritone Byeong In Park. (There is so much to write about the accomplishments of this lovely couple in the musical realm that it deserves a separate column.)
Hence, Ngayon Na, Kabataan, a dinner concert jointly sponsored by the Knights of Rizal and The Manila Hotel.
The special affair was held at The Manila Hotel's Tent City, which was jampacked to the rafters (I kid you not!).
Special guests of the concert, aside from myself, were Joey Lina and '80s teenage heartthrob Gino Padilla. I'm sure the not-so millennials will remember his hit song Closer You and I (Did I catch you humming it?).
The show was directed by the inimitable Freddie Santos whom I also had the chance to work with in previous concerts.
A great way to cap the previous year and to usher in the new year.
May we all have a prosperous and blessed 2020 ahead of us!