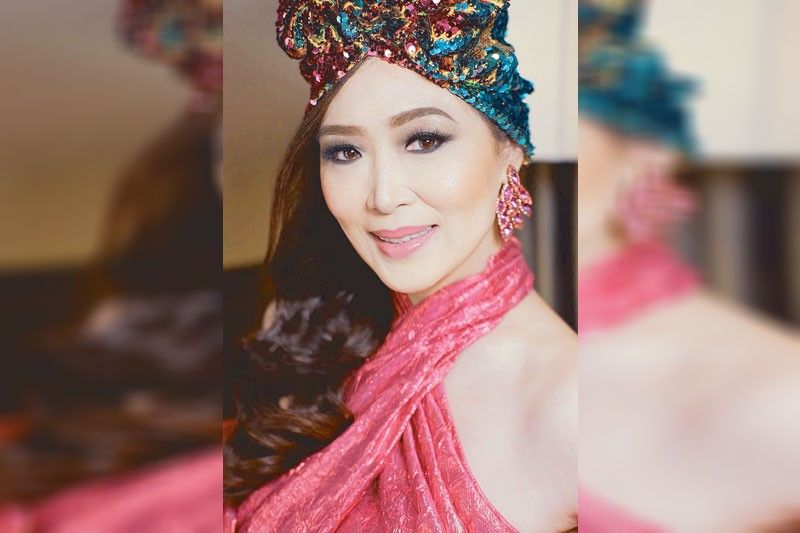 Linda Ley
Photo, makeup and hairstyling by LEO POSADAS
PEOPLE
-
Joanne Rae M. Ramirez
(The Philippine Star) - January 10, 2020 - 12:00am
My mom is the coolest, sweetest, funniest and kindest person you will ever meet," says Linda and Victor Ley's eldest son Mark.
Coming from one's son, that is no surprise at all, as most (including Britain's Prince Harry) think their mother is the best mother in the world.
But did you know that Mark once called Linda, "Tita?"
He and his brother Michael lost their mother to breast cancer when they were toddlers. They grew up, according to him, in a house — "But it was only a roof over our heads."
Then one day, God sent his fami-Ley something, nay, someone, who built walls of love under the roof his father built and gave it a heart.
"It was around 18 years ago when I met 'Linda.' Me and my younger brother were having dinner when my dad walked in, may ka-'HHWW.' For those of you who don't know what HHWW stands for, it means 'holding hands while walking.' My dad introduced this woman as 'Tita Linda'," recalled Mark.
"Tita Linda came at a time when me, my dad, and my brother only had a roof over our heads. And I say 'only' not to sound ungrateful but because — even if we did have a house, I didn't know if it was truly a home."
"Tita Linda showed me what a home was. Tita Linda showed me how it felt like to have a home-cooked meal," Mark said, choking back tears of gratitude as he looked at Linda, who was by this time wiping away tears that were spilling out of her soulful eyes. It was her birthday party, a very festive, glittery occasion with a Studio 54 theme, replete with disco balls, cages and guests in flared pants and Afro wigs. And yet all through this revelry, the poignancy of Mark's tribute to Linda glittered like the biggest neon ball in the ballroom of the Manila Marriott Hotel.
This beautiful woman named Linda not only became Victor's bride, she became the mother Victor's sons longed for. She cooked special meals (which she still does today) for Victor and his sons, prepared Mark and Michael's baon, picked them up from school and took them to the mall.
"Tita Linda showed me that someone else could love my father as much as I did. But most of all, Tita Linda showed me that someone could love me and my brother as much as my father did," Mark continued as many other guests were struggling to keep their eyes dry under their falsies.
And then, the confetti. Words that were like confetti raining from a net of love that sprung open from a young man's heart.
"So before we start dancing the night away, I'd just like to raise a toast. Please look over there," he gestured toward his father Victor. "Not at my mom, but at my dad instead. Thanks, Dad, for asking me all those years to stop calling her 'Tita' and start calling her 'Mom.'" I understand now. Happy birthday, Mom. Love you!"
***
Everybody loves Linda. The first few years I would bump into her in the social scene, I thought she not only was stunning, she was also very pleasant. Sometimes, we in the media don't always take pleasant gestures at face value because we understand the art of media relations.
One day, an officemate of mine fell ill. Linda was among the first to respond to calls for help, as our mutual friend's hospital expenses exceeded his health insurance limit. Unfortunately, our friend passed away, and during his wake, Linda, despite then being in a wheelchair due to an ankle injury, went to his wake. And though our friend is in the great beyond now, Linda always mentions him to me. During her birthday, she immortalized their friendship in her birthday video — of her numerous friends, she did not forget our dear friend and what he meant to her. A friend, through thick and thin, and beyond.
One of Linda's closest friends Mayenne Carmona recalls, "In 2011, I invited Linda Ley to join me in my mission to feed poor children in Metro Manila. It's now 2020 and our feeding mission continues." Mayenne and Linda's group is aptly called ASK, which stands for Angels for Street Kids. "This is how I think of Linda, a kind, compassionate with a big heart for the poor."
Linda's compassion extends to animals as well, especially the so-called "Aspins." My sister Dr. Geraldine Mayor, a psychiatrist and a dog mama like Linda, set up "Pawlanthropy Inc.," an animal public welfare charity that does animal rescue work in the Philippines (vaccinations, feeding, adoptions and doing spay/neuter treatments). Linda has not even met Geraldine but was one of the first to respond when she launched a fund drive for Pawlanthropy!
***
"La Linda Ley" is a moniker coined for Linda by her good friend Chris Badiola, who says, "The world will never be the same without our La Linda Ley."
"Your magnanimity and tacit generosity make you even more attractive. Your love for Victor is most apparent with your smile whenever you are with him. Your dedication to your children, including Dagz (her miniature Schnauzer) is unparalleled and inspiring!" says Chris.
Mayenne led the prayer to the Almighty for Linda during her birthday party and part of it went, "Continue to bless her abundantly so she can spend it in loving service of you and the least of your brethren who need her help. Wrap her with your mantle of protection to keep her always safe in her life's journey."
According to Mayenne, she added the "mantle of protection" because a few hours before her birthday party, Linda called her up and asked her, "Were you praying for me? Because a disco ball fell while we were rehearsing and it missed me by a few inches. It landed on my side instead of my head!"
Coincidentally, says Mayenne, "I was praying for her at that time the ball fell."
So, you see, everybody truly loves Linda.
In heaven and on earth. * #LaLindaLey