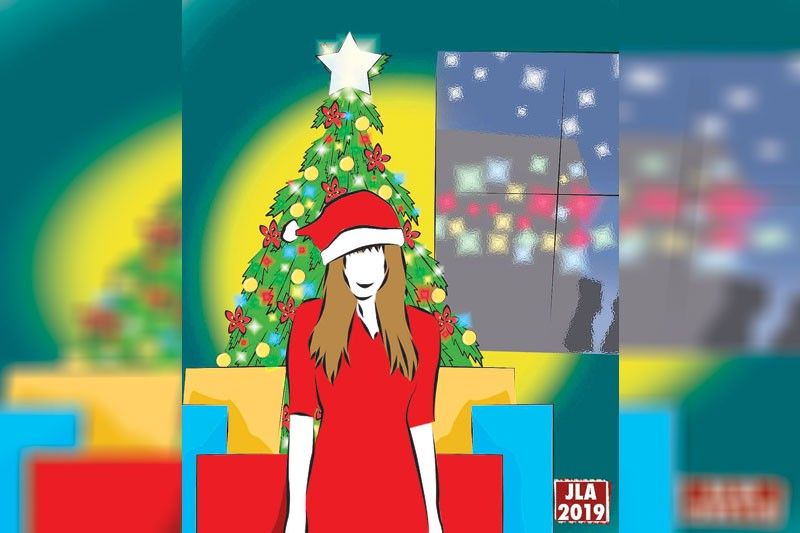 How to make holiday cheer last the whole year through
Christmas is a season of hope, of spiritual rebirth, of feasts and razzmatazz.
But what is touted as "the most wonderful time of the year" for us could be a sad season for others — those who may be clinically depressed, heartbroken or hopeless. Some may just be feeling the pressure to be happy and if they don't measure up to the people brimming with joy around them, may be cracking under the pressure. Some are burdened by all their obligations this Christmas, the traffic, the shopping, the cooking, the gift-wrapping.
Some may be simply affected by the shorter days and longer nights. Yes, there is such a condition called the seasonal affective disorder (SAD), also called depression with seasonal pattern linked to fewer hours of sunlight during the winter. People with the so-called "holiday blues" can also have SAD, according to an article posted by the University of Rochester Medical Center.
As someone who always looks at the bright side of life — despite having my fair share of ups and downs — my best advice is to always try to look forward to something good every morning. It could be the enticing aroma of coffee or baked bread, the homecoming of a loved one, seeing your "bet" on the corridor, getting a confirmation on a much-awaited flight, weighing yourself because you haven't eaten dinner for three straight days and you can feel your tummy shrinking. Or you could simply be looking forward to the end of the day (yes, even at the start of the day), or the end of the week (yes, even at the start of the week.).
I've been following the last (and maybe final) season of Grey's Anatomy on Netflix, not exactly a series to plumb for moral guidance, but brimming with life and relationship roadmaps nevertheless.
One character, previously in the dumps and now recovering, Dr. Jo Wilson, counsels a friend that it's okay to be happy in life just because of the possibilities it presents. In my own words, "Thrive on possibilities." Wake up happy because of the many possibilities each new day brings. Even the possibility of rain.
***
My sister, psychiatrist Geraldine Mayor, a UP College of Medicine graduate who trained in the US and is now practicing in Philadelphia, recently flew to town for her UP Class of '94 silver jubilee and to give two talks on mental health.
Of course, of her many invitations, she prioritized one alma mater, the Assumption Convent, where she spoke to the Grade School faculty and staff, and another alma mater, the UP College of Medicine.
According to her presentation, these are some of the symptoms of clinical depression: depressed mood, loss of interest or pleasure, weight loss or changes in appetite, slowed-down thinking and activity, excessive guilt, poor concentration, suicidal thoughts, sleep disturbance and impairment in social, occupational and other types of functioning.
On the other hand, symptoms of generalized anxiety include feeling on edge, feeling tired, poor focus, mind going blank, irritability, muscle tension sleep disturbance and impairment in social, occupational and other types of functioning.
Citing experts, she said there should be school-based and workplace-based prevention programs, hence her talk before faculty and staff of Assumption Antipolo and neighboring schools.
Some of her "pearls" of advice, which you can "string" together and have with you for life to counteract the blues:
*Sleep is very important.
*Medication alone will not make you better.
*Exercise and time spent in nature are the newest hot topics in mental health management.
To help those around you every day:
*Be welcoming as individuals and as a community. "Rejection is a painful experience."
*Talk to your loved ones — it starts in the home.
*Teach resilience. "We all have vulnerabilities, let's work on increasing resilience."
*"Emphasize the learning value of losing or failure, when it happens."
And finally, Dr. Mayor says, "Having symptoms is part of the human condition, unless you are part robot." Consult a medical professional.
***
We are now in the peak of the "most wonderful time of the year." Spiritual nourishment as well as physical nourishment is aplenty. With the right daily nourishment, the most wonderful time of the year can be any time of the year — or the whole year through, knowing that wonderful doesn't mean "perfect." Just wonderful. *