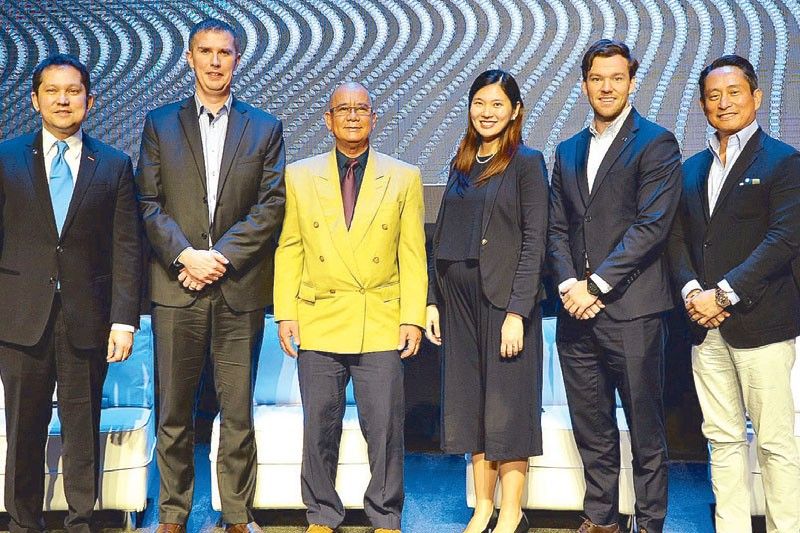 (From left) Volvo Philippines president and CEO lawyer Albert Arcilla, Volvo Asia Pacific director of Energy Propulsion Systems and Controls and Calibration Niclas Bratt, Partnership for Clean Air Inc. president Rene Pineda Jr., Clean Air Asia transport program coordinator Kathleen Dematera, Volvo Asia Pacific market area director Jacob Olsson and the author.
For vehicles, that is. And that future is bright, if you pardon the pun.
Back in 2012, Meralco chairman Manuel V. Pangilinan (MVP) proposed that the Philippines manufacture its own electric vehicles (EVs).
"We don't really have any significant manufacturing industrial base to speak of and if we as a people don't look into this opportunity to develop that particular manufacturing capability, it will be a pity I think because then we're giving a lot of livelihood, a lot of profits perhaps to China, to India, or Korea and even Japan or Taiwan," he said.
Meralco then was considering investing in e-vehicle manufacturing.
Fast forward to today.
Just recently, I was invited by Volvo Cars Philippines and Partnership for Clean Air Inc. (Clean Air Asia-Philippines) as a panelist in "The Future Of Electric," a forum on sustainability that aims to discuss environmental problems and mobility solutions to reduce emissions and improve air quality.
Other panelists and presenters were Volvo Cars Philippines president and CEO lawyer Albert Arcilla, Partnership for Clean Air president Rene Pineda Jr., Volvo Cars Asia Pacific director of Propulsion Energy Systems Niclas Bratt and Clean Air Asia transport program coordinator Kathleen Dematera.
Swedish Ambassador Harald Fries delivered the opening remarks while TV personality Paolo Abrera and Miss Earth Philippines 2019 Janelle Tee hosted the event.
In his presentation, Arcilla touched on some fast facts about the state of global pollution and how Volvo is at the forefront of addressing these global concerns, including the introduction of plug-in hybrid cars in the Philippines. Pineda discussed the relation of overpopulation, vehicles and pollution, as well as on the economic and health impact of the same. Sources of emissions and their effect on the environment were presented by Dematera.
Bratt spoke on global trends and the need to go electric. He also touched on the technology behind the electrification of Volvo cars.
In the Philippines, there are currently 28 firms that are engaged in the manufacture of EVs with 11 parts and components manufacturers and seven importers that support them.
The Philippine government, through the Department of Transportation and the Department of Energy, has long been supporting the manufacture and use of electric vehicles across the country, especially in public transportation.
Executive Order No. 488 was issued in 2006 to support the manufacturing of e-vehicles, as well as to further reduce the country's fossil fuel consumption.
Numerous EV projects are going on as we speak, and one of the companies leading the way is Meralco, the largest private sector electric distribution utility company in the Philippines, covering 36 cities and 75 municipalities.
Through its Power Ideas program, Meralco is driving for the implementation of EV solutions in school campuses, government agencies, and for public transport.
Meralco is also looking at investment opportunities in e-vehicle manufacturing or assembly as part of long-term growth plans in the EV industry. It has likewise been the first to set up charging stations for EVs not just at the Meralco head office in Pasig but also in the Bonifacio Global City to push for EV ecosystems not only in Metro Manila but also in other major cities in the country.
Meralco also secured regulatory clearance to put up a new subsidiary, eSakay Inc., that will venture into transport service networks, including EVs and charging stations, for public use to support the country's rising EV industry.
eSakay Inc. was formed to engage in the business of owning, maintaining and operating transport service networks of charging stations, batteries and vehicles utilizing electric energy and other alternative energy sources. Meralco intends to support the EV ecosystem through its new subsidiary.
So MVP's proposal seven years ago has now borne fruit.
I echo here the encouragement he made back then: "As stewards of the EV business and guardians of our environment, we urge everyone to make EV an integral part of your investment agenda."