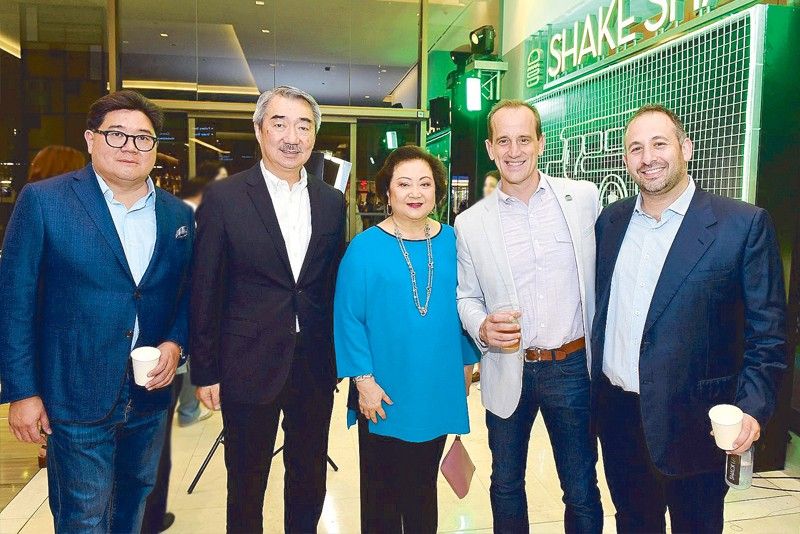 (From left) SSI Group Inc. president Anton Huang, SM Prime chairman Hans Sy and Rustan Commercial Corp. chairman and CEO Zenaida Tantoco with Shake Shack CEO Randy Garutti and chief global licensing officer Michael Kark.
I love Shake Shack!
Whenever I visit a country that has a Shake Shack, I make it a point to visit its branch there. I so love this burger chain that, many times, I even bring home its burgers and reheat them when I arrive home.
Now, the SSI Group, which has been at the forefront of the Philippine retail industry for years, brought Shake Shack to Manila.
Before the burger chain opened to the public, a "housewarming party" was held at its first store at the Central Square in Bonifacio Global City, Taguig.
Shake Shack culinary director Mark Rosati said, "As we spent time exploring the unique and eclectic landscape that is Filipino cuisine, we were inspired by the flavors and artisans we met along the way and by the food that they're passionate about. From halo-halo, lechon, adobo and garlic rice to calamansi and ube in every imaginable form, Manila is serious about its love for great food and ingredients! We're thrilled to introduce our Manila-exclusive menu that features just a few of the flavors and ingredients we fell in love with, and are humbled to become part of this vibrant community."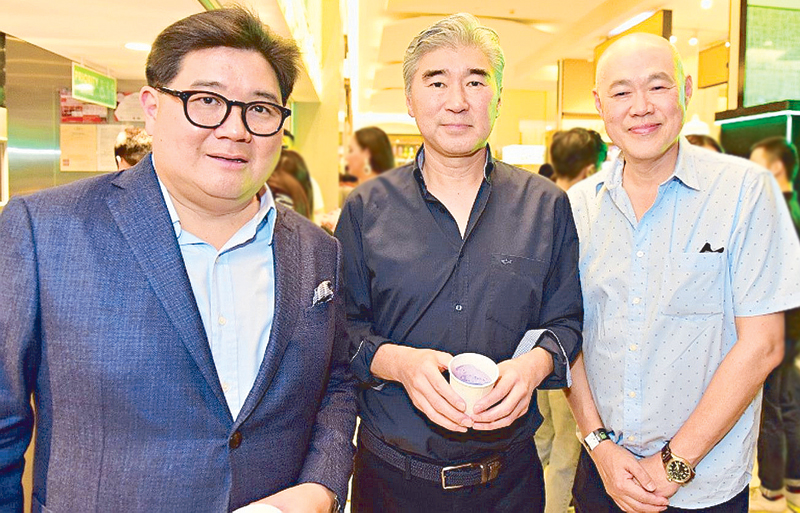 Anton Huang, US Ambassador Sung Kim and Felix Ang.
SSI Group president Anton Huang said, "We're thrilled to bring the NYC Shake Shack experience to the Filipino community, and are proud of the company's mission to Stand for Something Good; our burgers and hot dogs use 100-percent all-natural beef, free of hormones and antibiotics, non-GMO potato buns, and custard is made from real sugar, no corn syrup, and milk from dairy farmers who pledge not to use artificial growth hormones."
Only the Philippine branch offers the Ube Shake, a vanilla frozen custard ice cream blended with ube; and the Calamansi Limeade, a local twist on the Shack's classic lemonade.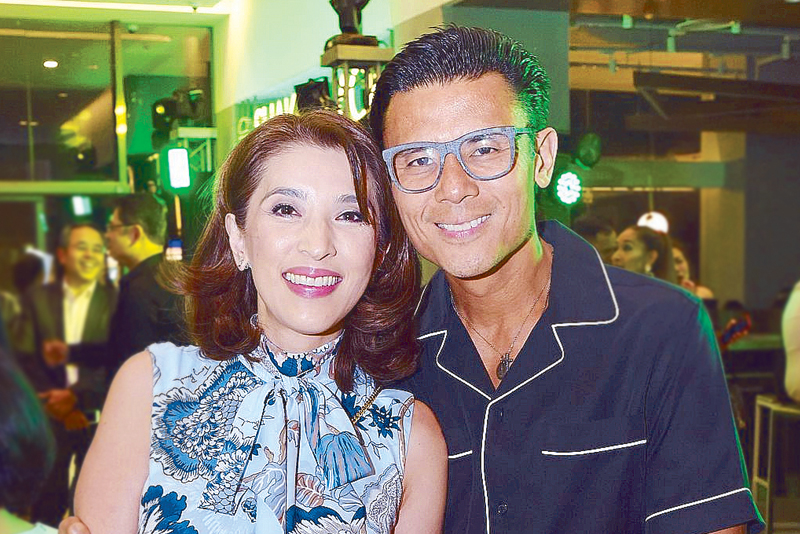 Rustan Commerci a l Corp. president Donnie Tantoco and wife Crickette
The Manila menu also features three unique "concretes" or frozen custard ice cream: Uuube-by Baby, a vanilla custard mixed with ube, coconut marshmallow, ube cookie, toasted coconut and crispy pinipig and topped with leche flan; Shack Attack, a chocolate custard mixed with Bucky's original brownie, local Auro chocolate chunks, Shack fudge sauce and chocolate sprinkles; and the Calamansi Pie Oh My, a vanilla custard mixed with calamansi pie from everyone's local favorite Wildflour Bakery.
Five percent of sales for the Pie Oh My concrete will go to Children's Hour, an organization that supports projects on education, health and nutrition, and child welfare and development for Filipino children in need. Shake Shack also partnered with Hope in a Bottle to offer Shack2O bottled water. One hundred percent of Hope's profits will go to building public school classrooms.
Dog lovers will surely be glad to know that Shake Shack also has something for their canine friends: Poochini, which is ShackBurger dog biscuits with peanut butter sauce and vanilla custard; and Bag-O-Bones, a five ShackBurger dog biscuits. My dog Pierre will be happy!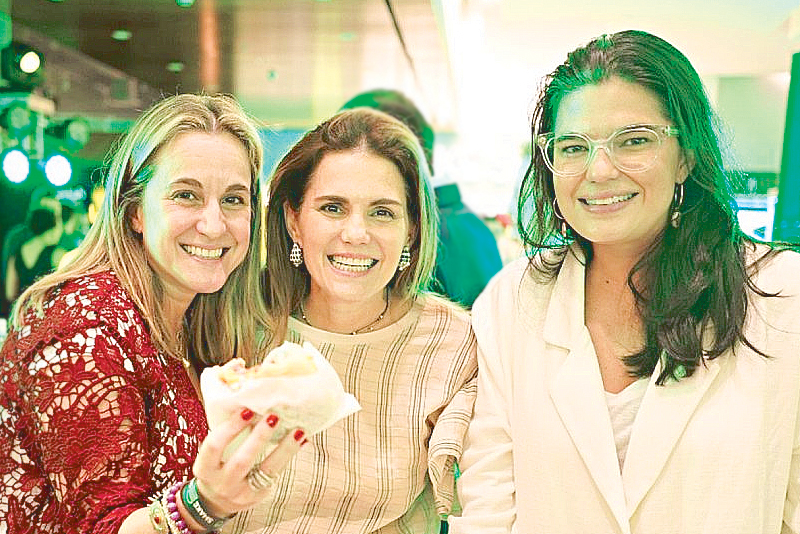 Sofia Zobel Elizalde, Lizzie Zobel and Mariana Zobel Aboitiz.
Also included on its Manila menu are the burger chain's signature items like the ShackBurger, Shack-cago Dog, classic crinkle-cut fries, craft beer from local Engkanto Brewery and Monkey Eagle, as well as Shack Red and White wine.
There are still long queues at The Shack but its wonderful burgers are worth trying, especially my three favorites — the ShackBurger, SmokeShack and the 'Shroom Burger!
(Follow me on Instagram @pepperteehankee.)