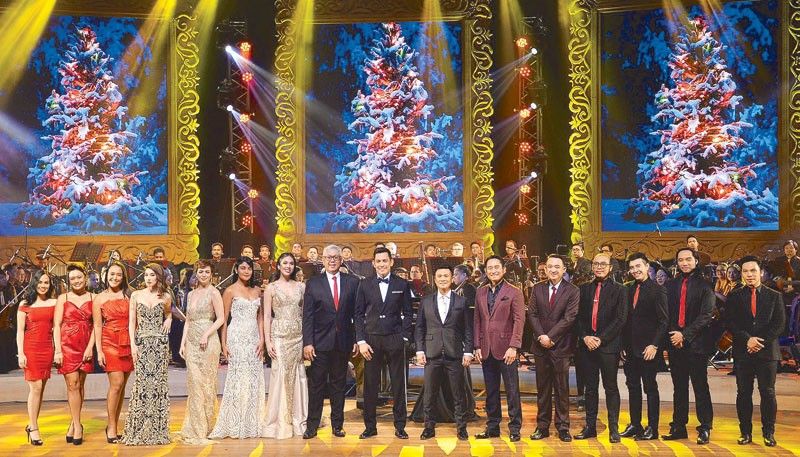 (From left) Ryan Cayabyab Singers Nica Tupas, Katherine Tiuseco and Celine Fabie, Nicole Asensio, Yanah Laurel, Kiana Valenciano, Christine Allado, National Artist for Music Ryan Cayabyab, Gary Valenciano, Ogie Alcasid, the author and Maynilad Water Services Inc. COO Randy Estrellado with Ryan Cayabyab Singers VJ Caber, Anthony Castillo, Erwin Lacsa and Poppert Bernadas.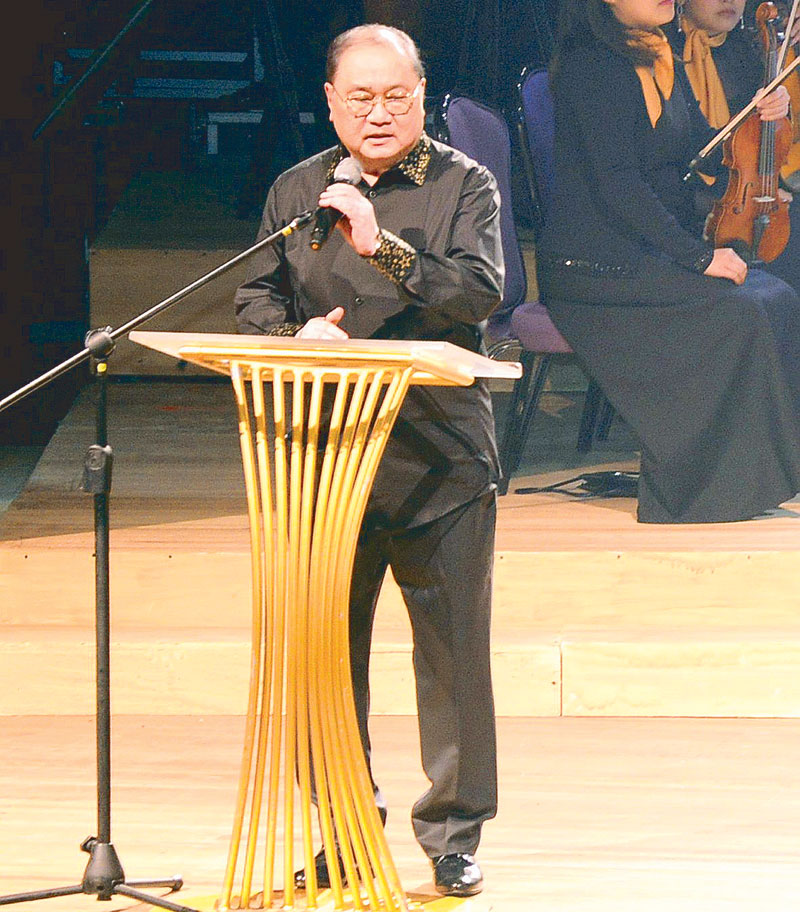 MVP Group chairman Manuel V. Pangilinan.
"Oh, the weather outside is frightful, but the fire is so delightful…"
Indeed, the chilly nights and cold, nippy mornings of February make one nostalgic for December and the warmth that the Christmas season brings.
According to the Franciscan Order, Christmas never was a purely Christian holiday. Like many religious rituals, it has roots in a deeply felt human response to a natural event, which was the winter solstice.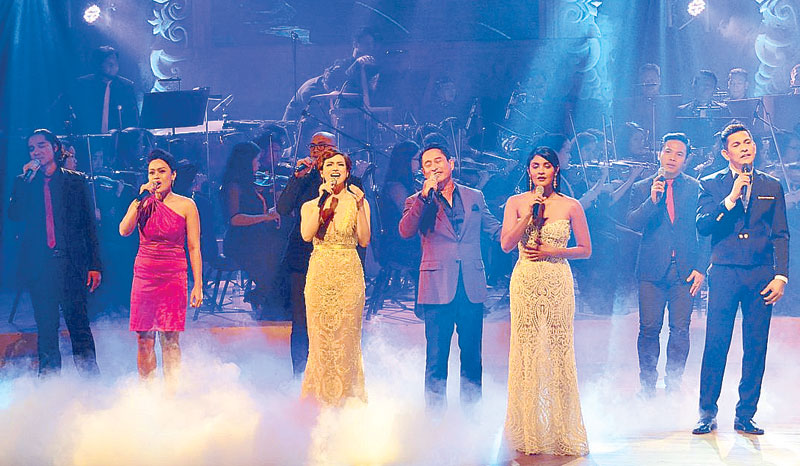 (From left) Katherine Tiuseco, Yanah Laurel, the author, Kiana Valenciano, Poppert Bernadas and Gary Valenciano.
Thus, going beyond the spiritual, Christmas was known to be good for the heart, physically and emotionally, as well as for the soul.
Music is also good for the soul; in fact, there exists empirical data to prove that music was, indeed, medicine for the soul. It has actually been used to treat patients of dementia, autism and other mental health problems.
Now, if you combine both Christmas and music, well, you have one truly uplifting experience.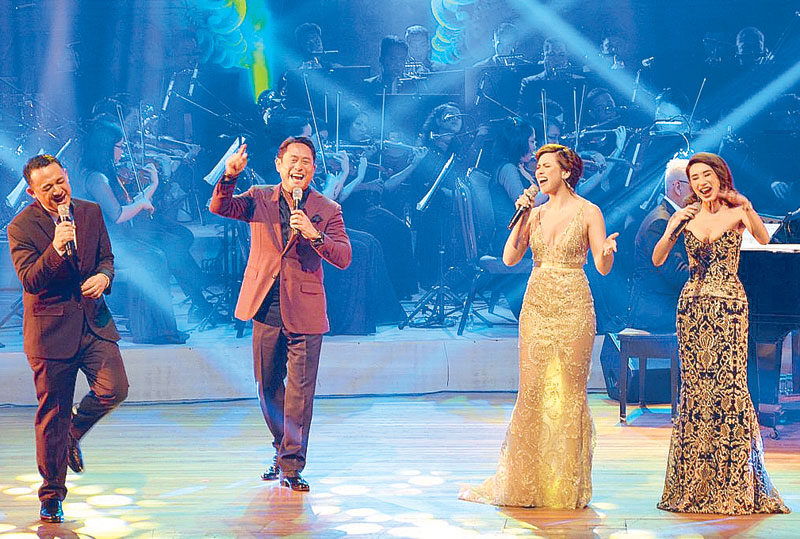 (From left) Randy Estrellado, the author, Yanah Laurel and Nicole Asensio.
Christmas won't be Christmas without music, and Christmas songs do, to quote a popular Christmas carol, "help to make the season bright."
I love music, and I admit, I love to sing. You get this warm, fuzzy, overwhelmingly good feeling when belting a song.
Thus, occasions that call for some singing is something I don't abhor but, in fact, welcome.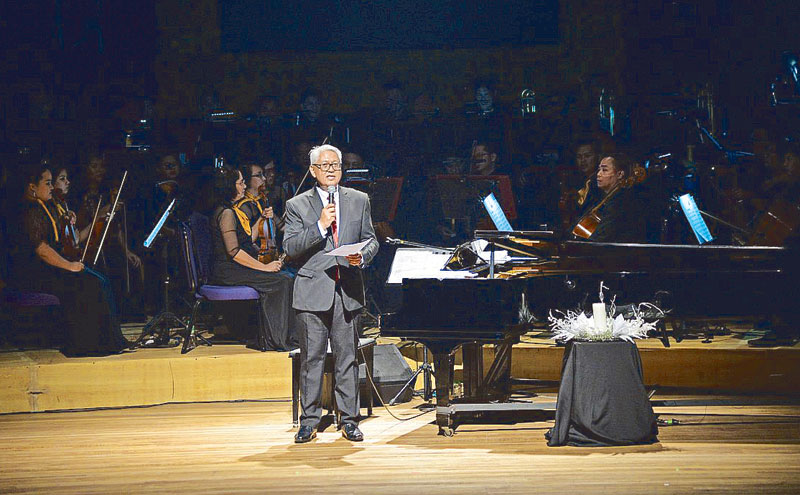 Maestro Ryan Cayabyab.
Moreso, if this be done on stage, in front of a live audience. Remember the "Bagyo ng Musika" and "Some Enchanted Evening: PBA @ 127" concerts.
It was a dream come true for me last December when I shared the stage and performed with some of the country's best performers in "A Holiday Symphony: The Heart of Christmas," an MVP Group Christmas concert at the Meralco Theater.
This concert was made possible by our chairman, Manuel V. Pangilinan or MVP, because music is one of his many passions.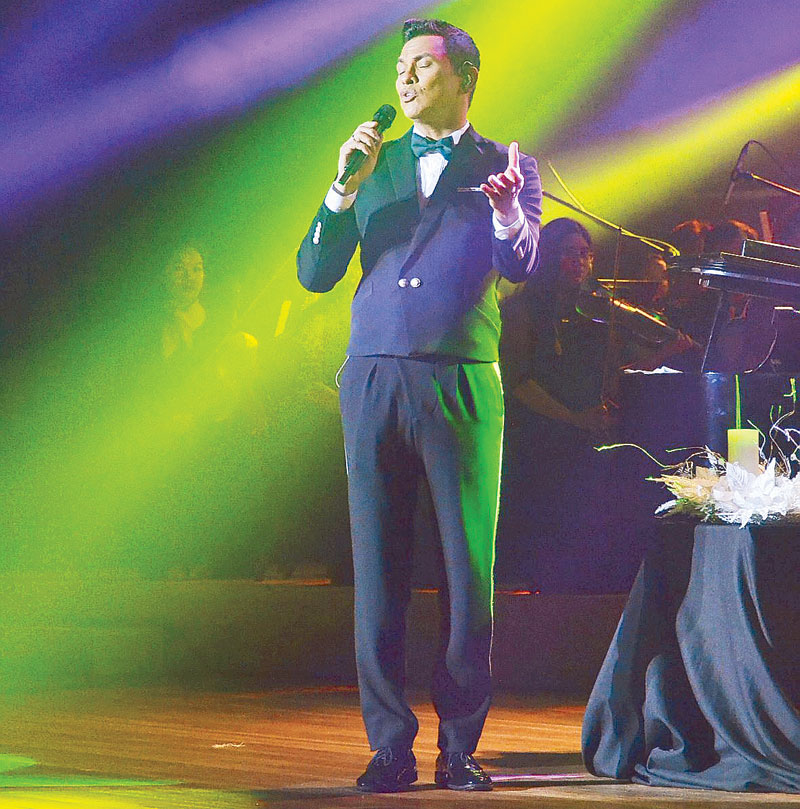 Gary Valenciano.
MVP coursed this through his reliable point person for such an undertaking, our own version of the greatest showman, the First Pacific Leadership Academy's very own Roy Evalle, who was also behind the success of a string of MVP Group concerts and musicals.
This concert, however, was Roy's latest and last. He never got to see the fruit of this labor as he passed away before the concert date.
Roy may not have been physically present, but I am pretty sure he was with us in spirit, enjoying the performances as every great showman would.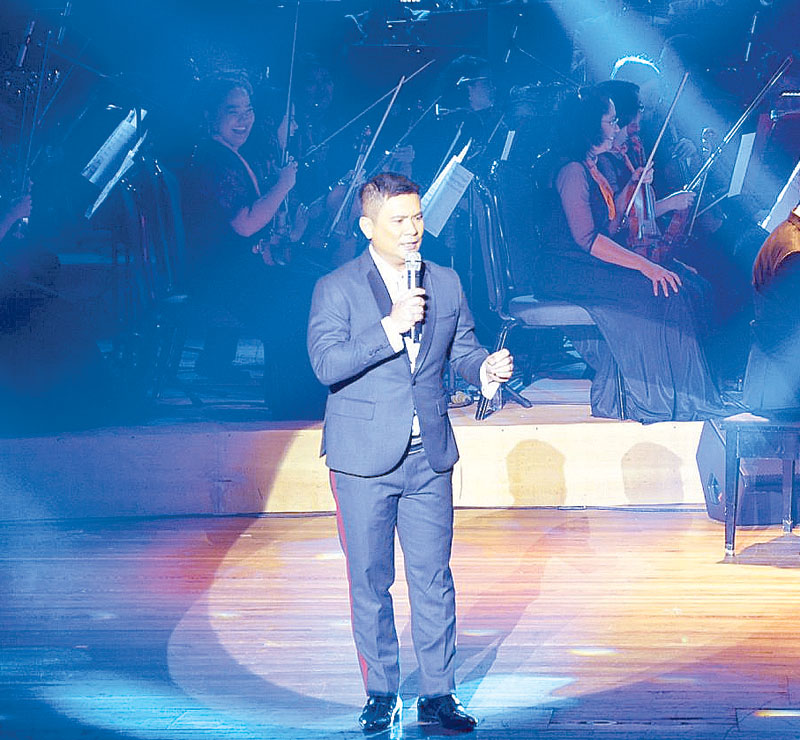 Ogie Alcasid.
We had "Mr. Pure Energy" Gary Valenciano, fresh-from-West-End and Andrea Bocelli's favorite duet partner Christine Allado, the inimitable Ogie Alcasid, the talented Kiana Valenciano and the consistently amazing Ryan Cayabyab Singers.
Special guests were accomplished artists Nicole Asensio and Yanah Laurel, as well as the talented Maynilad Water Services Inc. chief operating officer Randy Estrellado and myself.
MVP wanted "homegrown" talents to be part of the show, thus, Randy and I are forever grateful to MVP for this opportunity.
We were accompanied by the Manila Symphony Orchestra under the baton of National Artist for Music Ryan Cayabyab.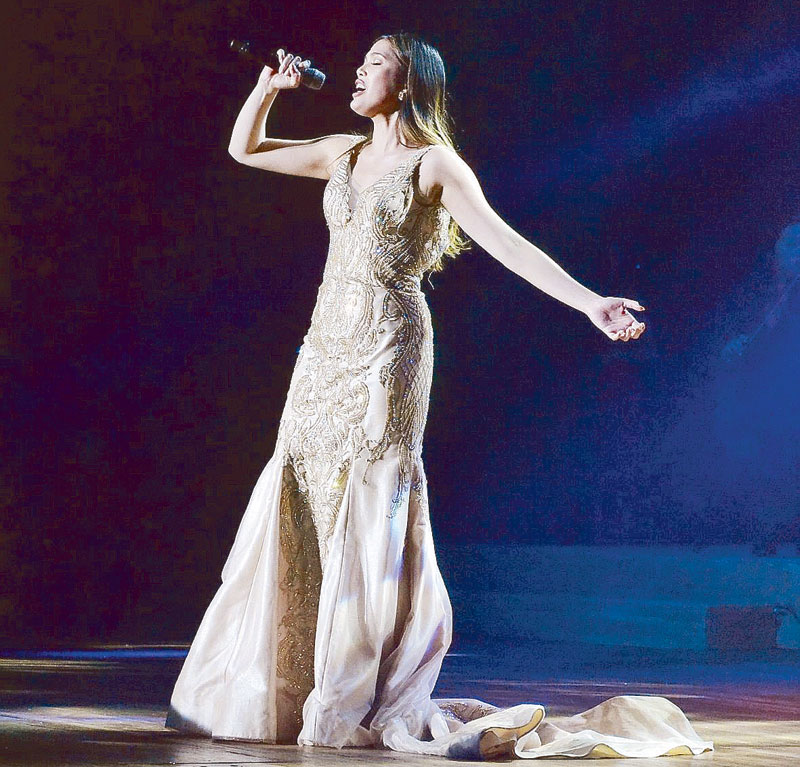 Christine Allado.
FPLA head of marketing and communications Butch Peña carried the torch and worked to ensure the success of the concert.
Paolo Valenciano, Gary's eldest and highly talented son, was the concert director.
We sang Munting Sanggol, an original composition of Maestro Ryan Cayabyab. The music and lyrics will undoubtedly move you.
We also sang the highly inspirational Light of A Million Mornings, and another Ryan Cayabyab composition Better World. Take a listen to these songs.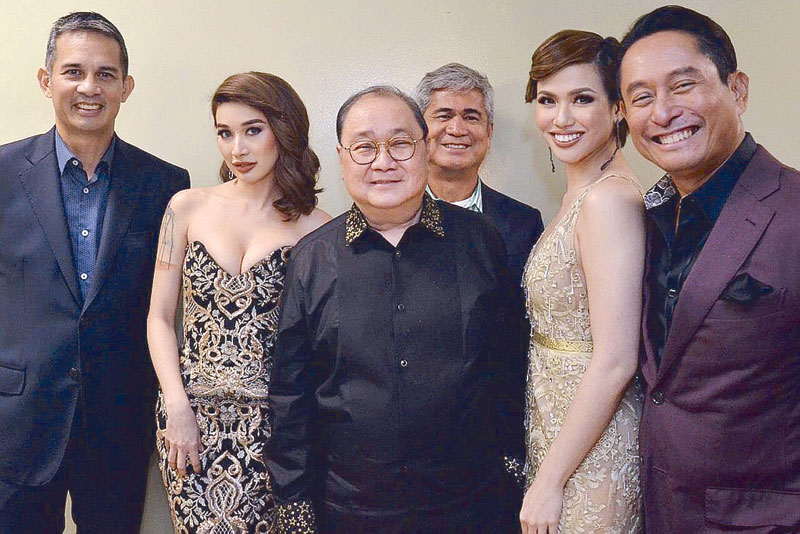 (From left) Meralco SVP and head of customer retails services, corporate marketing and communications Al Panlilio, Nicole Asensio, MVP, MPIC Hospital Group president and CEO Augie Palisoc Jr., Yanah Laurel and the author.
Our musical finale was also another Ryan Cayabyab composition, Paraiso, which was first popularized by the youth singing group Smokey Mountain.
All in all, it was a performance and a night that never in my wildest dreams would have been made possible. It was the stuff that bucket lists were made of. The exhilaration and the excitement hardly wore off in the days after and even at Christmastime.
Music is good for the soul and good for the heart, alright, and, that night, all of our souls were, indeed, in heaven and all of our hearts were, indeed, in love.
Speaking of hearts and love, a happy Valentine's Day to all!